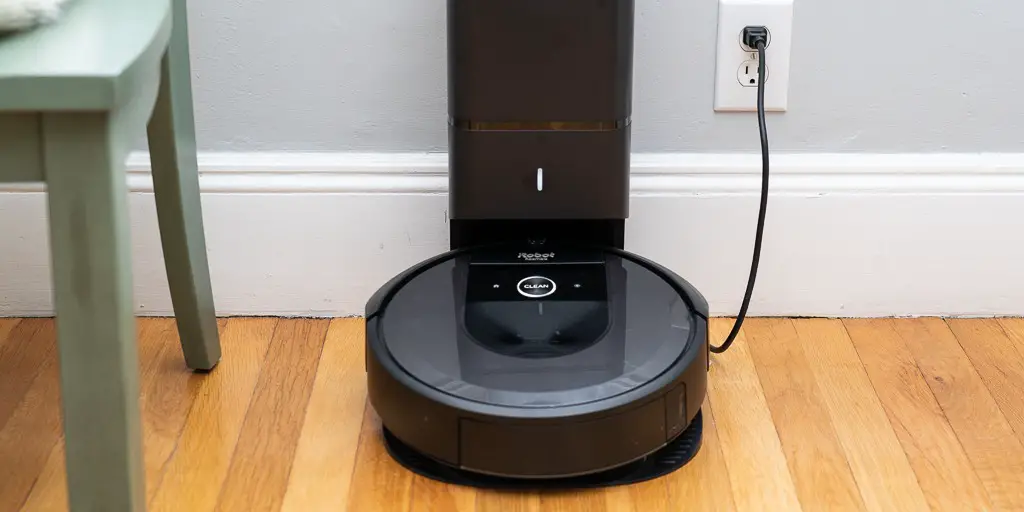 The Self Emptying Roomba I7+ is a great choice for contemporary households that can not afford to waste time on chores, and neither have the energy to cope up with dirty households. This allows ten times the power of a regular cleaner. The machine is loaded with smart technology and that makes it ideal for contemporary families and homes.
Self emptying roomba i7+ Review
The Self Emptying Roomba I7 has a Power-Lifting Suction. This is what enables the delivery of 10 times the air power as compared to the Roomba 600 Series. You get an improved pick-up performance as well as a Premium 3-Stage Cleaning System which is able to work on all the corners as well as clots or balls of fur from pet hair. This cleaner cleans the dirt and you see and the hidden allergens you don't.
Features Table
| | |
| --- | --- |
| Product: Roomba i7 | Price |
| Self-cleaning | Gets rid of the dirt contained with ease |
| 60 days of powerful dirt free cleaning | Ensures that you do not need to clean up for 2 months apx |
| 3-stage cleaning | Allows deep cleaning or dust, pet hair and allergens |
| Smart technology | Equipped with app usage, smart mapping enabled |
| Comprehensive results | Can clean 99% dirt, gets under the furniture and more |
Self-cleaning
The Roomba i7 is able to empty on its own. With this option you do not need to worry about cleaning the bag because that happens itself. The cleaner is able to return to the Clean Base which has an Automatic Dirt Disposal ability. This is not an ordinary bag, it comes with an AllergenLock bag which is able to hold 60 days worth dirt, dust and hair. This is one of the best options from the brand because it comes with a Power-Lifting Suction. As discussed earlier this technology is able to provide it a 10 times stronger suction power and improved pick-up performance.
3-stage cleaning
Another great fact about this is that it has a Premium 3-Stage Cleaning System. This is able to work on dirt, pet hair and allergens that are invisible to the naked eye. It is able to catch all the dust and locks the germs into the bag so it is not sent back to the floor during the rest of the cleanup.
Smart technology
Another ideal thing about the cleaner is that the Roomba i7 is equipped with an Imprint Smart Mapping techn. This is innovative and enables your robotic cleaner to learn, map and adapt to your home and your needs. You can use this with  Alexa or the Google Voice Assistant. You can also put it to work as you are stepping out of the door. The vacuum has the ability to Intelligently map and remember various floor plans. You can use this to spot clean an area or to clean your entire home at once.
This cleaner uses a Patented iAdapt 3.0 technology. This is further loaded with vSLAM navigation technology that is able to actively capture large sums of dirt through quick scanning. This coverage will be amazing. You can also define the Keep Out Zones to ensure that the cleaner does not get into the places that you do not want it to get into.
The robot has the Imprint Link Technology allowing Roomba i7+ and Braava jet m6 robots to clean in sequence. You can pair these two up and allow smooth vacuuming and then mopping followed by one another.
Comprehensive results
This cleaner is suitable for homes with pets. This is because it comes with Unique Dual Multi-Surface Rubber Brushes as well as strong suction. It allows you to get effective results that make sure that your machine does not get tangled with pet hair and vice versa. It comes with adjustable brushes that can flex to stay in constant contact with carpets and hard floors where most effort is required.
This cleaner is able to clean through its High-Efficiency Filters. These will be able to trap 99% of cat and dog allergens. The AllergenLock bags are made up of 4 layers of allergen blocking material. Now this can get rid of 99% of pollen, mold, and dust mites from your floors and other surfaces such as beds.
The filter makes sure that all this mess doesn't escape back into the air. It is loaded with advanced hardware that can allow an intelligent clean up. The device also updates itself for newer features.
60 days of powerful dirt free cleaning
The Roomba i7+ robot vacuum allows an automated emptying into a disposable AllergenLock bag. You can then let this be for about 60 days. The bag will not release the dirt and dust. It is a smart and simple option when it comes to vacuuming. You can save a lot of stress, effort and time with this. You can control this with your smartphone and that allows you a truly custom clean. You get all that you need with the Roomba i7+ Robot Vacuum. The Clean Base Automatic Dirt Disposal, Dirt Disposal Bags, Line Cord, High-Efficiency Filter, an Extra Side Brush.
Conclusion:
This option is able to filter particles and get rid of germs and mess. You can get rid of dust and allergens as well. It is equipped with smart technology that makes it able to navigate around the area without bumping or breaking. Not many cleaners in this range will have the same abilities and strength as this one. The cleaner can navigate around the house or area of use with ease.
The premium 3-Stage Cleaning System adds to the usefulness of this choice. Its Dual Rubber Brushes also add to the powerful cleaning. You will be guiding it in your absence through the smart mapping technology that is able to resist bumping into objects and learning maps in order to adapt to each room.