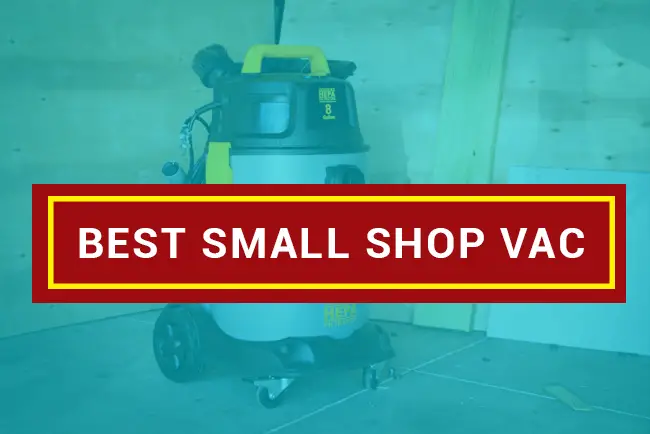 Looking for the best small shop vac? You've come to the right place.
A garage or a shop without a shop vacuum is never completed. These are the professional machine which is used for a handful of cleaning tasks like sucking up potting soil, sawdust, spider webs, paint chips, and water to blowing away leaves to filling up inflatable pools.
So how to choose the best shop vac?
Fortunately, I have done the hard work for you and have crafted this list of best shop vacuums to help you with the shopping of the best model.
Without further ado, let's get started…
Best Small Shop Vac
Easily, Shop-Vac 9633400 is our favorite vacuum cleaner for the shop as it's a versatile cleaning equipment that can be used on a variety of surfaces and to clean a variety of messes like spills, debris, even snow. The Shop-Vac 9633400 is an absolute choice that comes in a slightly bigger size making it ideal to tackle extra tough messes or larger rooms.
Uninterrupted cleaning is something everyone enjoys and the Shop-Vac 9633400 with its twelve gallons capacity dirt container will let you enjoy this perk. You will be able to suck up things with this unit for several days without worrying about emptying it.
What makes it a solid shop vac is the 6.5-HP motor that produces such powerful airflow allowing the vacuum to handle a variety of debris and messes.
Furthermore, there are several accessories or attachments this vacuum cleaner possesses. Among those tools is a big eight-inch utility nozzle, crevice tool for difficult-to-reach areas and a variety of filters to help you clean small things without damaging the insides.
Other than that, you can convert this unit into a leaf blower as well with one reverse button to take care of your lawn, sidewalks, or pathways. The eight-feet long hose gives extra reach around normal sized rooms.
If you have a small space or project to cleaner, spending on expensive shop vac is pointless. Rather you should go with a smaller vacuum to save some money.
The Craftsman 12004 is one of the smaller shop vacs that features a 3HP motor and is ideal for small spaces and jobs. Although it may not clean an entire garage in one go, it is powerful enough to keep around for small projects or single room or apartment cleaning tasks.
Furthermore, the unit comes with a seven-foot hose and ten-foot power cord combined giving you a reach of 17-foot. On top of that, it features a reverse motor function allowing you to use it as a lawn blowing function to take care of your patio, yard or driveway. The powerful motor of this unit can easily take care of dirt and wood scraps.
The Vacmaster VQ607SFD is an extremely portable shop vac that is designed to handle small to medium messes with no interruption of emptying the dust cup which can easily store six-gallon of dirt.
The Vacmaster VQ607SFD stainless steel vacuum is ideal if storage space is premium. You will be able to efficiently clean apartments, offices, and the garage with this nimble and effective shop vac.
Regarding price and features, the Vacmaster VQ607SFD hits a sweet spot compared to other units. On top of that, it comes in stainless steel construction making it a weather-resistant shop vac. The lid is reinforced with heavy-duty tank clips to prevent air from leaking.
Finally, the Vacmaster VQ607SFD comes with a contoured control handle and sturdy casters allowing you to effortlessly maneuver the unit around while cleaning.
Ridgid 50348 1400RV
The Ridgid 50348 is the largest shop vac that is designed to handle larger messes and rooms. The Rigid 14 gal. 6.0 Peah HP is extremely easy to maneuver despite the bigger size thanks to the four case wheels and a top handle to direct the unit.
The exterior of this durable unit is built of high impact plastic for extra protection. And, there's a 6 HP motor inside the unit that gives strong airflow for dealing with common messes around the home and garage.
The extremely efficient filter system of this unit grabs fine particles with drywall dust. The three-layer filter is superior and extremely easy to replace and will help remove dangerous dust from spaces after the completion of larger projects or disasters. Regarding accessories, the Ridgid 50348 comes with different nozzles to use in difficult-to-clean areas like cars or on liquids. Finally, the three-year warranty tag is what makes you confident on your purchase.