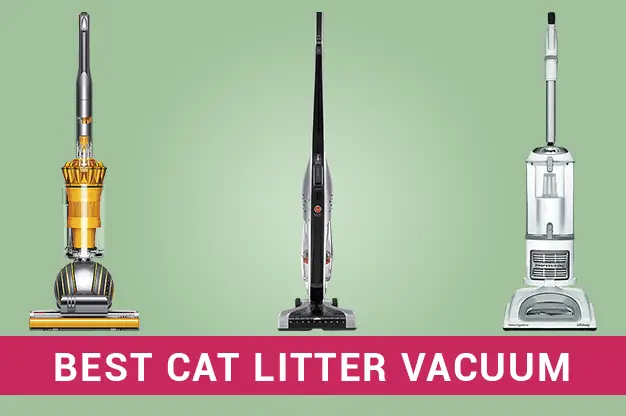 We all love pets and we love how they make us feel. They bring a lot of joy and happiness in our lives by being our constant companions. However, it is also true that maintaining pets such as cats or dogs is no easy feat. There has to be a lot of work put in to make sure your pet and your house remains clean. Cats especially have a lot of furs that is shed daily along with their litter box which can contaminate your entire home unless dealt with properly. Do not despair as today's article will let you in on tips, tricks and some of the best vacuum cleaning products to properly deal with all kitty litter related messes.
Most vacuum professionals and cat experts agree that vacuuming cat litter is absolutely safe and also that it is one of the cleanest ways to contain the mess. If your cat leaves mountains of clutter around the box each time they use it, it's always beneficial if you brush the litter box down first, then proceed to vacuum any residue that might be left behind in the area. It is important to understand that most vacuums can't handle large quantities of litter at once. A good way of avoiding any messes is to never vacuum damp litter since most vacuums can't handle wet messes
The hard clay granules in the litter could damage the mechanical components if you chose to vacuum huge quantities of litter, plus the onslaught of dust particles might also clog the filters.
Now, a serious issue that most cloth rags or normal vacuums cannot deal with is the odor that is left behind and this becomes a major concern. Another problem is the idea that soiled cat litter has a smell that stays for a long time and if it gets into your vacuum, it will get into other parts and will not go away even if you thoroughly clean the device. To overcome this and other issues, we have compiled a list of our favorite cat litter compatible vacuums which will solve all your problems.
Best Vacuum For Cat Litter
Our first product for the day is called the Hoover Wind tunnel which is basically a product with Hoover's special trademark technology, which creates three channels of suction powered air drift, which focuses all its power on all that suction strength into lifting and removing all of the floor debris and dirt which can get stuck deep down in the litter and even on nearby furniture and carpets. Besides all these features this vacuum also makes use of Cyclonic filtration. Cyclonic filtration works by the aid of 13 cyclones filter which takes out the dust particles from the air waft. This is important because it extends the life of the HEPA filter as it doesn't get blocked with bigger particles.
This device also comes with a brush roll that can be adjusted and turned on or off but that depends on what floor or surface you are cleaning. Using the hose is a breeze as all you need to do is press a simple button and your hose turns on.  The height feature on this device is adjustable on 7 different levels, while the special dial allows the user to decide what kind of setting you to want it set on depending on the surface you are working on whether it is kitty litter or even hardwood floors.
Talking about the cyclonic tech in more detail, it can be used to filter out all sorts of dirt and grime including cat hair and droppings so that there is no hindrance in the suction capabilities of this vacuum. Whatever gets left behind is stored in the primary filter compartment which is detachable and easy to wash out for sanitation purposes. Then comes the second filter which works like a hygienic HEPA carbon layer one that not only sucks up dust and grime but also gets almost 99 percent of all odors and airborne contaminants.
That's not all because this vacuum comes with a cool set of accessories and attachments which make your life easier. This includes a pet turbo tool that sucks up all fur and allergens from carpets, sofas and upholstery, the telescopic extension wand and of course the crevice device used to suck up dirt from even the tiniest of cracks and crevices.
Next up, we have the Eureka NEU202 which is a very powerful but quiet vacuum purifier that has the ability to clear out all dirt, grime, fur, and cat droppings in one simple swipe as it is super high powered and with great suction power.
A great thing about the Power Speed is that it is enabled with its patented multi-cyclone technology which picks up any sort of particles or debris in its path. It is also equipped with 3 tiers of super absorbent filters which provide filtration in the most hygienic conditions so that all contaminants are also sucked up. This particular model is also compact and lightweight and which means that you will not be lugging around a heavy device everywhere you go and there will be no strain on your hands.
The motor capability on this bad boy is around 2100 Watts which is actually quite a heavy-duty vacuum and that is not all as the device only takes up under 30 watts of energy at a time thus ensuring that it stays running for longer and also preserves electricity.
Now, one of our favourite features of this vacuum is that it is one of the quietest vacuums that we have seen to date as it only produces around 68 dB of sound which is so convenient. This permits you to apply it whenever and wherever you desire without ever having to worry about causing a disturbance in your surroundings, especially for loved ones.
One inherent flaw that we see in this model is the fact that since the dust compartment is pretty tiny, regular maintenance required because the pan has to be cleaned out with each use.
Our next product is called the Hoover Wind Tunnel 3 which is adept at handling the capture of all allergy or asthma causing dust and debris which may be present in your carpets especially if you have a pet cat or dog.  The Hoover Wind Tunnel 3 comes with a state of the art dual carbon and a HEPA filter which are enough to get the job done and require very little maintenance.
First up we are talking about the turbo tool capabilities which this device offers along with the rubberized blades on a roller that are specifically designed to scrape pet hair from hard to reach fixtures and stairs. The Hoover Wind Tunnel 3 Performance Bagless Upright is quite a heavy vacuum cleaner which is a bit of a letdown as we expect most new products to be compact and lightweight.
If the size is not an issue for you, however, it makes up for the mobility issue with its super sturdy 40 foot charging cord so whether you are covering your whole lower floor or even just going to smaller rooms without moving the vacuum, it makes life easier.  The front hose is also pretty cool as it is 12 feet long and comes with quite a few attachments which make the task more convenient.
One of the most useful features you will find on the Hoover is its smart peak adjustment dial which presents the user with a variety of options to tackle different flooring and surfaces such as higher carpets, kitty litter boxes and even hardwood floors which are always tricky.
BLACK+DECKER dirt buster Handheld
The Black & Decker Dust buster handheld vacuum is a quite heavy duty and lightweight vacuum which is battery-powered which means that you won't have to be limited with a cord. It comes with super powerful cyclonic action, which keeps the filter extra clean thanks to the suction power and thus is also quite easy to clean. The front of the hose is also quite wide which is not available in conventional vacuums but is useful as it sucks up more debris and fur in less time.
The battery on this vacuum lasts for a decent 19 minutes which is more than enough to tackle your cat's litter box and even go in for other places. A problem with this battery powered device however is that to obtain a full charge, the device needs to be charged for 24 hours. This is quite problematic as you will not get it when you need the device most.
The device also comes with a dustbin compartment which is transparent and thus allows the user to check when it needs to be cleaned out. This is a very convenient feature as you will stay ahead of the game.
Next up we have the Bissell Pet Hair Eraser which is one of the few hand-held vacuums on our list which provides a very a lightweight and compact experience to the user. This product is special because it comes with both a tough and soft nozzle which means that you get to decide which one to attach when dealing with different areas of your home. Another amazing benefit is that this vacuum has a wire wrap system and also weighs in at a mere 5 pounds which means that it is not only easier to move around but is also easier to store anywhere. Multi-layer filtration system is what you will get with this product and the torque of a four amp motor which is more than capable of handling your pet's messy leftovers.
It is pertinent to be well aware of when to use both kinds of nozzles as when sued correctly, they offer a better cleaning performance and will not damage your floors or furniture. The harder nozzle is perfect for ceramics, tiles and hard wood floors while the softer one is perfect for the litter box and various sofas.
The manufacturer actually lists out two main ways to ensure that the device is properly maintained. These are first, to always clean out the inbuilt dust pan after a maximum of 3 uses but this will depend on what kind of a mess you are dealing with and second, to always change and renew the filters. The filters in this device are not washable so this means you will have to purchase new ones which is quite a hassle but well worth it when you use them.
Our last and final product for the day is called the Bissell Bolt Pet Lithium Ion which is a state of the art and premium device from Bissell and some of its best features include its unique 2 in 1 capabilities which basically mean it can be transformed into a hand held vacuum and a stick one when needed. Since this is first and foremost a device for clearing up your pet's fur and mess, it also comes with some special tools to deal with those accordingly.
The tools are what certainly appears to set this vacuum apart from its competition as it comes with advanced Pet Hair Brush Rolls which are fully rubberized, which makes hair pick up a very easy and carefree task. It is also a fan favorite as it cleans dirt from all types of surfaces including carpets and hardwood floors seamlessly; this makes it a very good option for individuals who have houses with different kinds of floors inside the home.
Another reason why this vacuum is an excellent option is that it caters to even harder to reach areas such as the stairs and within the crevices of your car thanks to its cool handheld function. The 14.4V Lithium-Ion Battery is another great reason to invest in this device as it allows for longer functioning and saves your time and energy.