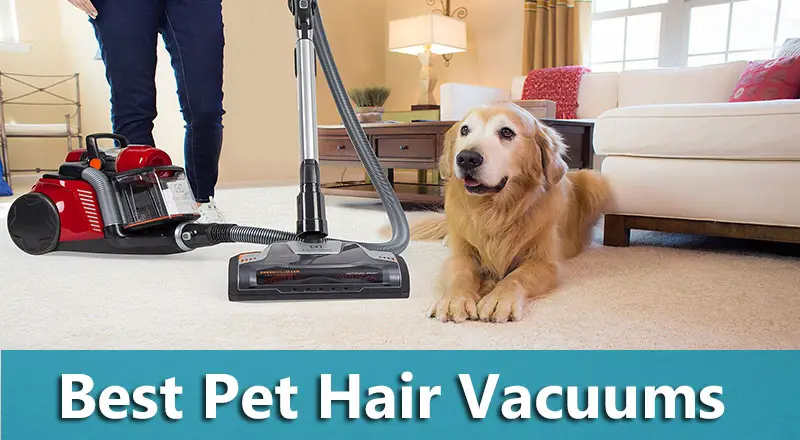 You love everything about your dog, but one thing that isn't so great: finding his fur shedding on your clothes, carpet or even in your food. This can be irritating, isn't it?
If your pet sheds a lot then the stray hairs are the real problem which you need to take care. And, the best way to deal with this problem is getting a powerful vacuum that sucks every single pet hair from your couch, carpets, and floors.
But, choosing the right vacuum can be challenging as there are a large number of vacuums available in the market.
That said, I have shortlisted some of the top-rated vacuums to make it easier for you to choose the best budget vacuum for dogs and cats.
In this list, I have identified top 5 high-quality vacuums and if you cannot go through all of these vacuums, then the most recommended vacuum that is powerful and efficient is Dyson Ball Animal 2 which you can buy right now.
Let's dive right in…
Best Vacuum For Pet Hairs 2023
These are the best vacuums For Pet Hairs 2023 you should consider.
Before you choose the best vacuum for pet hair, some important factors that you should consider in a vacuum are HEPA filter for allergy sufferers, strong suction for lifting every single pet hair, and large dust bin to avoid frequent emptying sessions.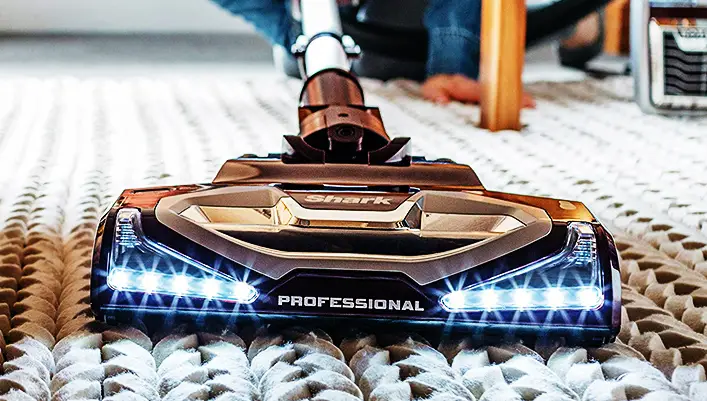 The Shark NV752 is a quiet, powerful and best-rated vacuum that comes with a lift-away mode which is user-friendly enough that you can simply push a button, pick up the lightweight canister, and create a slim powerful vacuum to clean hard-to-reach areas.
It comes with a trolley allowing you to roll the canister rather than carrying it which is useful for those having back problems.
But that's not all…
You can use the trolley to transport attachments, So While you are cleaning your house you don't have to grab the wand and the crevice tool.
The Shark NV752 is great at picking up pet hairs and large debris effectively from carpets and hard floors. In a few sessions, you won't be able to find a single strand of hair on your carpet or furniture. The only downside with this vacuum is that the hair gets tangled around the upholstery pet brush which requires manual help to remove them.
But, the hard truth is that the brush also loses its effectiveness over time. Another annoying aspect of this vacuum is that it tends to pull up small area rugs while you are vacuuming.

Overall, Shark NV752 is a budget-friendly and user-friendly vacuum cleaner that you won't regret after spending your money if you're a real pet owner and allergy sufferer.
Pros
Powerful but quiet
Lift-away mode
User-friendly design
Affordable price tag
Cons
Long hairs tend to tangle
Struggles with long pile carpet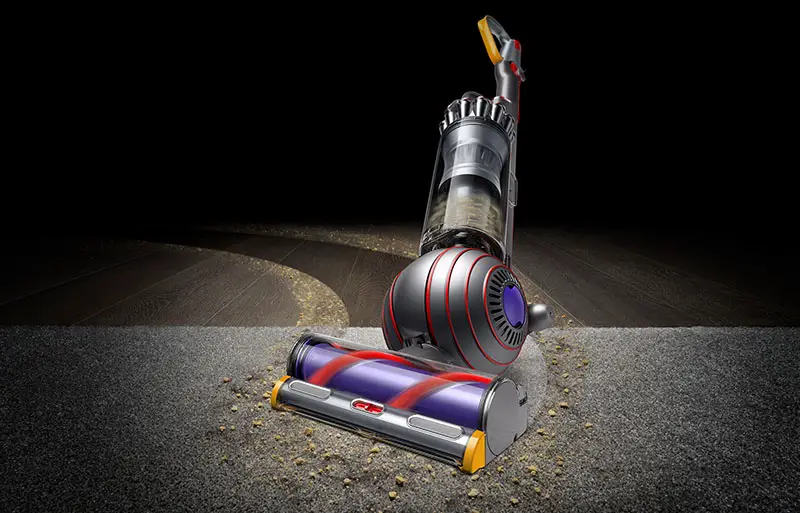 I love Dyson Ball Animal 2 due to its superior suction which allows the vacuum to pull hairs from the hard floor and to suck dirt, debris, and hairs even from a distance as well as from cracks.
The best part about this vacuum is the self-adjusting cleaning head which allows you to clean hard/bare floor and carpets at the same time.
But that's not all…
The Dyson Ball Animal 2 offers a wide range of perks to the pet owners. The hose stretches 15 feet, allowing you to clean high places using attachments without having to drag the vacuum around with you.
Unlike other vacuums, the attachments click tightly with this machine and don't come apart easily which makes the cleaning less difficult for you.
Similarly, the pet hair turbine attachment is tangle-free, so nothing to worry about stuck clumps of hairs as you would in the above vacuum we reviewed.
Here comes the best part…
Animal 2 comes with a whole machine HEPA filter which allergy sufferers will find valuable. The filter is washable and can work lifetime, so no need to keep buying replacements
Though this vacuum is excellent picking up every single pet hairs and small particles it's not good at picking up larger particles like dog food, leaves, and dog toys. It might struggle with larger particles but in a few sessions, it will grab them.
Last but not least, Animal 2 weighs about 17 pounds which makes it a slightly heavier compared to its competitors.

Overall, Dyson Ball Animal 2 is a solid vacuum that hits a sweet spot between price and features. Plus, the strong suction, incredible performance and handful of features makes this vacuum our top pick.
Pros
Strongest suction
Self-adjusting cleaning head
HEPA filter
Cons
Expensive unit
Struggles with larger debris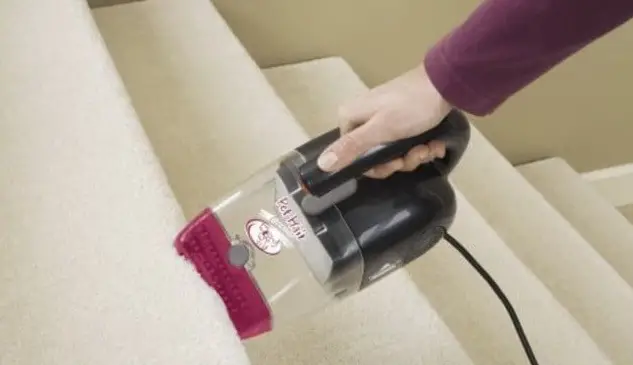 Bissell Pet Hair Eraser is a handled vacuum for pet hairs. The reason why we chose this vacuum in our list is that this cheap little machine is powerful enough to collect pet hairs from your car, furniture, upholstery, and from hard to reach areas.
This small vacuum cleaner has a power rating of 4 amps. The textured rubber nozzle is responsible for the collection of hair and debris. The long cord (16 feet) means you don't have to look for outlets while cleaning around.
As it's small so it fills up quickly, and requires emptying frequently.

Pros
Handheld vacuum
Lightweight
Superior suction
Lower Price tag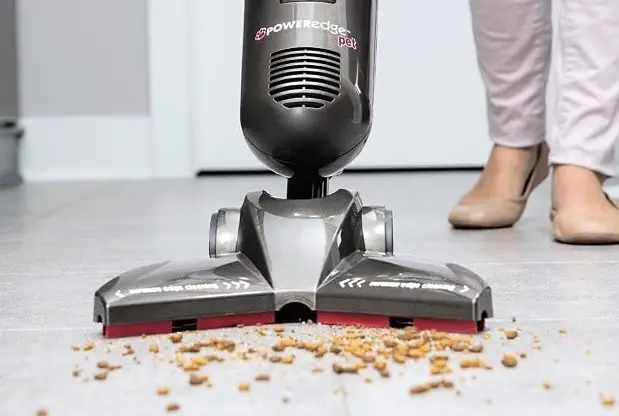 The best vacuum for pet hairs on hardwood floors I found is Bissell PowerEdge which is not only cost-effective but powerful to remove pet hair from hardwood floors.
The best thing about this vacuum is its V-shaped head which pushes the debris and dust particles into the vacuum which makes the collection easy from corners and edges.
It rubber underneath is very helpful to accumulate and pick up hair. It's not that high-end feature, but enough to do the job for you.
Overall, this inexpensive vacuum for pet hairs is a good deal to protect your floor as well as pick up hairs and dust.

Pros
Suitable for hardwood floors
Affordable price tag
Lightweight
Pet Hair Vacuum Buying Guide
Still not sure which vacuum to pick?
In this buying guide, I will explain what type of vacuum you should choose depending on your circumstances, needs, and budget. What other factors you should look for while buying the best vacuum for pet hair.
Let's get started…