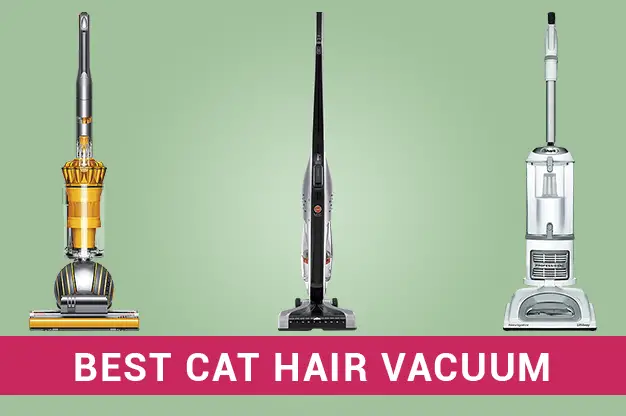 As a pet owner, we know that you absolutely love your pet; however, it can be a bit annoying to keep coming home to find tufts of fur and shed hair everywhere around your house. There is no doubt that your pets; especially cats can make a huge mess which can also be cause for concern in terms of health and hygiene issues. This is essentially very problematic if you have different kinds of flooring and surfaces all over your house which means that not every mess can be cleaned up by a duster or a brush.
A good solution for sucking up all that fur and particles can be a vacuum that is compatible with the removal of fur. Luckily for you there are tons of choices available in the market and today's article is dedicated to finding out which one you should invest in. Removing pet hair is actually one of the toughest tasks for most vacuum cleaners because fur, especially that of a cat sticks to furniture and fabrics quite well. This happens because of the presence of static electricity that makes canine and cat hair cling to fabrics such as on sofas, rugs or carpets and this will manually require a lot of force to remove so your vacuum needs to be equipped with super-strong suction strength.
When it comes to main features that you should opt for, there are a few to look out for especially if you have a lot of pet cats as their fur is the trickiest. So, the first feature we recommend is to find one that has tangle-free brush rolls as these will not only pick up the strands of fur but will also ensure that they do not get tangled in the mess. This is achieved as the hair gets twisted around the brush rolls leaving you with a spick and span floor each time.
Another important feature to look out for is definitely to make sure you get a vacuum that has detachable dust and debris compartments which are also waterproof so that you won't end up having trouble with maintenance. HEPA or charcoal filters are also a plus as they are great at filtering out odors as well. Now, that we have these technicalities out of the way, we are going to present the pros and cons of 3 of our favorite devices that are best at dealing with cat or pet hair.
Best Vacuum For Cat Hair
So, our first product for the day is called the Dyson Cyclone V10 Animal vacuum which is actually both functional and beautiful in terms of its design. It is also a step up from its predecessors as it is more convenient, however, it still maintains all the exceptional features which have become synonymous with the Dyson name such as it is super quiet motor, its lightweight design and of course being super powerful in its ability to clean even though it is a cordless vacuum with no direct access to a power cable.
A great feature that this Dyson vacuum has in mind with regards to its design is the fact that it performs just as well on hardwood floors as it might on carpets and rugs.  The Cyclone V10 actually comes with a range of cool attachment heads and 4 attachments to use when it is in handheld mode. Because it is a 2 in 1 device, switching from stick to a handheld vacuum couldn't be easier as all you have to do is press a button and without any physical effort, you are left with a versatile and maneuverable device.
You will be pleased to know that this Dyson's batteries are what the brand calls "fade-free," which doesn't negatively affect the long term performance of this vacuum even if the battery life is on low. This is a good feature, especially for a battery-powered device.
Our second featured device is the Kenmore Elite 81714 which due to its HEPA filtration system, is super good at ridding your house of even the smallest dust and allergen particles along with all unpleasant odors. In terms of noise, however, it is a bit louder than many other similar models available in the market, but it can be justified slightly since this is one of the most powerful handheld vacuums we have seen. The suction in this vacuum is quite strong and allows it to suck up all sorts of fur and pet-related messes in no time.
In terms of choice of settings, there are 6 amazing approaches to clean with this Kenmore vacuum as it comes with quite a few attachments to ease out the cleaning process. The motorized Pet Power Mate device is surely one of the vacuum's finest features as it works to eradicate fur even if it is clinging onto upholstery with static electricity.
However, the one aspect to be aware of with this vacuum is the lower back wheels which in all honesty are larger than necessary and also harder to use as they are somewhat flimsy.
​Our last and final product for the day is aptly called the Bissell Pet Hair Eraser which has a vacuum head that is ultra-maneuverable. This means that it can turn all the way and in whatever direction thanks to its swivel head which is actually a new addition for any Bissell vacuum.
The vacuum's filtration system is actually super high end and comes with super tight seals that assist it in sucking up fur, dirt and all sorts of contaminants without leaving behind a dust residue of particles that may result in the aggravation of hypersensitive individuals or asthma attacks.
Another great feature is that this vacuum comes with a Febreeze scent elimination filter which can be changed easily but is expensive to purchase each time. There is also a 5-year warranty which allows users to claim damages if any aspect is less than satisfactory.