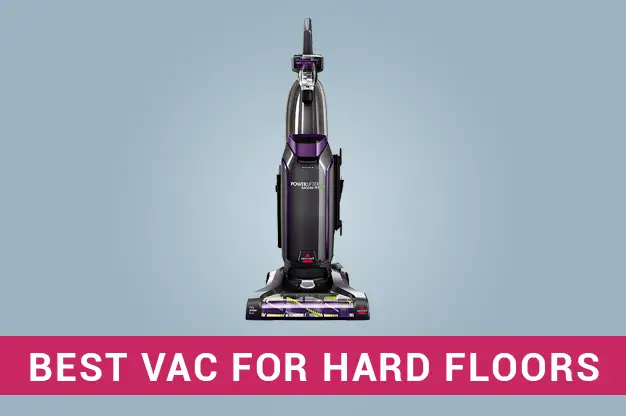 Looking for the best vacuum for hardwood floors? You've come to the right place.
An ideal vacuum for cleaning hardwood floors is the one that can deliver superb cleaning performance by picking up every single pet hair, dirt or dust particle while protecting the sensitive flooring as well.
So what makes a vacuum ideal for hardwood floors and how to choose one?
In this article, I have selected 7 top-performing vacuums for hardwood floors to help you choose the one that can meet your budget and cleaning requirements. Now, all the vacuums discussed below are arranged in a way that you will easily be able to figure out the right model for yourself.
Without further ado, let's get started…
Best Vacuum For Hardwood Floors
1. Shark Navigator Lift-Away Professional NV356E
The very first vacuum cleaner in this list is Shark NV356E. A vacuum that delivers superior cleaning performance and has received a lot of positive customer reviews for its performance on hardwood floors.
This unit ensures that there's not a single speck of dirt or debris left behind while doing its operation. It comes with a dust-away hard-floor attachment and two washable microfiber pads to ensure every little dirt particle is grabbed properly. The unit performs exceptionally well on bare floors, hard floors and carpets, Experts say this.
Plus, it's a 2-in-1 vacuum cleaner that has a removable canister which can be used as a handheld unit to tackle cracks and impossible to clean areas. The complete seal technology and HEPA filter prevent the allergens to escape back into the air.
The unit weighs only 13.7 pounds and comes with a range of attachments like dusting brush, crevice tool, and a pet power brush to deal with pet hair as well.
Overall, the Shark NV356E is an outstanding vacuum cleaner that delivers solid cleaning performance for hardwood floors and comes at a reasonable price tag with several attachments making this vacuum a worthwhile pick for your money.
2. Hoover Corded Cyclonic Stick Vacuum Model SH20030
The very first model in this list is the Hoover Corded Cyclonic vacuum cleaner that is the cheapest compared to other Hoover models. Plus, it's a lightweight model and comes with a 20-foot long power cord that can make the cleaning hectic due to changing power outlets again and again.
The unit is only nine pounds and is highly maneuverable to go in all directions. The low profile design makes it easier for you to lay the unit flat to clean under the furniture. The transition from hard floors or tile floors to low carpet is also smooth.
Furthermore, the dirt container features a clear indicator to help you know when to empty it. But on the other hand, the dirt cup is pretty small in size that might involve frequent emptying sessions.
A downside of this vacuum is that it tends to clog if you're suctioning up fur balls.
The Hoover Corded Cyclonic comes with washable filters that save you the cost of additional filters are they are reusable.
Overall, the Hoover Corded Cyclonic is a great but cheaper vacuum cleaner that is great for vacuuming large areas or cleaning thick carpets.
3. BISSELL PowerEdge Pet Hard Floor Corded Vacuum Model 81L2A
Here we have is the BISSELL PowerEdge, another best budget vacuum cleaner for cleaning pet hair from hardwood floors. This corded stick vacuum comes with a V-shaped head to ensure fine dust or dander goes right inside the head. On the other hand, cleaning large areas with a narrow cleaning path is also a hassle.
The vacuum performs a great job at picking up nasty hairballs and tumbleweeds of pet hair some long-haired heavily shedding critters create, thanks to the V-shaped design of this vacuum.
The greatest downside is that it performs not well on carpets compared to hardwood floors.
Moving on, the unit is nimble enough that it will be easier for you to move it around to clean sofas, couches, and furniture. It only weighs ten pounds that can make cleaning more effortless.
The easy to empty dirt cup is a great part of this vacuum. Be careful to do with the bin's end already inside the trash can to reduce dirt cloud.
The replacement filter pack is much cheaper so additional cost with this vacuum is nothing that you would be worried about.
If any major problem occurs with the vacuum so you will be able to replace it rather than fixing it.
That said, the BISSELL PowerEdge is a great vacuum for cleaning hardwood floors and comes with various features and functions to help you clean pet hair from hardwood floors and other surfaces as well as excluding the carpet.
4. Shark Rotator Professional Lift-Away Upright Vacuum, Red (NV501)
The greatest vacuum for cleaning hardwood floors is the best-selling Shark Rotator Professional Lift-Away vacuum. This particular unit is more powerful slightly higher priced but efficient when it comes to cleaning.
This premium vacuum from Shark comes with a range of features and accessories to help you clean several floor types including hardwood floors.
This unit is known for its versatile cleaning performance, thanks to tons of customer reviews. The Shark Rotator Professional Lift-Away works as an upright vacuum and weighs only 15.5 pounds. The swivel steering technology makes it easier for you to move the vacuum with a slight push of hand around the obstacles.
Similarly, the unit can be turned into a slimmer handheld canister vacuum by pressing a single button that releases the base from the stick. The handheld version of this vacuum can be used to cleaning stairs, corners, crevices, upholstery, curtains if they are placed lower, and car seats as well.
The Shark Rotator Professional Lift-Away comes with a dirt cup of 1.3 quarts. Plus, the HEPA filtration system ensures the allergens and pollens are trapped inside to make the air clean for you to breathe.
Moving on, the unit comes with a range of accessories to makes the vacuum versatile. With the help of attachments, the unit can be used to clean pet hair or carpets. Attachments include dusting tool, upholstery tool, crevice tool, premium pet power brush, straight nozzle, canister caddy, under appliance wand, and dust-away attachment with one microfiber pad. That's a hell lot of accessories with this vacuum.
Finally, the Shark Rotator Professional Lift-Away is a premium vacuum cleaner that comes with tons of attachments to help you cleaning several other surfaces that makes this vacuum the best unit for hardwood floors and other cleaning activities. Plus, the unit comes with a five-year warranty but make sure to get it from authorized dealers.
5. Soniclean Galaxy Canister Vacuum
Next, we have is the Soniclean Galaxy Canister Vacuum. A unit that comes with a powerful motor to clean pet fur, dander, fleas from carpets and hardwood floors.
The unit is designed to suck up everything that comes its the way. Plus, the HEPA sealed bags prevent the dust or dirt to escape to make the air breathable for you if you are allergy-sensitive.
A downside with this vacuum is the additional cost attached to the replacement bags. Each replacement bag costs several dollars, and a replacement filter is around $25. Similarly, the replacement parts are also expensive because they are imported from Germany. But don't be worry, as you would rarely have to replace the parts as they are quite high-quality and durable unless you are involved in intense cleaning activities like cleaning deep filthy carpets.
Similarly, if you have several heavily shedding pets, then be ready for several filters and dozen bags replacements each year. If compared with other vacuums, the cord of consumables and the cost of vacuum for several years will is much lower.
A great advantage of this vacuum is the lightweight design that makes the maneuvering effortless. The whole unit resides on the head of this vacuum that not only makes movement smooth but also protects the sensitive flooring of hardwood and ensures it never receives damage.
If used for a long time, the cleaning process can be tiring, but for small jobs, it will be a breeze.
Overall, this vacuum is great to pick for cleaning hardwood floors and if you can ignore the additional cost of replacements bags and filters, it's a worthwhile pick and a serious rival of high-end vacuums.
6. Bissell 1819 CleanView Rewind Deluxe Upright Bagless Vacuum
Another great vacuum in our arsenal is Bissell 1819, a vacuum that is specially designed to clean hard floors and carpets and comes at a very reasonable price tag. The incredible amount of suction it provides helps you clean anything that comes in its way.
The Bissell 1819 features a 13.5″ wide cleaning head with its triple action roller brush ensures edges are cleaned properly. By including side bristles the vacuum cleans baseboards or every other corner that comes in contact with this vacuum.
Furthermore, the great roller brush design ensures the dirt and debris are never scattered plus, it removes loose debris and pet hair more effectively. The stubborn dirt is never sustained in front of this vacuum either it's on the carpet or on the tile floors.
The Bissell 1819 comes with five height adjustments in cleaning head allowing you to clean several types of surfaces with the right amount of suction. The unit features 8 ft. hose and extension wand to clean other areas of the home. The power cord is 27 ft long and combined with the hose and extension wand you get to clean an area of 36 feet without worrying about power outlets.
The vacuum brings several attachments like dusting brush, crevice nozzle, a turbo pet hair brush and few more.
The Bissell 1819 uses cyclonic suction to trap fine dust in the cup. Similarly, the multi-level filtration system ensures the air in your home is cleaned properly. The dust cup has a capacity of 1 liter, plus it's easy to remove and empties easily as well and saves you from the mess that you face with other vacuum cleaners, thanks to the quick-release clip placed at the bottom of the cup.
Overall, the Bissell 1819 is a fairly lightweight vacuum at 15.4 pounds and offers great cleaning service for tile, hardwood floors, and carpets. There is a number of attachments with this vacuum that can be used to meet other cleaning requirements ultimately making this vacuum a great pick for your money.
7. Bissell 1954 Bolt Lithium Ion Pet
The second last model in our list is Bissell 1954 Bolt. A highly convenient and compact vacuum cleaner that is designed to take care of pet hair and other debris from hardwood floors.
The vacuum is ideal to clean on low pile carpets and area rugs as well. The vacuum is a strong contender of cordless vacuums for pet hair and comes in a reasonable price tag as well.
Furthermore, the Bissell 1954 Bolt comes with a rubberized brush tool that ensures pet hairs are smoothly picked up from the sensitive hard floor surface. Similarly, with the use of other attachments, the unit brings you pet owners can deal with several other messes.
The pet hair nozzle ensures every single pet hair is sucked up from the furniture in your home, and the sweep and scoop tool takes care of the loose debris, like kitty litter, from hard floors. This is great when your pet leaves bits of dirt and grime on your tile floors ground.
Well, the Bissell 1954 Bolt is an upright vacuum, delivers incredible suction power to deal with hectic cleaning activities, and versatile enough that you will be able to clean pretty much every place in your home with this little vacuum cleaner unit.
The slim and low profile design makes it great to clean under the furniture. The best part, storage of this vacuum is easy like a handheld vacuum.
As it's a cordless vacuum, the battery life is an important factor to discuss as well. The Bissell 1954 Bolt, when used with maximum suction power, can last for around 25 minutes that is enough to clean a larger hall or a small apartment without worrying about the power out. If you have a bigger household to clean then you have to repeat the cleaning sessions, due to the limited battery option. A quick tip to save some battery is to turn off the vacuum while moving from one spot to another to clean.
Overall, the Bissell 1954 Bolt is a great vacuum cleaner that ensures you get the best cleaning experience without breaking the bank.
8. Dyson V​11
The final choice in this list is the Dyson V​11. The latest vacuum by Dyson that is cordless with it's unrivaled battery time, and is designed to take care of carpets and hardwood floors.
Compared to all the above-mentioned vacuums, this one is slightly expensive but the high-end vacuum if you are really serious about your sensitive wood flooring.
The Dyson V​11 delivers superior cleaning performance on a range of surfaces including tile floors, hard floors, vinyl floors, or stone floors. Plus, it can be used on any type of carpet that makes it the most versatile vacuum cleaner for homeowners.
The Dyson V​11 is also superb for removing pet hair from different surfaces including carpets, wood floors, and furniture. The unit comes with a direct drive roller brush that comes with nylon brushes to ensure hidden dirt is sucked out from deep-rooted carpets effortlessly.
The V11 delivers 40% more suction than it's siblings like V8. The vacuum runs on the high-quality lithium-ion battery and delivers a run-time of around 60 minutes. It can easily be used as a handheld vacuum with a single button press that separates the wand from the system to help you clean stairs or other hard-to-reach areas where you can only take your hand. The motorized roller head is nice for upholstery.
The ultimate suction is generated with its a two-tier cyclonic suction system, and the top-grade HEPA filter ensures all allergens and pollens are kept trapped inside the vacuum. The unit is superbly lightweight and comes with a wall-mounted docking system so storage is never a problem with this unit if you live in a small apartment.
The dust collection leads to the dirt cup which is impressive and easier. The dirt cup of V11 is the most hygienic way to empty.
Overall, the Dyson V11 is the best cordless vacuum that comes with tons of features and options that makes it a versatile cleaning tool for households and offices. It's the most amazing vacuum, plus it's powered the highly popular brand in the world Dyson. It comes with a 2-year warranty that is enough for the price you spend on this vacuum.
Final Words
Now that you have all the information regarding the best vacuum for hardwood floors, it's time to make a decision according to your own preferences. We have done our job of providing you the authentic information extracted from our research. Now go through these reviews and take action and if you found this article, don't forget to share it with others as well.