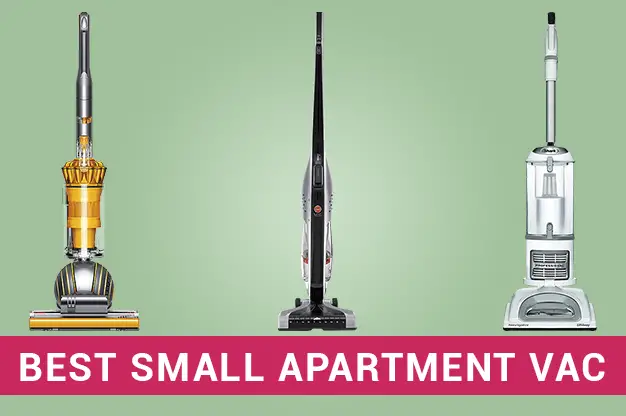 Cleaning a small apartment doesn't require you to buy an expensive high-end vacuum cleaner until and unless there are multiple surfaces in your apartment to clean like wood floors, carpets, and rugs.
The best vacuum for small apartments doesn't have to be expensive as or larger in size. Most people buy a bigger size of vacuum or the one that comes in higher price tag just because they think that's the right thing to do. But that's not completely true.
All you need from a vacuum cleaner is strong suction and a few other features to make the cleaning breeze. That said, a great vacuum for small apartments should be the one that is smaller in size like handheld or stick and doesn't costs you a dime, agrees?
That said, I have analyzed all the possible options available and have crafted this list of worthwhile vacuum cleaners for small apartments to help you choose the one that suits your needs and budget.
Without further ado, let's get started…
Best Vacuum For Small Apartment Living
A small apartment may not have enough space to store a vacuum cleaner, so wall mount vacuum cleaners or compact vacuum cleaners are more ideal for such situations to save up some space. I have chosen a vacuum for wood floors, carpets, pets, and other floor types in case you don't know which one to choose, the list below is for you.
1. Bissell 3 In 1 Lightweight Stick Hand Vacuum Cleaner
The top pick of this list is Bissell 3 in 1, a highly versatile vacuum that is stick, handheld, vacuum that comes at a fraction of price and has earned a lot of reputation online. Although it comes with a short power cord, this combination stick/hand vacuum is a clear case of dynamite coming in small packages.
It's a lightweight and compact unit that allows you to do effortless cleaning. The quick-release mechanism detaches the handle and can be easily put back to its place. The narrow profile while using in the stick mode helps you lay down the vacuum to clean under the furniture. The bagless filters are long-term and easier to clean.
Furthermore, the unit lacks a roller brush but offers generous suction and that' great for carpets as well as hard floors. The unit doesn't come with any specialized pet attachments but the superior suction ensure no pet hair is left behind
The dust collection cup is of small size but doesn't get full in one or two sessions if you clean a small area, but compared to other compact handheld vacuums it's slightly bigger.
Overall, Bissell 3 in 1 offers unbeatable value for the money and can be used as a handheld and stick vacuum to meet your cleaning requirements. That said, it's a worthwhile investment of your money.
2. Shark HV382 Vacuum
Shark is a well-known name for manufacturing high-quality vacuums. They are known for producing the highest quality products and the Shark HV382 Vacuum is one of them.
The Shark HV382 has earned a lot of reputation for its great service and this vacuum with cutting-edge technology gives you practical cleaning performance. It's also a convertible vacuum cleaner and comes with a range of accessories like a crevice tool, dusting tool, upholstery tool clip, and few more.
The pet hair attachment with this vacuum ensures every single pet hair is sucked up. The vacuum has hard bristles that you need to deep clean your carpets and to polish hardwood floors without damaging the sensitive flooring.
Furthermore, the vacuum comes with a long 30 FT cord that makes it easier for you to clean all rooms in your apartment without having to change the power outlet.
The vacuum takes care of large piles of heavy debris with it's two interchangeable roller brushes and incredible suction power giving you the ultimate dust and dirt free floors.
The dirt cup capacity is impressive, the unit comes with foam filters and no bags that save the additional cost of replacing bags making the vacuum an economical unit for the long run. A whole bunch of optional accessories for tackling different situations and improved filter kits makes this vacuum a worthwhile investment of your money and this vacuum and extraordinary machine.
3. Dyson V10 Vacuum
Dyson is a well-known name in the industry for making home appliances and the Dyson V10 is one of their most famous and nation's favorite vacuum cleaner that is slightly expensive because it's a battery-powered stick vacuum but it gives you the exceptional cleaning performance.
The Dyson V10 gives superior dust extraction with low energy consumption. The ultra-efficient electric motor, gives you a run time of 60 minutes that is remarkable, but with motorized roller switched off. With this brush turned on the vacuum lasts for around 20 minutes. But that means you can get solidcleaning of carpets and floors.
Furthermore, the vacuum comes with HEPA filters to ensure no allergens, pollens, bacteria, or germs could escape back into the air to make the air clean for you to breath if you are allergy sufferer.
The industrial design of air filter is great and with superior cyclonic suction system, the filters are also cleaned themselves. Emptying the dirt compartment is also very hygienic and there won't be any dust flying around. The strong seal of the cup takes care of every single dirt and you can empty the cup over the trash can and place it back into the vacuum.
The V10 can be turned into a handheld vacuum by simply removing the pipe and roller head that can help you clean carpeted stairs, walls, curtains, edges, and so forth that makes this vacuum well suited for small apartments. The ideal storage solution is a nother nice feature of this vac. The wall mount docking station charges the vacuum while not in use so you can save some space on your apartment.
Overall, the Dyson V10 is a slightly expensive vacuum but comes with tons of features making this vacuum suitable for superior cleaning.
1. Bissell Zing Bagless (Top Pick)
A lightweight vacuum that offers powerful cyclonic suction that makes this unit effective for carpets and wood floors. The unit uses filters instead of bags so no additional cost of getting separate cleaning bags. It comes with a 15-foot power cord that can be enough for a small apartment to clean without worrying about changing the power outlet. It's a multi-surface cleaning lightweight tool that can be used to clean stairways as well. Other than that, the vacuum is great and the price tag is extremely affordable.
2. Dirt Devil Power Air – Best Budget
The second great and affordable vacuum is Dirt Devil Power Air that comes with cyclonic filtration making it ideal for tile, linoleum, hardwood, and bare floors for grabbing all types of dirt, debris, or grime. Compared to sweeping vacs, the Dirt Devil Power Air is much more worthwhile and takes care of tough or easy messes. The dirt cup at the bottom is of reasonable size and doesn't require you to empty after a few vacuuming sessions.
3. Shark Pet Perfect II – (Best For College Room)
A handheld vacuum by the shark that is way cheaper to be a vacuum cleaner. This particular unit comes with a motorized brush and twister cyclonic technology that enables the vacuum to suck up long pet hair, dirt, and crumbs.
4. Dyson V6 Cordless Stick Vacuum ( Certified Refurbished)
Dyson V6 is a cordless vacuum that weighs only 4.75 pounds and can tackle pet hair, edges, bare floors, and clean carpets. As it's a cord-free vacuum that is powered with a lithium-ion battery, it offers a battery backup of 20 minutes with a single charge. So you don't have to worry about the limited power cable any more plus, you can clean stairs, car seats, under furniture, or curtains because it's an extremely lightweight vacuum. If there's a speck of stubborn dirt in your apartment floors, use the vacuum on the MAX power settings to get the job done.
5. Shark Rocket Ultra-Light Upright – Best for NYC Apartment
The Shark Rocket is another ultra-light vacuum cleaner that comes at the cheapest price tag and takes care of everything that comes on its way. Ranging from large debris to dust on your fingertips this unit is designed to take care of anything. The buttons allow you to use the vacuum from hard floor to carpet. Plus, it can be used as a hand vac to cleaner difficult-to-reach areas quickly. The dual-storage option makes it a solid unit for tight spaces.
6. Black + Decker Cordless Lithium Hand Vac – (Best For Small office)
If you are looking for a vacuum cleaner for your small office, the Black + Decker Cordless Lithium Hand Vac is a top option for you with the highest reviews. This is another cordless rechargeable vacuum cleaner that offers the longest battery life and allows you to take care of corners, edges, and wood floor of your office. The vacuum generates enough power for rotating slim nozzle to penetrate where it's difficult to clean. The translucent bagless dirt bowl this vacuum brings is easy to empty and wash.
7. VonHaus 2-in-1 Upright Vacuum
Looking for the most convenient option for small apartment spaces. The VonHaus 2-in-1 Upright Vacuum is a great stick and hand vacuum that can help you clean crevices and corners, it comes with a crevice tool, a mini-brush, and an extension tube for cleaning carpets, wood, and other floors.
8. Miele Compact Pure Suction Canister Vacuum – ( Best For Small Business )
The last option on our list is the Miele Compact Pure Suction Canister Vacuum the strongest vacuum that comes with a six-vortex motor and six settings suction ensure you can easily clean low-pile carpets. On the other hand, the Miele Compact Pure Suction Canister Vacuum is lighter, quiet, and powerful.