Disclaimer: There are affiliate links in this post. At no cost to you, I get commissions for purchases made through links in this post.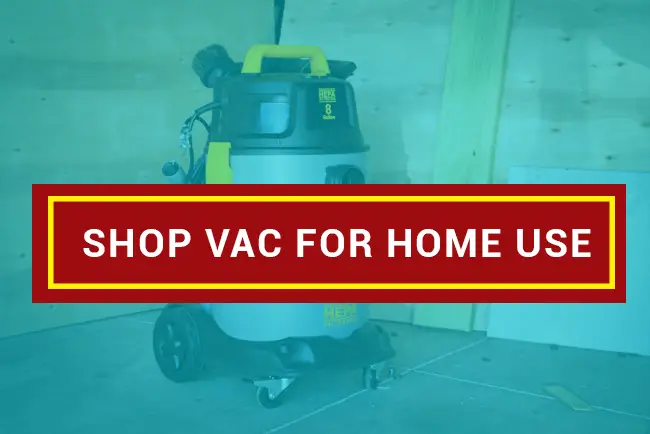 Today's article will be looking at the best shop vac for home use and we will take you through the list of our top 6 picks for the day. But before we get into the article it is important to establish what exactly a shop vac is? A shop vac is a sort of vacuum regularly utilized in the carpentry and construction industries but that does not mean that it isn't just as good for usage around the home.
These things comprise of a powerful engine and suction unit which sucks up just about any dirt and debris. A good thing about these vacuums is that since they are meant for professional usage, they are more than adept at handling minor and major messes around your home thus making your life a bit easier. They normally come with the easiest to maneuver wheels which makes them simple to explore around any space.
Best Shop Vac For Home Use
Now, let's get to the good stuff!
Of course, however, if you simply do not have the time to go over this extensive review at this moment, we recommend that you take a look at the Armor All AA255 Vacuum which is a very powerful shop vac and has a 2.5-gallon polypropylene tank that can be used easily as it is so portable. There is also a handy auto shut off feature that allows users to easily ensure the device won't waste energy.
If you are still not convinced, we recommend that you read on so you can make a decision depending on your own needs. Before you start reading, do take a look at our handy comparison chart along the way as this will inform you regarding the basic features of each product.
| | | |
| --- | --- | --- |
| Shop vac for home use | Features | Price |
| Shop-Vac 5989300 5-Gallon | Wet and dry function | Check Price |
| Armor All AA255 Vacuum | 2.5 gallon polypropylene tank | Check Price |
| Vacmaster Professional vacuum | So many additional accessories | Check Price |
| CRAFTSMAN CMXEVBE17595 | 6.5 peak HP motor | Check Price |
| Shop-Vac 5989400 8 gallon | Positive latch lid system | Check Price |
| DeWALT DXV09P 9 gallon Vacuum | Built in 20 inch power cord | Check Price |
Pros
Stainless Steel
Wet and dry functionality
Easy to clean
Rechargeable and cordless
5 horsepower motor
Lots of accessories included
Cons
First, up on our list, we have the Shop-Vac 5 Gallon 4.5 Peak HP vacuum cleaner which is made of completely Stainless Steel which means it is a durable bodied vacuum that will withstand exposure to water and rust. It also is equipped with a wet and dry functionality that means no matter the nature of the mess in front of you, this vacuum cleaner can handle it no time.
This vacuum gives you incredible tidying for getting wet or dry messes and heaps in your garage or workshop. Simply attach the hose to the back blower port to blow all debris and dirt out of those pesky spots or grass clippings from your walkway.
Another great thing about this vacuum cleaner is that it comes with a whole range of accessories which includes a crevice tool, a gulper nozzle, a foam sleeve, a floor nozzle, a .25 inch diameter accessories, a 7-foot hose, a cartridge filter and of course 3 extension wands.

---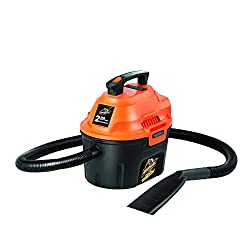 Pros
Lots of accessories
Air and noise diffuser
Auto shut off feature
5-gallon polypropylene tank
2 horsepower motor
10-foot cord
Cons
This Armor All Utility Vac is up next on our list and as its name suggests it packs a heavy punch against messes within your home that it can clean up from your car, garage or workshop area. It has the ability to handle both wet and dry pickup and it also comes with all the necessary accessories for complete inside cleaning and effectively changes over to a blower to blow away leaves as well.
The two in one feature makes it popular amongst home users looking for a powerful but portable device. It likewise has an auto shut down function to avoid the overflow of its contents and has a built-in air and noise diffuser for the quietest operation which is especially necessary for a home setting.
It offers both wet and dry functionality which makes it a great product to invest in and its 2.5-gallon polypropylene tank is portable enough to be moved around all over as per your needs. A 2 pull engine gives the user abundant suction power.
It actually comes with a lot of excellent accessories that means you will have all the tools on hand to get any task done and won't even have to purchase them separately. To name a few, there is a 1.25-inch hose, a crevice tool, a blower nozzle, a reusable cloth filter, a 10 foot cord with wrap, a detail brush, a reusable foam sleeve and of course a deluxe car nozzle to get into those hard to reach crevices on your car.

---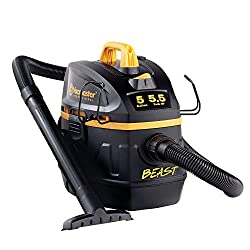 Pros
Wet and Dry functionality
5 Peak HP motor
5 Gallon capacity
Reach of 25 feet
8 accessories
Air and noise diffuser
Cons
Up next we have the Vacmaster Professional Beast Series which comes with a 5 Gallon capacity and 5.5 Peak HP motor. It also offers users both Wet and Dry functionality which means that it wnt shy away from any kind of mess in your home, garage or work station.
The fact that it is so tiny and yet has a motor this powerful means that it is a truly versatile vacuum cleaner. It also comes with a lot of accessories such as an onboard hose and a power cord storage which wipes out the unneeded problem and doesn't use up too much of the storage space.
That fact that this device has a combined reach of 25 feet in terms of cleaning capabilities thanks to its 7-inch hose and 18-inch power string means that it permits you to cover more ground without ever having to unplug the unit. There are also 8 accessories in this device that can be used to get just about any task done. This includes a crevice tool, a foam wet filter, air and noise diffuser, a 7 ft. x 1-7/8 inches long premium hose, a car nozzle, a utility filter and an extension wand along with a fine dust cartridge filter.
It comes with a ton of accessories as well which obviously is a great add on the feature since the user can use these without having to go out and purchase these extra. These include an air and noise diffuser, an Extension Wand, a crevice tool, a utility nozzle, a Fine Dust Cartridge Filter and a Nozzle.
---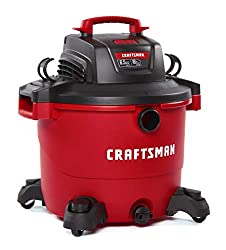 Pros
16 Gallon capacity
Wet and dry feature
2-1/2 in. diameter hose with Dual-Flex
Qwik Lock Filter Fastening System
Extra-large drain tank
Cons
The CRAFTSMAN 16 Gallon Wet/Dry Vacuum is up next on our list and it comes with a very impressive 6.5 pinnacle HP engine which makes it the perfect answer for handling huge cleanup jobs in the house, garage or on the place of work.
This dual functionality based wet and dry vacuum is the best as it comes with a wet nozzle, a car nozzle and of course a utility one too. It also comes fully equipped with a huge 2 feet1/2 inch breadth hose with included Dual-Flex that does away with wrinkles.
The Qwik Lock Filter Fastening System is also an excellent addition as it translates into the quickest and simplest wet dry vacuum filter changes.

---
Pros
The positive lid latch system
8 gallon
Wet and dry
Lots of accessories
Cons
Next up we have the Shop-Vac 5989400 8 gallon vacuum cleaner that comes with both wet and dry functions that means it is a versatile vacuum for any mess around the home.
It comes with a ton of amazing accessories as well which includes a rear blower port, a crevice tool, a positive lid latch system, top carry handle, a 7′ X 1. 25″ Hose, a 10 inch wet and dry nozzle, 3 extension wands, a filter bag, a Gulper nozzle, and a foam sleeve.
There is also a Positive lid latch system which ensures there is no spillage whatsoever.
---
Pros
9 gallon
Wet and dry
Handle
Rear wheels
Cons
Our last product for the day is called the DeWALT DXV09P 9 gallon vacuum with both wet and dry functions, a convenient handle and very large rear wheels for ease of maneuverability.
A built-in 20' power cord also makes it a super nice product as this means you can cover even more ground.