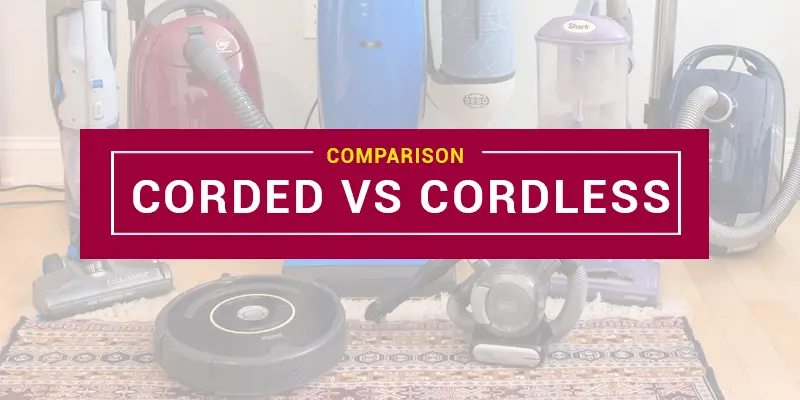 Corded vacuums are those which are more powerful cleaners and get direct power from the socket in which they are plugged in they are best for rugs and mats as well as hard floor while the cordless cleaners are charging vacuums and work after getting charged they are not as much powerful are corded and are best for hard floors.
Corded Vs Cordless Vacuums
Corded vacuums
These vacuums are designed for big houses in which a cordless vacuum would want charging again and again. Mostly these are made to work with high power and effective on both rugs and tiles. These vacuums are very efficient in working. Mostly are provided with long cords and large enough bags are cups to have dust in them. These vacuums are mostly heavy and larger in size.

Pros
Less noisy.
Have great cleaning capacity.
Can clean deeply.
Less expensive
More capacity in a dust bag or cup.
High suction power.
Cons
Limited usage area.
Issues of handling.
Very heavy.
Cannot use anywhere else than the floor.
Keeping it is an issue.
Wire can restrict movement in the house.
Introduction:
This lightweight vacuum is given a high powered suction pump which enables it to collect each type of debris; tiny or large, even fur of the pet. This vacuum cleaner is designed, keeping in mind all your needs like here we have its we shaped mouth that enables it to the corners, its long cord let you clean more area without inconvenience, more width of mouth covers more area for cleaning and the debris cup that is easy to empty.
Specs:
Weight is 7.5 lb.
V-shaped front for Corner cleaning.
11.35 inches is the width of the mouth.
Wire length is 20 feet.
6 amp power usage.
Dirt cup for the collection of debris.
Rubber squeegees for the collection of pet hair.
Steering is swivel for cleaning around furniture.

Pros

Light weight.
Efficient working.
Easy to use.
Suitable for micro and macro debris.
Verdict:
Long story short if your house has a hard floor instead of rugs and mats then go for it.
Introduction:
Hoover has kept you and your need in mind while designing it. Its cord is 20ft long so you can use it from room to room with ease and not worrying about plugging it again and again. The hand is made to clean the floor even under the future because of its reclining ability and the swivel head let you clean around the furniture. Its broad mouth covers a large area to make cleaning fast. It is inculcated with cyclonic technology for professional working. It is suitable for any type of floor; soft and hard, and for every type of debris. Moreover, this is lighter in weight so you can carry it from floor to floor with ease and washable filter of it is icing on the cake. You will have fun while working with it.
Specs:
20 feet cord length.
Reclining handle and swivel head.
Cyclonic technology.
Can be used on different types of floors.
Washable filter.
8 pound is weight.
Wide mouth.

Pros

Light weight.
Multi floor usage.
Low power usage
Verdict:
It pros are enough to convince you to purchase it. Its ergonomic design is so appealing and deserving of your money.
Introduction:
Shark rocket is really a shark rocket in the world of the vacuum. This corded vacuum is given the length of cord 30ft. you will be amazed with its functioning because it can suck in high piles of debris and can clean tiny, micro particles of the dust as well as huge beads like structure, not only this, it is given with the brush rollers to directly clean the floor and give it a polished look and you will able with it, to clean floor and rugs.  Moreover, you can turn this long handled cleaner to handheld vacuum for non- floor cleanings, which will be super light in weight just 4.5 pounds. Its dust cap is provided with high capacity and the LED light to let you monitor the dust around and ensure neat working.
Specs:
Brush rollers and vacuum suction technology; 2 in 1
Long handle with reclining ability.
LED Lights at head.
Wide mouth.
Can be changed into a handheld cleaner.
4.5 pound weight of the hand held cleaner.
Can clean piles of debris.
30 ft. long cord.
Capacity of the dust cup is 0.91 quarts.
Verdict:
You will be amazed with its results and its work efficiency. You should consider using your money in the right place.
Introduction:
This lightweight vacuum is highly professional in its working and will let you clean your house in no time because of it broadhead. Moreover its head and handle are provided with LED lights to enable you to work neatly. You can use it as a handled cleaner and can convert it into a hand held cleaner to clean furniture, stairs, ceiling or other things. The handle is reclining so you can use it under the furniture. Moreover here are 2 brush rollers to clean the floor and rugs deeply and the cup is given a large capacity so you can work without and disturbance. In addition the zero-M technology will not let the hair to cover them and keep them clean. Long cables will let you move around, and from room to room easily.
Specs:
10 lb. weight.
Dust collecting cup's capacity 0.74 quarts.
Duo technology of cleaning; brush rollers and vacuum suction.
Zero-M technology inculcated; self-cleaning rollers.
Reclining handle
LED lights on the handle and the head.
Can be turned into a handheld cleaner.
Cord length is 30ft.
Pros
Great capacity for dust.
Efficient working
Versatile functions
Verdict:
The results will be good if you will work with it. It will not only clean the floor or rugs but also will clean itself too. You will love its working so hurry and get it.
Cordless vacuum cleaners:
Introduction:
Cordless vacuum are the ones working after charging are best for working in a small house. These are very good for use in small houses. These have no mess of wires and are lighter in weight. These can be carried from place to place, room to room, and floor to floor because of being lightweight. Being cordless it is not very much high powered and cannot work very deeply and effectively because it leaves the allergens on the floor and it is more useful for hard floor houses, but still can be used for cleaning the surfaces other than floors like furniture, curtains, stairs and etc. these are provided with the dust storage low in capacity.

Pros
Light weight.
Easy to carry.
Can be used on different things.
Easy handling because of no wires
Best for small houses.
Cons
Low capacity of the dust basket
Low powered suction.
Cannot work deeply.
No effective for mats and rugs.
Not recommended for big houses.
Introduction:
This great product has working efficiency after the charging of 3.5 hours it can work for an hour. It works with cyclone technology and has a broad head to cover a larger area for cleaning. Here in the head is a brush roller which works through a torque drive to deeply clean the mats and hard floors. It can be changed into a handheld vacuum easily to work in a car or other places. Its reclining handle will let you clean the surfaces under the furniture and its power can be adjusted to 3 levels according to the need.
Specs:
60mins charging time.
Can be turned into a handheld.
Wall mount hanging.
Power modes are 3.
Reclining handle.
Usable on hard and soft surfaces.
Brush roller is also present.
Powerful motor with ceramic material shaft.
Charging time is 4 hours.
Head is torque derived.
Pros
Long battery life
Versatile use.
Easy to store.
Verdict:
Although it is a cordless vacuum, it is still very good at cleaning. If you have a small house then it can be the best thing to purchase for cleaning.
Introduction:
Tineco A10 is a great product for making your day to day cleaning easy and fun. This vacuum produces a very little noise. And has duo technology; brush roller and suction pump too, can clean larger and smaller particles and can work on every surface. It has provided different changeable heads to work on different surfaces. The presence of LED lights make sure nothing is left behind.
Specs:
25 mins working.
Brush roller is present and works with torque derive.
LED lights ate heads.
Can be transformed into a handheld vacuum.
Comes with various head installations for various functions.
Highly effective to small and large debris
Light in weight is 2.87 lbs.
Motor power is 350W.
Battery is detachable.

Pros

Noiseless.
Lighter weight.
Multiple usage
Can be used on the ceiling.
Easy to empty dust cup.

Cons

Very small dust cup.
Low timing of battery
Verdict:
Working with it will be enjoyable. Despite some cons it provides many benefits so keep in mind these cons before buying it.
Introduction:
Here are a number of features that will help you clean your house easily one of these features is bending of it wand, it will ensure easy cleaning under the furniture like tables. Its removable battery will let you put another battery to keep you going while the powerful motor that creates high suction and brush rolls are the thing that will keep each and everything neat and clean. Its transformation will let you work on other things than the floor only. This is equally beneficial for both hard and soft floors. LED lights at its head will make sure nothing has left behind. It comes with 3 different heads to work with on different types of surfaces or places. It can clean small debris as well as large particles. You will love it.
Specs:
Removable batteries.
LED lights on the head.
Long wound which can bend due to multi-FLEX technology.
2 rechargeable ION power packs.
Multi-surface working.
Duo-technology.
3 different types of heads for different working
Can be transformed into a handheld cleaner.
Dust cup is 0.3 quarts capacity.
80 mins battery running.
Pros
High powered motor.
Reachable design.
High working efficiency.
Long battery life
Verdict:
This will keep you going for long hours due to another battery. It is the best thing to purchase for house cleaning.
Introduction:
This ergonomic product will give you many favors while cleaning first its powerful battery will serve you more because of its unique cells. You can get real time information of battery timing, maintenance and the mode due to the presence of an LED screen. It is smart enough that it changed its motor power automatically while shifting from hard floor to soft or vice versa. It is easy to keep and charge; drop in docking. Its modes can be changed in 3 different ones and high power suction will clean deeply. Moreover the roller is driven by torque for cleaning effectively and collecting all sorts of particles whether small or large.
Specs:
LED digital display is present to let you know about any blockage, battery timing and mode.
3 switchable modes of working; auto, eco and boost.
Transformation to handheld cleaner.
Automatic change of power because of smart sensing.
Powerful motor producing 125000 rpm to give high suction.
Wall mount dock.
Unique 7 lithium-ion cell battery.
Pros
Very powerful suction.
Easy to handle.
Highly efficient working
Verdict:
Its features are great, its working is excellent, and it is a smart product with many benefits and to ensure quality cleaning and easy handling you should go for it. Purchasing it will make your life easy and clean fun.