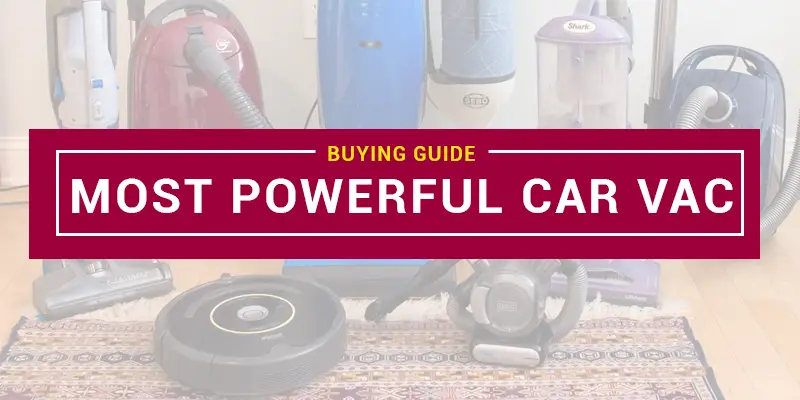 Cars are an important part of the family and integrally important in our daily life. Children sit and make a mess in cars which are sometimes very tough to clean out due to the hurdles in the structure and design of car seats, dashboards, etc.
A vacuum is the best way to professionally and deeply clean your car on your own with a commercially cleaned touch. For this purpose, handheld vacuums are used more often that come with many accessories which ensures to reach deep into tight spaces and efficiently sucks up all the debris including biscuits, chips,  fritters, spills, and much more along with dust and dirt.
Most Powerful Car Vacuum
Here is a list of Most Capable and Powerful Car Vacuums so that you can choose one best for you;
The best among many other available Car Vacuums is BLACK+DECKER 20V Max Handheld Vacuum BDH2000PL which provides the most efficient cleaning with superior ease and comfort. It comes in a beautiful cordless design under item number BDH2000PL colored Grey. The cyclonic action in this vacuum spins the debris away from the filter which ultimately ensures strong suction power. Moreover, 3 stage filtration system lets everything tapped inside and expels clean air.
The manufacturer Black & Decker has successfully established its name in the market of vacuums from the past many years. 20V Max Handheld Vacuum by Black & Decker is a big power packed in a small design. It offers 3 stage filtration and cyclonic actions for efficient cleaning.
Promising Features of 20V Max are:
Dust cup comes with an enough of 15 ounces capacity
Lithium-ion battery technology which ensures strong suction and fade-free power
Exclusive pivoting nozzle  which offers huge cleaning efficiency in a compact design
It so far has the most beautiful design with a unique pivoting nozzle which lets you vacuum at any angle just according to your ease.
The cyclonic action to track debris away from the filter to maintain strong suction
3 stage filtration system ensures cleaner and fresher air around you
Easy maintenance at low maintaining cost
20V Max Handheld Vacuum is a fully efficient and sufficient handheld vacuum that is equipped with a powerful combination of Lithium-ion battery and a high-performance motor to provide you with the superior suction capability and ultimately efficient cleaning. Although it is a small compact design it still does not compromise on quality performance with 3-stage filtration and cyclonic actions.

The Dustbuster CHV1410L Handheld Vacuum by BLCK+DECKER has a compact lightweight design with long term durability, vacuums every debris and particle for you so that you can enjoy cleaner and debris free family times.
Dustbuster CHV1410L handled vacuum comes with the following features:
16V MAX Lithium-Ion Battery technology for powerful suction and long battery life
Cordless, compact and superior design
Charging base charges the vacuum in quick 4 hours
Extra crevice tool to be attached with the main suction head for tough-to-reach areas like a sofa
easy emptying of the dust container just on one touch and easy washing
Comes with Jack plug charger, wall mount, extendable crevice tool, flip-up a brush and washable pleated filter
automatically shuts off when the battery is charged
The compact and handy design of Dustbuster CHV1410L lets you suck up all the dust and debris efficiently giving you an immense feeling of cleanliness in no time. Moreover, one-touch emptying is also a breeze for you. It is the solution to many little cleaning problems like cleaning in the cupboards, inside dashboards, cars, deep in the sofa line, and may more. It is the best solution for spot cleaning for which you cannot go and grab your big bulky vacuum. It offers strong suction, easy emptying, lightweight design, and a lithium-ion battery to provide long run time so you can clean your spills and stay in a cleaner and much healthier environment all day long.

Just like powerful performance in other Upright vacuums by BISSELL, it has also rocked the market with its amazing handheld vacuum named BISSELL Multi Car Hand vacuum. It offers strong and convincing cleaning performance with the aid of a powerful Lithium battery and strong Motor.
Dirt cup comes with 0.4 liters capacity which is more than enough for a handheld vacuum.
Professionally designed car detailing tools for ultimate cleanliness in your vehicle
Removable and detachable 22V lithium-ion strong battery for convenient cleaning operations
Motorized turbo brush tool efficient enough for car seats and mats
2'ft long Extension hose for tough-to-reach areas to suck up messes
Crevice tool focuses on suction in tight places
LED lights to enhance visibility in the darker areas
The BISSELL Car Hand Vacuum is best for those who want a bit extra with regular specifications and features as it offers LED lighting to enhance visibility and comes with a complete professional set of tools to let you clean every nook and corner of your car or other vehicles. 22V Lithium-ion battery ensures powerful suction so that nothing is left behind other than a cleaner and newer bright surfaces. It is a Powerful Handheld Vacuum.

20V Max has different configurations which yield different cleaning outputs to let you fight against specific kind of cleaning tasks. 20v Max BDH2020FL is fully functional against pet hairs and cleans all the hairy mess like a breeze.
General Features of 20v Max BDH2020FL are:
Dustbowl has a capacity of 20.6 ounces with fade-free power
24 AW suction power does not leave behind even a particle
Pet Hair Brush which easily removes pet hairs from all surfaces
Easy to empty and easy to wash dust cup and filters
3 stage filtration process which prevents doesn't let dust and debris escape
lightweight design weighing only 3.2 pounds
Fighting with stubborn pet hairs and deep settled dust is no more difficulty with the 20v Max BDH2020FL Handheld vacuum. It offers strong suction power and a 3-stage filtration process to ensure a clean environment. Moreover, it comes with a long hose which makes cleaning from tough-to-reach areas a breeze. Being lightweight and a powerful cordless vacuum provides you the efficiency of performance which it claims to do.

Oreck home and car cleaner are that trendy handheld vacuum cleaner that despite its fancy look is well versed in its performance and leave behind many heavy-duty upright vacuum cleaners as far as its cleaning efficiency is concerned. It is a great vacuum cleaner which is well known for its portability and bagged canister and is taken as the most powerful portable car vacuum. It is specifically built as the gadget that is best at operating in the most difficult of places such as stairs and curtains. It has a sleek and slim body that is good enough to clean underside the furniture and the best thing about this vacuum comes as its ability to clean the ceiling fans, light fixtures, and several other surfaces that are above the floor and are considered a major hurdle to vacuum cleaning. It is the most lightweight vacuum cleaner that is portable enough to carry it around literally ANYWHERE quite effortlessly.
Features.
It weighs only 5 pounds which makes it the most lightweight yet efficient vacuum cleaner that could be easily used for home cleaning and car interior cleaning. As it is a corded cleaner so the user must be concerned with the cord length and to satiate this concern of the users Oreck has launched a 20 feet power cord which is long enough to easily reach the potentially difficult areas and to enhance this ability the Oreck Handheld above floor cleaner comes up with an extendable 5-inch slinky hose which is designed in a way to carry the suction to the very spot you want it to be delivered right away.
HEPA filters are another important necessity of modern vacuum cleaner as they make the air very much fresh and breathable. This vacuum cleaner has an onboard storage caddy that keeps the accessories coming with it in place and is backed by three years' warranty.

HONOR has come up to the front line with their all car specific most powerful car vacuum cleaner and has bought the all needed chunks that the users were getting in different vacuum cleaners to an innovative single gadget vacuum that operates on a 12-volt DC voltage so that it could be easily used everywhere and anytime by connecting it to the car power source. It has proved its worth as a travel partner which you could easily carry with you on the roads and do the cleaning whenever stuck in long traffic breakouts or when taking the break before heading to your next destination. As an ideal car cleaner, it is equipped with a LED light that will make the cleaning under darkness just a breeze away.
Features:
HONOR has launched its all-new innovative design which allows the users to remove its dust cup head and in this way you can dock the dust cup very easily and effortlessly without the need of touching your debris container. What most users find astounding about the product are its three distinct nozzles that are specific to the condition you want your vacuum to operate ideally.
The good filtration system is considered as the hallmark of good vacuum cleaners and HOTOR has added an extra layer to the safety of its cleaning filters which are covered by a filter wrap and this addition helps disperse the suction evenly and to prevent the filters from getting clogged.
This vacuum comes up with a durable and elegant storage bag that could take in all the vacuum related accessories and the vacuum itself. That means you could put this HOTOR Corded vacuum in a bag along with all the attachments and take it anywhere you want it to go with you.

If you want to upgrade your car cleaner to something extraordinarily powerful and efficient then ThisWorx is the best choice you could make. It is the most powerful handheld car vacuum that has the prestige to be the bestseller of the year and is regarded as the most powerful auto vacuum. It is another 12V DC operational handheld tool that is the best one in town for auto detailing. As the detailing work requires high power and high reach ThisWorx has both of these features with an enhanced ability then its rivals.
It is aimed at giving your car interior a top-notch pristine look which is possible only with a professional cleaning tool. Its ergonomic handheld design makes it the best match for crannies and nooks in the car interior which require such a powerful tool that could blow out the debris from tight spaces.
Features:
It is one such revolutionary tool that will completely change the way you look at car cleaning with its all-purpose quite effortless operation. It has three distinct nozzles coming with it one far the detailed cleaning one nozzle for the deep cleansing of your car and the third one is for crevice which is aimed at cleaning every nook in your car.
It has a 16 feet long power cord which enables it to reach every place in your car without carrying with you, extension all the time. It weighs only 2.4 pounds which is the most lightweight handheld vacuum and you will not feel any kind of strain after using it. It runs on a 106 Watt motor that requires 8.8 amperes of current to flow through its wires and ports that make it compatible with strong suction and the product as the most powerful car vacuum UK.

Buyer's Guide!
What are the things to look for in a car vacuum?
Keeping your car interior in a pristine condition is more of a necessity as no one likes to drive through a dirty car cabin for a longer period. To do one must be equipped with a quality vacuum cleaner that is ideal for the car interior. To get your hands on the best vacuum cleaner for car interior the buyers must keep in mind certain features and specifications of the product such as its suction power, weight, container capacity, and the number of attachments coming with the gadget. To help you decide on the best vacuum cleaner for car interior we have got you our crafted buying guide have a look at that.
Corded or Cordless:
The foremost consideration while buying your vacuum cleaner is it is being corded or cordless. It is strictly a matter of personal preference whether you like to go corded or run your device on the power source. Both have their pros and cons as the corded design will let you use your vacuum for long times and have better efficiency but as a downside, you will have to carry several wires and ports with you which is not desired by many. As far as the cordless vacuums are concerned they will allow the user to cut short on wires and their entanglement but for that, you have to be around a power source all the time. As an upgrade of this cordless vacuum the 12 Volt Cordless vacuum cleaners are launched in the market that could easily be attached to the car power, therefore, you could ideally use it everywhere on the road or in your garage.
If you want to use AC instead of the DC voltage of this vacuum, several convertible adapters are available in the market that is specifically built to change the DC voltage to AC, and therefore you could use these 12 Volts vacuums with the car or house power source quite effortlessly.
Handheld Design:
Another important feature to look for in your potential purchase is its portable and handheld design. This is one of the prerequisites for the ideal car cleaner as you need to grab such a gadget that you could carry around easily with you all the time. Being portable doesn't only give you enhanced maneuverability but it is also necessary to have easy access to potentially difficult places in the car interior. A handheld tool will be better at cleaning the narrow spots in the car such as the gap between seats and under the console.
Storage Capacity:
If you decide to go for a handheld vacuum, then you should keep it in mind that they usually come with a small storing tank and there is a rational reason behind that as a gigantic canister vacuum will not be a wise choice to clean your car interior. Small calcify tanks will be better suited to blow out the debris from the crevices inside the car floor and upholstery.
Attachments:
Another important and useful thing about the vacuum cleaner is the attachment coming with it. Nearly all the trusted brands have launched several accessories that are good enough to enhance the performance of the vacuum. The most important among this attachment is a crevice tool that is adapted to clean the minute crevices and spaces in the car. An upholstery tool is also the most common accessory along with an extendable hose which is usually coming with the corded vacuum cleaners.
Suction Strength:
How much suction strength your vacuum supports is categorically the first thing that pops up in your mind? Several good enough vacuums are available in the market that comes up with powerful suction and for added suction power to your vacuum, you need to spend some extra bucks and this is reasonable enough to say that you get what you paid for.
Motor Power:
To support the suction strength of the vacuum cleaner its motor should be powerful accordingly. Generally, the 12 volts and 18 Volt engines are coming with the vacuum cleaners. The higher the engine power the more suction strength it can support. If your vacuum has powerful suction and a low voltage motor, then you would certainly have to face the loss of suction.
Frequently Asked Questions (FAQ):
Which car vacuum has the best suction?
This is the most common question Car cleaning experts and dealers are asked and the very straightforward answer to this question is that Dyson V7 car and boat handheld cordless vacuum cleaner is considered as the most powerful vacuum which comes along with the 100 air watts of suction strength which is currently the highest for any car vacuum.
What is the strongest car vacuum?
Being strongest doesn't necessarily mean being the best and several good enough car Vacuum Cleaners are available in the market that works very fine and are backed by long-lasting warranties by the respective brands but what makes them strongest is the power capacity of the motor and the respective suction strength. Bissell Garage Pro wall mounted Vacuum Cleaner is considered the strongest car vacuum available in the market.
What is the best vacuum for auto detailing?
When it comes to car detailing a vacuum which is capable enough to keep it in pristine condition and for that the vacuum should be powerful enough to the job quite effortlessly. ThisWorx Car Vacuum is the best one in town as far as the car detailing is concerned. It is a handheld vacuum cleaner that is widely cherished in the market for its portable and lightweight built and the best thing about the gadget is the number of attachments coming with it. this work has all the necessary and useful accessories included in its package that makes the car detailing just a breeze away.
Who makes the best car vacuum?
This is a quite tricky question as the brand is only as good as the product coming under its banner and if this notion is believed to be true then Black and Decker have a clear edge over other brands. It is the pioneer of the car vacuum and has the best lineup of some of the industry's leading car vacuum cleaners. It is known for the efficiency and effectiveness of its projects apart from the ergonomic design and dirt picking capacity from tight spaces.
What is the most powerful handheld vacuum?
When it comes to the power and effectiveness in picking up the dirt and debris Dyson is the name on everyone's lips and their Dyson V7 handheld car and boat cordless vacuum cleaner is the most powerful car vacuum cleaner in the town.
What is the best handheld vacuum to buy?
Black and Decker 20V max handheld car vacuum is considered as the best choice for a handheld car vacuum. And with the strong suction and powerful action, it proves itself to be a wise selection.