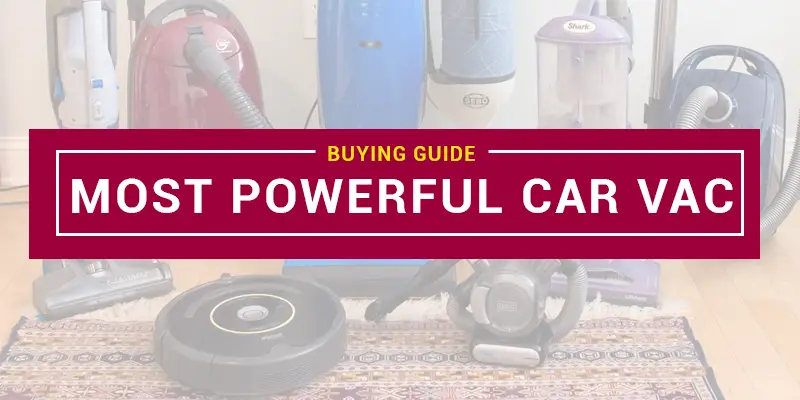 Cars are an important part of the family and integrally important in our daily life. Children sit and make a mess in cars which are sometimes very tough to clean out due to the hurdles in the structure and design of car seats, dashboards etc.
A vacuum is the best way to professionally and deeply clean your car on your own with a commercially cleaned touch. For this purpose, handheld vacuums are used more often that come with many accessories which ensures to reach deep into tight spaces and efficiently sucks up all the debris including biscuits, chips, fritters, spills and much more along with dust and dirt.
Most Powerful Car Vacuum
Here is a list of Most Capable and Powerful Car Vacuums so that you can choose one best for you;
The most best among many other available Car Vacuums is BLACK+DECKER 20V Max Handheld Vacuum BDH2000PL which provides most efficient cleaning with superior ease and comfort. It comes in a beautiful cordless design under item number BDH2000PL colored Grey. The cyclonic action in this vacuum spins the debris away from the filter which ultimately ensure strong suction power. Moreover, 3 stage filtration system let everything tapped inside and expel clean air.
BLACK+DECKER 20V Max Handheld Vacuum BDH2000PL
The manufacturer Black & Decker has successfully established its name in the market of vacuums from past many years. 20V Max Handheld Vacuum by Black & Decker is a big power packed in a small design. It offers 3 stage filtration and cyclonic actions for efficient cleaning.
Promising Features of 20V Max are:
Dust cup comes with an enough of 15 ounces capacity
Lithium-ion battery technology which ensures strong suction and fade free power
Exclusive pivoting nozzle which offers huge cleaning efficiency in a compact design
It so far has the most beautiful design with unique pivoting nozzle which let you vacuum at any angle just according to your ease.
The cyclonic action to track debris away from the filter to maintain strong suction
3 stage filtration system ensures cleaner and fresher air around you
Easy maintenance at low maintaining cost
20V Max Handheld Vacuum is an fully efficient and sufficient handheld vacuum which is equipped with the powerful combination of Lithium-ion battery and a high performance motor to provide you with superior suction capability and ultimately efficient cleaning. Although it is a small compact design but it still does not compromise on quality performance with 3-stage filtration and cyclonic actions.
BLACK+DECKER DustBuster Handheld Vacuum (CHV1410L)
The Dustbuster CHV1410L Handheld Vacuum by BLCK+DECKER has a compact light weight design with long term durability, vacuums every debris and particle for you so that you can enjoy cleaner and debris free family times.
Dustbuster CHV1410L handled vacuum comes with following features:
16V MAX Lithium Ion Battery technology for powerful suction and long battery life
Cordless, compact and superior design
Charging base charges the vacuum in quick 4 hours
Extra crevice tool to be attached with main suction head for tough-to-reach areas like sofa
easy emptying of the dust container just on one touch and easy washing
Comes with Jack plug charger, wall mount, extendable crevice tool, flip up brush and washable pleated filter
automatically shuts off when the battery is charged
The compact and handy design of Dustbuster CHV1410L let you suck up all the dust and debris efficiently giving you an immense feel of cleanliness in no time. Moreover, one touch emptying is also a breeze for you. It is the solution to many little cleaning problems like cleaning in the cupboards, inside dashboards, cars, deep in the sofa line and may more. It is the best solution for spot cleaning for which you cannot go and grab your big bulky vacuum. It offers strong suction, easy emptying, lightweight design and lithium ion battery to provide long run time so you can clean your spills and stay in a cleaner and much healthier environment all day long.
BISSELL Multi Auto Car Hand Vacuum
Just like powerful performance in other Upright vacuums by BISSELL, it has also rocked the market with its amazing handheld vacuum named BISSELL Multi Car Hand vacuum. It offers strong and convincing cleaning performance with the aid of powerful Lithium battery and strong Motor.
Dirt cup comes with 0.4 liters capacity which is more than enough for a handheld vacuum.
Professionally designed car detailing tools for ultimate cleanliness in your vehicle
Removable and detachable 22V lithium-ion strong battery for convenient cleaning operations
Motorized turbo brush tool efficient enough for car seats and mats
2'ft long Extension hose for tough-to-reach areas to suck up messes
Crevice tool focuses for suction in tight places
LED lights to enhance visibility in the darker areas
The BISSELL Car Hand Vacuum is best for those who want a bit extra with regular specifications and features as it offers LED lightning to enhance visibility and comes with a complete professional set of tools to let you clean every nook and corner of your car or other vehicles. 22V Lithium-ion battery ensures powerful suction so that nothing is left behind other than cleaner and newer bright surfaces. It definitely is a Powerful Handheld Vacuum.
BLACK+DECKER 20V Max (BDH2020FL) Handheld Vacuum
20V Max has different configurations which yields different cleaning outputs to let you fight against specific kind of cleaning tasks. 20v Max BDH2020FL is fully functional against pet hairs and cleans all the hairy mess like a breeze.
General Features of 20v Max BDH2020FL are:
Dust bowl have a capacity of 20.6 ounces with fade-free power
24 AW suction power does not leave behind even a particle
Pet Hair Brush which easily removes pet hairs from all surfaces
Easy to empty and easy to wash dust cup and filters
3 stage filtration process which prevents doesn't let dust and debris escape
lightweight design weighing only 3.2 pounds
Fighting with stubborn pet hairs and deep settled dust is no more a difficulty with 20v Max BDH2020FL Handheld vacuum. It offers strong suction power and 3-stage filtration process to ensure clean environment. Moreover it comes with long hose which make cleaning from tough-to-reach areas a breeze. Being lightweight and a powerful cordless vacuum, it provides you the efficiency of performance which it claims to do.