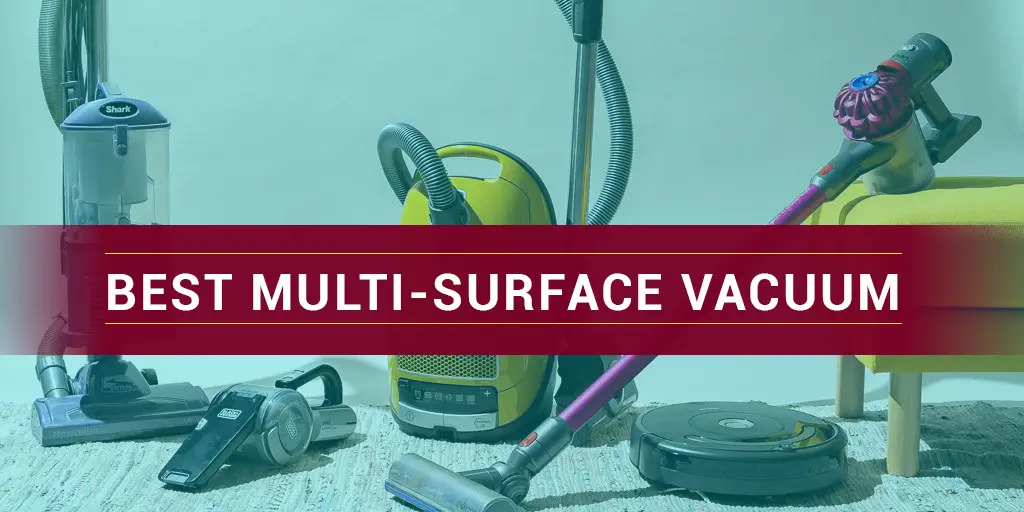 Looking for the best multi-surface vacuum cleaner? You've come to the right place.
 Our Top Picks For You… 
Either you have to clean your walkways, hard floors, stairs, or cars, a multi-surface vacuum is capable to help you with various types of cleaning activities.
Now, the challenging part is the selection of the great multi-surface vacuum cleaner as there are a plethora of vacuums available in the market and the selection of the perfect model depends on several factors because there are every cleaning surface has its requirements.
That said, I have done the hard work for you and have crafted this list of top multi-surface vacuum cleaners to help you choose the model that suits your needs and budget as well.
The top choice among all these vacuums is the lightweight
cordless Dyson V8
, a powerful stick and handheld vacuum cleaner that offers 40 minutes of run-time, comes with HEPA filtration system, and versatile enough that you will be able to clean stairs, walls, drapes, floors, carpets, rugs, and variety of surfaces.
Without further ado, let's get started…
Best Multi-Surface Vacuum Cleaner
One thing to remember before diving deep into the list is that multi-surface vacs can handle carpet, tile or wood floors but they are not designed to deal with liquid messes which is the job of wet-dry vacs. Other than that you can tackle pet hair, dust, or regular messes with a multi-surface vacuum cleaner.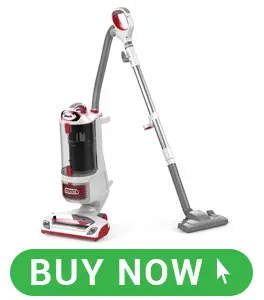 When it comes to vacuuming Shark is the highly praised model that comes in our mind. The very first multi-surface vacuum in our list is Shark Rotator Pro NV501 corded bagless vacuum with lift-away hand vac and anti-allergy seal.
This inexpensive yet lightweight model is designed to deal with carpet, hard floor, stairs, couches, corners, and crevices. The unique design of this vacuum makes it easier for consumers to clean accumulated dirt in hard-to-reach areas even under the furniture. Plus, the allergens and pollens are kept trapped inside the vacuum, thanks to the anti-allergen complete seal technology and HEPA filter.
Compared to Dyson models, Shark Rotator is the cheaper model but its performance has earned it great respect in tons of households for cleaning various floor types including bare floors. To be honest, it struggles a bit on carpet but gets the job done.
It comes with a premium pet power brush and sucks up all pet hairs, dust, dander, or other dirt particles completely, thanks to the strong airflow. The XL-capacity dirt cup can store a great number of pollens or long hairs without having you to empty it frequently.
Furthermore, the unit comes with advanced swivel technology that makes the movement of the vacuum smooth on different floor types. Plus, the detachable canister breaks it down to use as a handheld cleaner for cleaning higher spaces or corners.
Overall, the Shark Rotator is an amazing all-in-one vacuum cleaner and suitable for multi surfaces. The on/off brush roll is another great feature to use the vacuum on your desired surfaces like a shag carpet. But a downside is the head cannot be adjusted according to the pile height of your carpet. Other than that, it can server amazingly to clean a range of surfaces that make it a worthwhile pick.

Another great selection as a multi-surface vacuum is the Dyson Ball Multi Floor. Dyson is the most popular vacuum manufacturer in the world and this vacuum by this brand is a high-quality unit that is designed to clean multiple floors.
The design, performance, and the purpose of this vacuum is exceptional so be ready to a slightly expensive price tag as well. If you can get everything cleaned with just one vacuum cleaner without spending on several vacuum cleaner, there's no point you should be worried about a single unit with a slightly expensive price tag, right?
Now, the self-adjusting cleaner head is the best part of this vacuum that makes it ideal for cleaning several floor types like carpets or wood floors while protecting the sensitive tile or wood flooring surfaces.
The unit comes with a powerful brush bar to take care of thick carpets. And the bar adjusts itself while moving from tile to carpet and vice versa as it's a self-adjusting bar.
The best part? The ball technology, that makes the maneuverability smooth that you would be able to steer the unit around effortlessly with a slight push. The easy to grip head is from where you will be controlling the movement of the unit to steer it around the tables, couches, and recliners.
The unit is efficient for picking up everything else from the pet hairs because it lacks the soft dusting brush like the Dyson Ball allergy. But, the stair cleaning tool and combination accessory tool are helpful for cleaning stairs and other surfaces.
If you really want to try this vacuum without spending that much money, you can get a refurbished model that comes with a five-year warranty of parts and labor but only if purchased from an authorized dealer.
Overall, the Dyson Ball Multi-Floor as the name suggests is more than a standard vacuum and comes with the latest technology. The biggest attraction is the ball technology that can help you clean your home effortlessly and the top-notch performance is what you will be paying for. That said, it's a worthwhile investment that you can make.

And we are back again with another great vacuum cleaner by Shark. The Shark Navigator Lift-Away Professional upright vacuum is another superior machine that has received tons of great reviews by customers, thanks to its solid performance and great design.
The Shark Navigator Lift-Away Professional offers pretty much everything that the both above-reviewed vacuums deliver but it is much affordable than the above models. It's a slightly older model but it is equally capable to do everything other expensive multi-surface vacuum cleaners is capable to do.
The lift-away handheld technology helps you use it as a handheld unit to clean hard-to-reach areas, corners, curtains, cars, or stairs. Plus, the pet power brush captures every single pet hair from your sofa, couches and all other surfaces you use it on.
Compared to Dyson, this unit comes with a unique dusting attachment with microfiber pads to lift fine particles, and the best part is that it can be washed to use again that saves additional cost.
The anti-emission HEPA filter is what keeps the dirt particles like pollens and allergens trapped inside.
Though a downside of this model is that it sprinkles the dust or allergens while picking them up so few repetitions are involved every time you clean a surface. But that shouldn't be a problem as the unit is lightweight and cleaning is effortless.
Overall, the Shark Navigator Lift-Away Professional is a perfect mid-range vacuum cleaner that comes with nice features like swivel head, HEPA filter, and higher suction, everything without breaking your bank that is a great deal for you.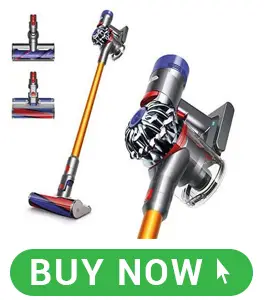 The next model in our arsenal is Dyson V8 Absolute. A latest but best-selling model that removes dust bunnies from hard floors and allows you to clean stairs and various other surfaces as well.
This particular unit is a cordless multi-surface vacuum that can last for up to 40 minutes while used with main head and around 25 minutes while used with motorized floor tool attachment.
Moving on, the Dyson V8 Absolute is a versatile model that is designed to clean the range of surfaces.
The problems found in previous models are improved in this model so the direct-drive motorhead is ideal for carpet, soft roller cleaner for hard floors, handheld attachment, and long wand to either difficult to reach areas like under the furniture or higher areas like ceilings or curtains.
Furthermore, the HEPA filter also does its job greatly by keeping the dirt and dust particles trapped inside to make the surrounding air clean to breathe.
Overall, the Dyson V8 Absolute is an amazing solution for cleaning multiple surfaces. The cord-free system helps you clean anything without worrying about the power outlet but the shortcoming is that you can clean for a limited time. But at least it's worth the price so it's not a bad deal either.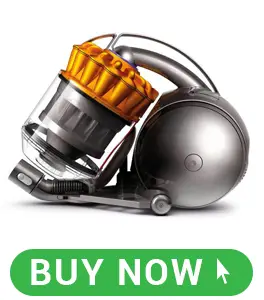 Well, there are tons of vacuum cleaner brands out there, but I have promised to help you choose the right model from the right brand. That's why I happen to choose vacuums from either Shark or Dyson because they fit for a different range of people in different situations.
This is Dyson DC39 Origin Canister Vacuum, a vacuum that is efficient for cleaning pet hair and suitable for bare floors as well.
The inclusion of high-quality filters in this model is responsible to make the air clean for you to breathe while cleaning, and they are washable as well so no additional cost attached.
The performance is pretty much similar compared to other vacuums reviewed above. Plus, the suction power is also equal to Dyson Cyclone, but people don't like the central steering mechanism.
So how this model is different and why you should choose this.
Well, the Dyson DC39 Origin Canister Vacuum with its ball design comes with internal insulation in conjunction with other noise absorbing materials to make the cleaning process noiseless even you can use it beside a baby sleeping.
Furthermore, the handle button can control the brush, so you don't have to adjust the beater bar yourself.
Overall, the Dyson DC39 is an exceptional vacuum cleaner that offers numerous features without spending too much that makes it an ideal deal.

6. Bissell CrossWave Wet/Dry Vacuum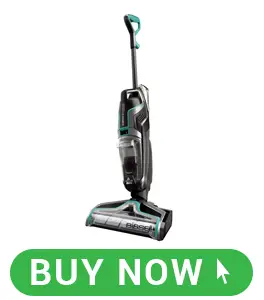 The last vacuum in our list is Bissell CrossWave. Now many of you must be dealing with wet messes of pets or other so keeping this thing in mind, I have managed to pick a wet/dry multi-surface vacuum cleaner for you.
This particular unit can mop and vacuum simultaneously. The mixture of microfiber and nylon bristles allows building the scrub that ultimately picks up debris.
Plus, the brush roll and air path between uses.
Now the best part is that the brush roll is removable by hand.
Now, the unit is not good to be used for hardwood floors or carpeted floors but you can clean rugs or tile floors with this solution.
Overall, the unit is a great fit for those having a mixture of wood floors, rugs, and tile floors in the house. So this vacuum can be of great use and the budget price tag can make it easy to select for many people.
Buying Guide
Types of Multi-Surface Vacuums
Now, if you are curious to know what types of vacuums are good while shopping the below-mentioned list is for you to read so that you can make an informed decision to make your home tidy.
Let's get started…
Lift-Away: Lift-away vacuums are upright vacuums having detaching handheld units and are suitable for cleaning carpeting, car seats, wood floors, and bare floors.
Wet/Dry Vacuums: These are the vacuum that can mop and vacuum at the same time. You can use them for cleaning tile, bare, and rug flooring. These vacuums can sterilize the flooring with just the flick of a switch.
Now the vacuums differ in the corded and cordless models. Here comes the buyer preference that suits their needs or home environment. If you have kids or pets or a lot of furniture you should get a cordless unit to avoid the entangling issue. While on the other hand, you can get the corded model if you have a small apartment to clean.
Vacuum Accessories
There are tons of vacuum accessories that you can look after while choosing a great vacuum for cleaning multiple surfaces.
Tools: Different tools include a dusting tool, upholstery tool, crevice tool, and many others.
Heads: Make sure to get a vacuum that has an adjustable head or multiple heads to clean carpeting or area rugs.