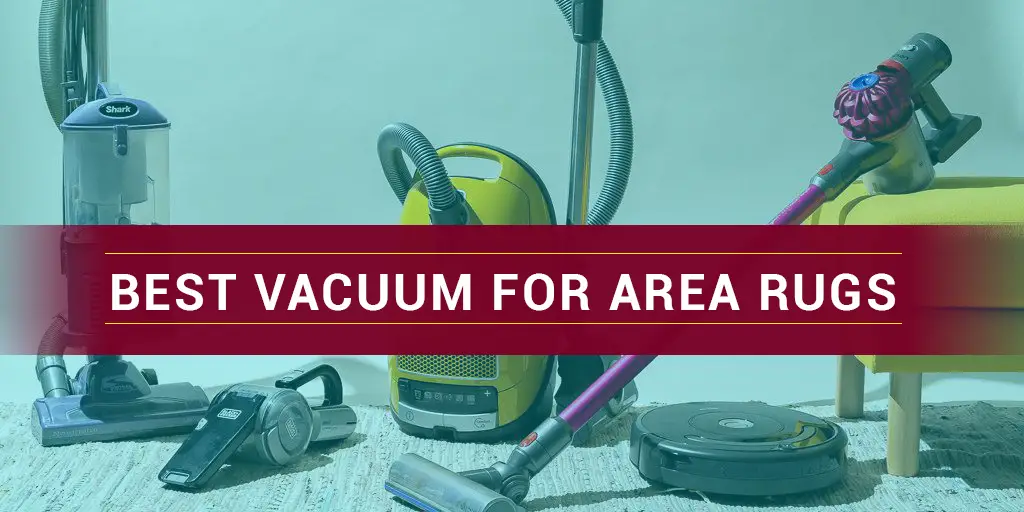 Looking for the best vacuum for area rugs? You've come to the right place.
Area rugs require gentle cleaning which is possible with either manually or a specialized vacuum cleaner to protect the gentle fibers of the carpet.
In this article, I have done the hard work for you and have crafted a list of best vacuum for area rugs to help you choose the right model for your needs.
 Top Picks For You 
Bissell Deluxe
is a budget canister vacuum that is super lightweight and powerful enough to clean delicate surfaces like area rugs, drapes, and upholstery. Super easy to move and extremely easy to empty dirt tank makes it an ideal pick for you without breaking the bank. Plus, it's available on a
best offer
making it a sweet deal for you.
Without further ado, let's get started…
Best Vacuum For Area Rugs
Bissell Hard Floor is a vacuum that looks like it's designed for hardwood floors but it is equally suitable for area rugs as well.
Therefore, you can use this vacuum on the sensitive flooring as well as on the gentle carpet.
The unit weight around 9 pounds that is fairly lightweight and comes with a range of attachments to help you clean other places like stairs or difficult-to-reach areas.
The best thing about this vacuum is that it features the brush with soft bristles to take care of the sensitive flooring of wood floors. Plus, the area rugs attachment comes with two settings so that you can use it according to your needs. With this variable power option, the vacuuming of the rug becomes easier.
The dirt canister is pretty easy to empty and large enough that doesn't require frequent cleaning sessions.
Now, the compact size of the vacuum makes the storage much easier, especially if you live in a small apartment. The retractable cord eliminates the additional chore of collecting the cable once done cleaning.
Furthermore, the vacuum comes in a fair price tag that makes it a worthwhile investment for your money. Now if you have a rug scattered on the beautiful hardwood floor and are looking forward to making it spotless, try getting this vacuum it's a solid pick for you.
---
Another great vacuum for cleaning area rugs is Bissell Hard Floor Expert. This vacuum comes with additional features and with an extra cost attached as well.
This particular model is slightly different than the above-mentioned model and it operates at 9.2 amps and comes with an 18-foot power cord and a larger dirt tank.
A snag with this unit is that the brush gets clogged if used on pet hair and requires to unstuck manually using scissors.
In a nutshell, the Bissell Hard Floor Expert is a perfect vacuum and cost-effective unit that comes in a reasonable price tag and offers exceptional performance.
---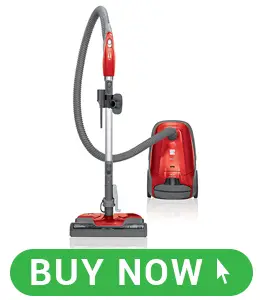 Kenmore 400 bagged is a reliable vacuum that features a 2-motor system to generate powerful suction. It generates enough suction that no single particle of dirt is left behind. All hidden dirt particles are sucked from the deep roots of your carpet.
Furthermore, Kenmore 400 is effective for other surfaces as well.
It comes with the HEPA filtration system to ensure allergens and pollens are trapped inside securely to make the air breathable for you.
The unit weighs around 22.6 pounds but tends to get clogged when comes in contact with pet hair
Overall, the Kenmore 400 is one of the high-end vacuums delivering solid performance and great for large carpeted areas making your investment worthwhile.
---
The final vacuum in this list is Dyson Ball Multi Floor, an exceptional vacuum cleaner that delivers high-quality performance and has the highest numerical rating in the list of canister vacuums by J.D Power in vacuum satisfaction studies. Plus, holds a higher number of positive customer reviews in this list.
The head features stiff nylon bristles that help the unit dig deep into the carpet to suck and remove every little dirt particle. Plus, the soft carbon fiber filaments are useful for cleaning wood floors without damaging the sensitive flooring.
Compared to other vacuums, the Dyson Ball Multi Floor moves smoothly, thanks to the Dyson Ball Technology that replaces the dragging system and ensures the floor remains protected from sharp movements of the unit. The unit resides on the larger wheels that makes the vacuum easy to spin and turn.
The Dyson Ball Multi Floor comes with a HEPA filter to take care of allergens and pollens and makes the air breathable for you. The dust compartment has a capacity of 0.53 gallons which is great as well.
A snag of this vacuum is that it created strange noises while operating, and it also struggles to move on the thick rugs even with intense suction.
Overall, the Dyson Ball Multi Floor is a fantastic vacuum cleaner with a great price tag. Regarding features and price, the Dyson Ball Multi Floor hits a sweet spot.
---