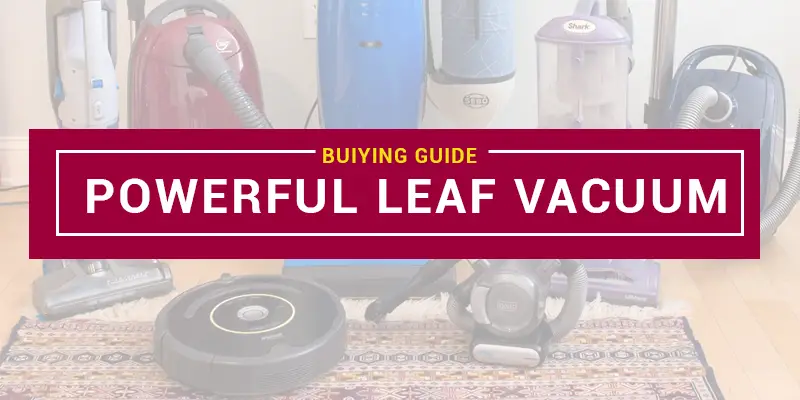 When its autumn time, the view outside looks absolutely beautiful as the leaves fall to welcome wintertime, however, as any frustrated homeowner will let you know the dying leaves bring about a range of issues to the other foliage such as grass and flowers around them. Autumn also brings about the chance of rain which when combined with the fallen leaves makes a very messy and mulch environment which even causes the decay of the grass underneath.
This is why it is imperative to do away with leaves and debris as soon as you can because you can not only look really bad but they also present a slipping hazard for you and your loved ones. There are of course conventional methods that an average person may opt for such as the use of a garden rake, but this may be very time consuming and quite physically exhausting work.
Leaf vacuums are therefore a good alternative to this dilemma as they can normally blow, vacuum, and mulch all in one. Some even have separate attachments for blowing and vacuuming, while others have all three features simply built into the device and can be accessed with the mere flip of a switch. There are also different power types available for users with their own specific needs. This may include a corded electric variety which no doubt provides the most consistent power, gasoline-fueled ones which need a very precise ratio of fuel to gas ratio and of course fully gas-powered ones as well. While each has its own set of pros and cons, they are all equally used by lawn owners all over the world.
Nowadays there are even battery-powered models that can even be completely cordless and super lightweight however since they run on a limited power source, they will also have limited power and shorter charge times. In terms of our top pick out of the four top ones we will discuss further, it has to be the WORX Trivac WG 509 vacuum cleaner which offers its users a 3 in 1 usage and is a favorite thanks to its incredibly lightweight design and function.  If that hasn't convinced you yet, we recommend sticking around till the end of this list in order to find out which device is best for your needs.
Most Powerful Leaf Vacuum
Our first leaf blower product for the day is called the Green Works Blower, which comes from the brand's unique Digi Pro 40V line and like many of their devices it runs with the aid of a brushless motor which offers the smoothest functionality. It also comes equipped with a very useful feature of speed choices which permits the consumer to choose different styles of speeds that's beneficial as it makes sure that all the control is with the user. To access the different speed settings, all the user has to do is turn easy to use thumb dial that provides options from zero to 5.
It has a lot of advantages but to be fair, as a vacuum, although the Green Works Blower provides adequate usage of its suction capabilities, it does not take an expert to figure out that the device's vacuuming capabilities are not its strong point and it is far better at blowing leaves away.
In terms of the speed options, we recommend the highest setting for the fastest action and even though in this setting it will drain the fastest, the Green Works 40V Cordless Blower will still run for an excellent 15 to 20 minutes on this setting.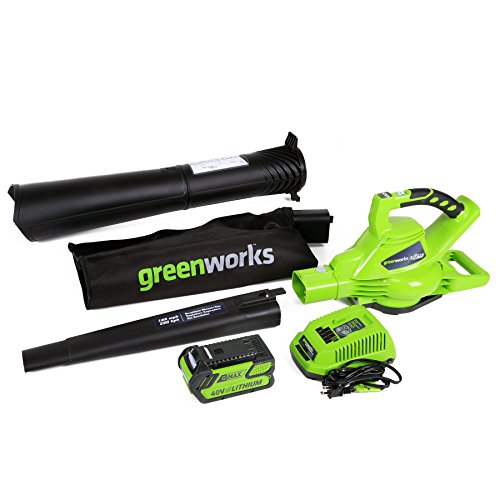 (Click Image to Learn More)

Our next product is called the WORX Trivac WG 509 three in 1 vacuum and blower which is one of the most versatile gadgets on our list as it offers the user a unique system which is made of metal and can be used for mulching.
The 12 Amp motor that this tool runs with the aid of gas as it is gas powered and thus is able to generate an immense amount of power without ever exposing the users to the dangers of a fuel-driven engine. This also means that users will save loads of money that would be spent on buying fuel.
The WORX Trivac WG509 is a hand held device however because it is so lightweight with an insignificant weight of 9.four pounds it is not really difficult to handle.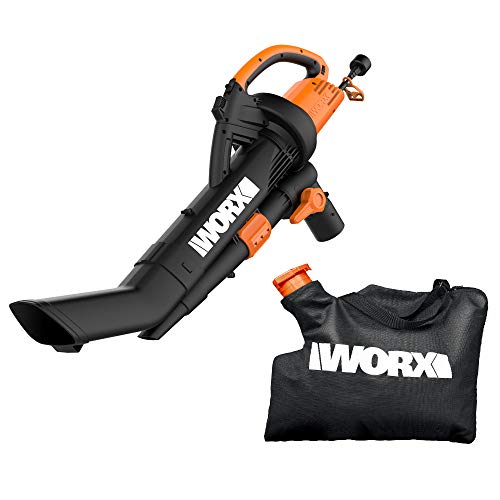 (Click Image to Learn More)

Next up we have another Worx product but this one is called the Worx WG520 Turbine 600 Leaf Blower that is a truly versatile tool as it also has mulching capabilities. Since this product is an electrically powered device this means that you will not have to buy gasoline and gas repeatedly.
An excellent feature that this product provides the user is the incredibly strong shoulder strap which has been designed keeping ergonomics in mind and therefore lets in the user to use this device comfortably, even for longer periods of time. One downside of this device is that the vacuum may get clogged up periodically if met with a lot of wet and messy mulch. However this could be fixed easily if you keep an eye at the contents of the leaf bag and clean them out frequently.
(Click Image to Learn More)
Our final product for the day is called the Black and Decker three in 1 electric powered leaf blower which is a premium quality device that is all set to help you overcome your messy backyard as it is equipped with a very precise vacuum, blower and mulch tackling features that makes it a super cool 3 in 1 solution. It is really effective at what it does as it expertly rids the user's lawn or backyard of all undesirable particles with the aid of its 250 MPH horsepower.
The patented POWERBOOST™ button is one among the excellent features this device has to provide as it will offer the strength boost needed to suck up all debris and mulch and the zippered bag will make emptying out all of the dirt, debris and mulch in no time.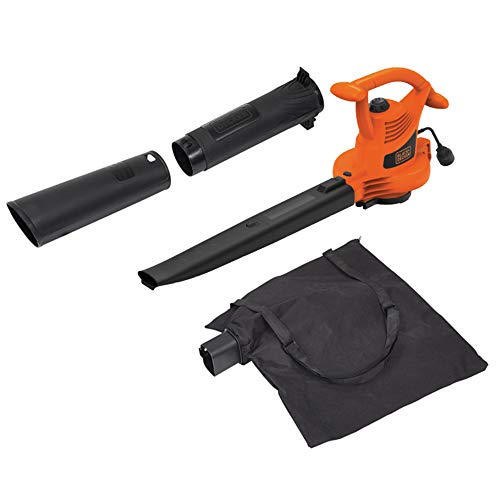 (Click Image to Learn More)