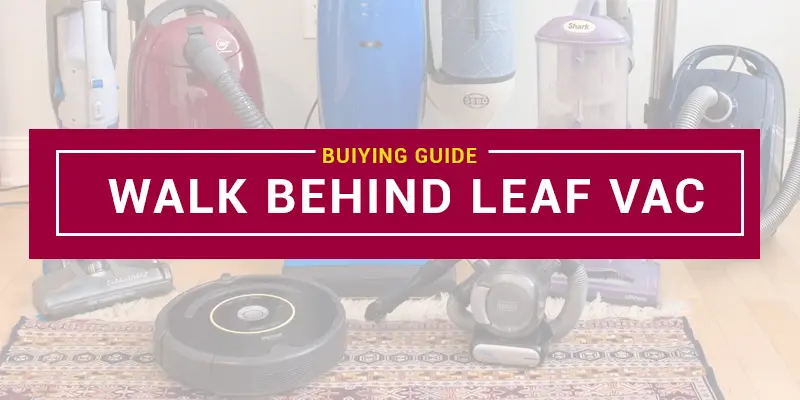 Mowing your lawn or backyard is one of the most important parts of proper yard care as dead leaves and debris will harm your plants and rot them faster. There are several benefits of actually using leaf vacuums to suck up all things rotten from your lawn as this doesn't harm the foliage and gets the job done super-fast. The other benefits that come with mowing the lawn regularly won't be as at once obvious, but they're just as important.
Cleaning up the backyard helps maintain your garden better and eliminate some of the pests from the grass at the same time. It also can help make sure that all the particles are picked up and are cleared as many times as you desire; so that nothing accumulates on the grass and your lawn looks neat and clean.
Now, thanks to technological advancements, instead of having to push leaves around manually, a backyard vacuum is a better way of collecting them in an easily detachable bag or a tow-behind bin that can even do the work faster than a rake or mower. Once you are done, all you have to do is detach the bag and throw the contents out for the next time you use it.
For those who have more ground to cover or who can no longer go around lugging a heavy leaf blower or vacuum anymore, there are cool walk-behind lawn vacuums that make cleaning up the yard as easy as can be.
In the coming article, we are going to outline our top 4 picks of the best walk behind leaf vacuum cleaner for lawns, patios, gardens, and backyards. While each product has something unique to offer, our top pick for this specific purpose has to be the Agri-Fab 55188 Mow N Vac Vacuum which offers a lot of different attachment options such as a long anti-clog hose which can suck up all dirt, debris, mulch and leaves within seconds. This device has also raked in a lot of raving reviews online and when we get into the features towards the end you will find out why!
Now, without further ado let's get into our list and help our users figure out which product is best suited for their needs.
Best Walk Behind Leaf Vacuum
First up we have the Black and Decker 3 in 1 electric leaf blower which is all set to help you conquer your unkempt yard with the aid of its unique vacuum, mulcher and blower capabilities all bundled up into one powerful device. It gets rid of all unwanted debris with as much as 250 MPH of blowing velocity and also hosts a similarly powerful suction for sucking up leaves and more. The patented POWERBOOST™ button will provide that extra kick when needed, and the zippered bag will make emptying all the contents extremely easy.
This device can even aid you when in the careful landscaping of your lawn and garden with the aid of its 3 in 1 VACPACK which works just as well on your garage, sidewalks, and even driveways.
This unique all in one solution is made easy with as much as 230 mph of blowing power.
---
Next up we have the MTD Cub Cadet 1.5 Vacuum which offers a wide range of sought after features. This is also a 3 in 1 device as it contains a vacuum bag, a chipper, and even has a shredder included in the mix. The best part has to be the fact that the hose on this device is actually 7 feet long and can even tackle twigs and sticks with ease.
The hose can even be detached easily to reach behind and under areas that are harder to get at.
One drawback that we noticed is that the hose is liable to clogging. However, such an issue is more common than you would think and that is why it can be solved if you simply skim off the leaves instead of working on a huge pile. Unfortunately, it isn't as successful with bigger sticks and pebbles which may cause a blockage, however since this product's hose can be unhooked free, you can clear it out with ease.
---
Next up we have a very versatile product from Remington which is called the Remington RM2BL Ambush leaf vacuum which is a blower that is geared up with a 27 cc engine.
There is a strictly recommended fuel to oil ratio in this product which can cause harm if you aren't careful. This device has a 40:1 recommendation which is pretty precise and must be taken into consideration. It's handheld, so clearly it's easier to deal with than some of the larger leaf blowers, even if they include a handy backpack or walk-behinds.
Since it weighs a mere 10.5 pounds, it comes somewhere in the middle and isn't too heavy nor is it too lightweight. To make sure the consumer holds all the control, this unit has a variable speed option which allows the user to regulate the airflow of the Remington AMBUSH™ RM2BL depending on the task at hand.
---
Our last and final product of the day is called the Agri-Fab Mow-N-Vac leaf vacuum which will assist in maintaining your beautiful lawn or backyard as you desire. Why spend hours doing the back-breaking work required to clean up debris from your yard when the Agri Fab can do it for you? An Agri-Fab garden vacuum will make your back-breaking task easier because of its exceptional performance. This is all made possible thanks to the 80 MPH suction which allows the Agri Fab to have enough power to suck up all kinds of twigs, leaves, weeds, and even small pebbles.
The device comes with a clear hose that allows for quick clog detection incase the vacuum meets a particle it cannot take up easily.
---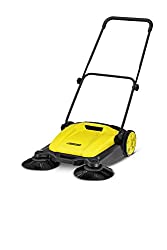 Karachi has marked its pristine position in the vacuum industry and its benchmark is considered as a prestigious hallmark that will prove to be a worthy investment. Karachi is a name of quality and trust in the vacuum industry and what makes them reach the leading position in the market out there is the versatility of their products. Karachi has a feature-rich lineup of very versatile products that have proved they're worth in the varying categories. Karachi products are equally well in indoor cleaning as they are in outdoor vacuuming and steam mopping. S650 is a quick cleaner which is considered as an amazing outdoor lawn vacuum and is included among the best-rated walk behind leaf vacuum.
Features:
Karachar has a strong suction which is the foremost requirement of any good leaf vacuum as they have to pick up bulks of debris so they must be acquainted with a powerful enough suction which will clean the debris in a single shot. To help avoid cleaning the same spot over and over again karachar has a 5X suction system which is a lot more efficient than a traditional broom cleaning.
A leaf vacuum is supposed to come with large cleaning paths as they have to pick up debris from wide areas such as gardens, patios, lawns, and backyard, etc. With a sweeping action of 19,000 square feet per hour, this karachar S650 will be able to do the works of a whole day in just a fraction of time compared to a conventional broom sweeping.
This amazing lawnmower is just 22 pounds in weight and therefore it ensures that you don't have to exert much physical power on moving it through the lawn as lightweight walk behind leaf vacuum requires relatively less muscle power. It has a 16-liter waste container that comes as built-in a canister with it and has a dual cleaning brush that gives better cleaning experience than ever.

---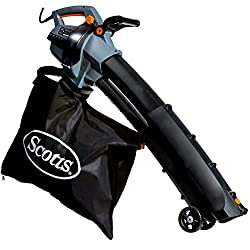 As there is a whole world of walk behind leaf vacuum out there reaching to the hearts of the users is not just something ordinary and Scott's outdoor electric leaf vacuum has rightly played its part in making the brand among the wish list of the horticulturist and homeowners. This lightweight yet effective all-purpose walk behind leaf vacuum is something exceptional and extraordinarily versatile. It is the best walk behind leaf vacuum 2020 that has all the must-have features in it that make it a dream product of many users. It is equally suited to large scale products as it is good at small outdoor cleaning tasks. It is a relatively inexpensive leaf vacuum that has the potential to be a lifetime investment.
Features:
This is a 3 in 1multi purpose walk behind leaf vacuum which is very versatile in its performance and its versatility could be viewed from its potential to be used as a vacuum or blower or a mulcher and this makes it the ideal combo to have in a single product. A leaf vacuum is good for collecting the debris but if you have a small kitchen garden in your lawn you could convert those fall leaves into the organic manure by mulching those leaves and that will be the feast for your plants and veggies and this is effortlessly done by the Scotts three in one leaf vacuum and blower.
It has a powerful motor of 14 amperes which is coming with an airspeed of 110-200 MPH and has a variable speed control which allows the user to adjust the blower speed according to their choice and need. It also has an airflow rate of 310-410 CFM and a sturdy and durable storage bag of 18.5 gallons' capacity which could be mounted on the shoulder and all that backed by a three years' warranty make it an overall great investment.

---
Another multi-purpose walk behind leaf vacuum which is recently the best one in the market for professional work and is taken as the best commercial walk behind leaf vacuum. It is yet again another 3 in one product that could be used as a lawn vacuum or a blower and has all the potential to be a great mulcher. It is an ideal sweeper that will do the lawn cleansing from fall leaves at a far better efficiency than a traditional method of hand sweeping and as it is an electric vacuum it will perform at a much better speed thereby reducing the time taken to complete the work. It is a corded walk behind leaf vacuum and you can easily move it around the lawn with the professional-grade wheels much cut short on muscle strength and make it easy to maneuver.
Features:
This best walk behind lawn vacuum could easily be converted into a blower to collect the leaves at an enhanced rate and after finishing the task the leaves could be mulched to organic post for the kitchen garden if you have one as this sun joe is a good leaf mulcher also.
With the high inspect performance this product has the ability to mulch leaves as small as 1/15th of their origin. It has a strong motor of 14-ampere power which is complacent with strong suction and has a short power cord of 1 foot.
The blower supports the 600 CFM max power potential and a maximum airspeed of 165 MPH. To enhance the suction ability, the product also comes up with the dual surface brushes which collect the leaves at an improved ability and fed them to the mulcher. This product is backed by two years of warranty which makes it a trustworthy and reliable product.

---
Buyer's Guide!
What are the features to consider in a walk-behind leaf vacuum?
Looking for the best walk behind leaf vacuum is not as simple as it appears to be since the market is flooded with a lot many great walk-behind leaf vacuums that choosing the best one is getting increasingly difficult.
Leaf vacuum cleaners are an important investment that is an efficient and effective way of getting rid of the fallen leaves and other debris in your lawns, patios, and gardens. For a walk behind a vacuum to be effective in its work, it must be equipped with certain traits that determine its strength and capabilities, therefore, it is wise to have a careful look at the must-have features in a walk-behind leaf vacuum before splashing your hard-earned money over your potential purchase.
Decide On The Type Of Vacuum:
Leaf vacuum cleaners are of many types and it is important to decide on the type of vacuum before searching for the specific features in them.
It is a common believe that electric vacuums are not that powerful as gas walk behind leaf vacuum. Traditional gas vacuums are good enough to do your job of converting the gathered leaves into slush quite effectively but what is not preferred by many users is their noisy performance which demands a lot of muscle strength. As a great alternative to these powerful yet noisy machines, electric walk-behind leaf vacuums are launched in the market whose pioneer might be not at par with the gas vacuum but the advancements in technology have arisen them as the best walk behind leaf vacuum mulcher and as a possible advantage they come in both corded and cordless types. So it is wise enough to decide on the electric vacuum mulcher and then decides on the must-have features in it.
Power:
After you decide to get your hands on an electric walk behind vacuum now it's time for you to make a preference of its horsepower and motor strength. Generally, the 12 amperes vacuum are considered as the bottom line and any product above the line is good enough to count on it but if you want to have a high-end tool you must go for the high wattage available but it should be kept in your minds that power has a price and every increased watt will cost you extra bucks. Therefore, decide on your budget and find the ideal product with the highest possible motor power.
Suction Power:
Suction power or generally referred to as the vacuuming ability is the heart of any walk-behind leaf vacuum and higher the suction strength the better will be the product suited to suck up debris. The low suction vacuum will also let you perform the task but for that, you have to spend extra hours as low suction will not collect much of the debris and you have to feed the machine to debris over and again to have a satisfying outcome.
Storage Capacity:
The most noteworthy thing to consider about a leaf mulcher is its storing canister. As autumn is the season of leaf fall and your backyard is likely to be covered in thick layers of leaves all around your lawn and to clean that debris in a single shot your vacuum must have enough storage capacity to do that effectively. Most of the lawn movers have their storage device in the shape of a sturdy and durable bag which is removable most of the times so you don't have to get your hand on the leaf debris that your machine just collected.
Weight:
The last but the least one of the factors to ponder upon is the weight of your potential purchase as this trait will let you decide how much work you can do with your vacuum without getting fatigued.
Heavyweight devices may promise more power but when it comes to driving them for extended hours of work you will easily give up on the idea of lawn cleaning on the contrary if you buy a lightweight product you might have to sacrifice on the suction power and therefore you should get yourself the best combo of weight and power that will work best for you.
Frequently Asked Questions (FAQ):
What is the best tow behind leaf vacuum?
CycloneRake has the prestige of making the best tie behind vacuum and lawn sweepers. Cyclone Rake Z10 is their best product and is considered as the best tie behind the leaf vacuum.
Which leaf vacuum is best?
Nearly any leaf vacuum will be good to collect leaves with full power and car that you don't have to break your banks by investing in fancy models. For instance, Sun Joe 3 in 1 electric mulcher is the best-rated walk behind leaf vacuum which you could have in just 100 USD.
Do lawn vacuums work?
This is a kind of sarcastic question but the straightforward answer to this is yes lawn vacuums are very well versed with their assigned task and they quite effectively vacuum the lawn, patios, and gardens of fall leaves and other debris in bulk quantities which will demand many more working hours otherwise with an ordinary vacuum.
Is there a vacuum for leaves?
Yes, the market is overwhelmed with the number of leaf vacuum, and with each passing day, many more quality products are being added into the list.
How much does a leaf vacuum cost?
A leaf vacuum is relatively cheaper products as compared with the hardwood and carpet cleaners and you could easily get a leaf vacuum by spending as low as 50 USD while the very high-end tool like billy goat vacuum will be available within 2000 USD.
Can you vacuum leaves with a shop vac?
The one-liner question to this sentence is yes you can use your shop vac as a leaf vacuum as it has good enough of strength to be utilized as an indoor and outdoor vacuum cleaner which is powerful enough to pick up any type of debris including the fall leaves. Shop-Vac 4050010 is a great shop sweeper with eight gallons' capacity bag that could be used for both indoor and outdoor cleaning.
Should I get a leaf blower or vacuum?
Both of them are good enough to give you the performance you are looking for but when it comes to the abilities and versatility there is a huge difference in this regard. A vacuum is better suited to pick up leaf debris coming in its vicinity but a blower could be a lot more than this, it could be used as a blower for sucking up leaf debris and for mulching this debris into manure. Thus a leaf blower would be a much worthy purchase over Vacuum.
What is the lightest garden vacuum?
Greenworks 24252 Cordless leaf vacuum and the blower is the lightest leaf vacuum and has a powerful enough suction and motor power to do the job effectively.