Disclaimer: There are affiliate links in this post. At no cost to you, I get commissions for purchases made through links in this post.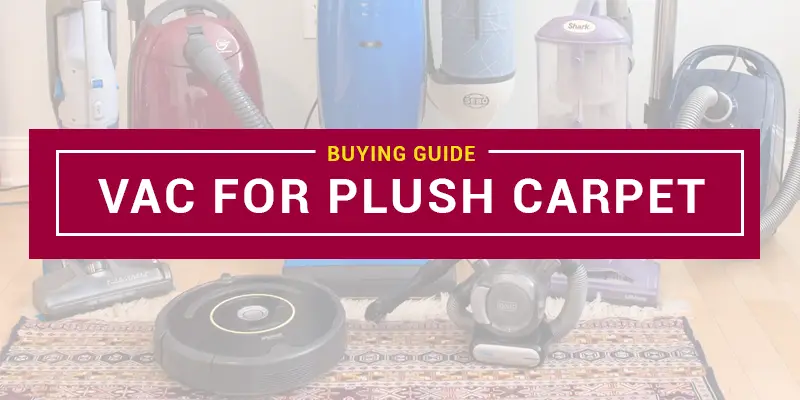 The Best Vacuum for plush carpet can be found with a great amount of ease and a little research. If you are worried about losing the quality and look of your carpet with a vacuum but you still want a squeaky clean system then here is what you should do: invest in the best in class. This can let you sit back and relax while it enables your house to be as clean as possible.
The best vacuum for a plush carpet has to be comprehensive and thorough and yet it should not be hard enough to remove any extra layer of wool or fiber from the plush carpet. This makes it essential for the vacuum to be precise and yet powerful.
We have compiled a list of the top and best-rated options. These are all one of the best ones found in the industry. You can learn more about their features and specifications in the following reviews. This can help you make the most well informed and healthy decision regarding your choice of the best vacuum for plush carpet. It is also important to note that some of the carpets in the following choices are suitable for carpets as well as other surfaces.
Best Vacuum For Plush Carpet
Top Pick:
One of the most comprehensive options from the best ones is the Miele Complete C3 Vacuum. This is one of the most celebrated products from Miele and in the plush carpets and frieze department. This carpet will give you a clean look from every corner of the room as well as around the furniture. You can enjoy a simple and tidy look with this. There are adjustable settings on it that help in making it suitable for various heights of the carpets.
The Miele Complete C3 Vacuum for soft carpet is an adjustable choice. This one comes with easy suction control. You can quickly use the switch in your foot region to change its settings. It is ideal for plush carpets and can also be used for other surfaces.
The Miele Complete C3 Vacuum comes with a control panel. It has a pedal around the canister. You can use it to clean and empty the basket as well.
The cleaner is a 5 stage height adjustable option. You can adjust it for 5 different heights. It is equipped with a full-size electric power brush. The capacity of the bag is 4.5-5 liters of dust etc. This comes with a Parquet Twister brush that is made for other floors if you are interested in cleaning other surfaces as well. It has an advanced HEPA air clean filter. This helps in cleaning any allergens and extra dirt that may be present in the deeper layers of the carpet.
You can use the onboard storage to keep the tools in place as you move around the house to clean up.

Verdict:
This is a thorough and advanced cleaner that is perfect for plush carpets.
The Soniclean Soft Carpet cleaner is a great option as an upright vacuum. This has an adjustable exhaust setting.
Soniclean Soft Carpet comes with wheels that enable very easy maneuverability. You can adjust it for the kind of carpeting you are using it for. This comes with very soft and special nylon-styles brush bristle rolls. This is a compact and gentle vacuum. You can use it on plush as well as other carpets. You can also use it on your bedding.
Soniclean Soft Carpet has very huge front wheels that help in moving it around like butter. Soniclean Soft Carpet has about 200 sonic vibrations per second that can extract all the stuck and hidden dirt and gunk from under the carpet. There is a Direct-air Paramagnetic motor that also enables high powered cleanups.

Verdict:
Soniclean Soft Carpet is a precise and user-friendly choice that is perfect for your daily usage.
The Oreck Commercial Upright Vacuum is also a high powered and speedy cleaner. This is a popular choice because it is a commercial-scale one.
The Oreck Commercial Upright Vacuum weighs 8 pounds and it can cover a large area with a great amount of ease. It comes with a 40-foot power cord this can help in using it all over your apartment or house with a great amount of ease. This has an ergonomic design.
It comes with a 630 cubic inch bag. The cleaner has a Saniseal technology that works on things like allergens, dirt, and debris apart from other materials. While removing the bag there will be no dust cloud with this one.

Verdict:
The Oreck Commercial Upright Vacuum is perfect for a quick and precise clean up.
The Kenmore Elite Pet-friendly cleaner is a top-notch choice for modern vacuums. This one is a lightweight cleaner. It comes with a bagged canister. You can use it to get rid of pet hair as well. Even with the softest carpets, you can allow a deep clean.
The Kenmore Elite Pet-friendly cleaner can clean all surfaces of the house. It comes with loads of attachment tools and an extra swivel head. This has a HEPA filter in it. This is a telescopic style vacuum cleaner. You can manually adjust its height as well. It works on stubborn dirt and hair on the carpet. You can lift any amount of debris like broken glass with this one. It has a retractable cord. The cleaner comes with a telescopic precision extension tunnel.
This is not an upright cleaner. It allows a dual motor to help in the cleanup. This weighs about 22 pounds only. This is easy to carry around the house.

Verdict:
The Kenmore Elite Pet-friendly cleaner is an easy to store and easy to clean option. You can use it for any part of the house and works for all shapes, sizes, and kinds of carpets.
Mostly, everyone has plush carpets in their home. The soft and relaxing feeling that you experience while walking on these soft high pile carpets makes your day. Well, they give you the tingling and cozy feeling that you desire. Now, if you own a plush carpet, then definitely you might have taken some measures to keep it clean, you can't just depend on those manual measures as they not only drain your energy but they also require plenty of effort and time. Hence, if you want to clean your plush carpet daily while spending less effort and energy and obviously in a shorter period then purchase Bissell clean view vacuum cleaner. This vacuum cleaner is the best vacuum for plush carpet this year. It is the top-rated cleaning gadget of the Bissell Company. This company is pretty amazing as it not only sells home cleaning appliances but also runs a pet foundation as well. With every Bissell product purchase you do, you are saving a homeless pet. Now, let's see the features of the cleaning gadget offered by this company.
Features:
Bissell clean view vacuum cleaner weighs about 17.86 pounds. It is the best vacuum for plush carpet and pet hair. It offers features that make it possible to get rid of the pet hair. It has triple action brush rolls that have soft bristles. It provides edge to edge cleaning with them and has to scatter free technology installed as well. To prevent the loss of suction during its operation, a multi-cyclonic suction system has been installed. It even provides a multi-level filter that is washable and reusable as well. It has a 1-liter dirt can that is easy to empty. It is the best vacuum for plush carpet UK!

Imagine that you are in your lounge, sitting on your plush carpet, eating popcorn, and watching a horror movie. Suddenly, a horror scene comes, you get scared and the bowl of popcorn falls onto your lovely plush carpet! Well, what are you going to do? Clean it up manually and miss all your movie? Well, it would be better if you buy a vacuum cleaner that can deal with such messes. A vacuum cleaner like a Shark Navigator Upright Vacuum. It is developed by the creative Shark brand. This brand had quite a humble start and now it has progressed so much that it is considered as the world leader in developing floor cleaning appliances. Shark Navigator Upright Vacuum is the creation of this brand and is worth checking! It is the best vacuum for high pile carpet. This shark brand cleaning gadget of the shark brand has many awesome features and functions. It is a trustworthy vacuum cleaner. It will make your plush carpet sparkle and shiny like before. Now, let's have a look at its amazing features!
Features:
Shark Navigator is an upright type of vacuum cleaner that is equipped with a lift-away feature that allows you to easily clean your house while carrying the canister. Just press the button and lift the canister and carry it wherever you want. It will help you to clean all sorts of hard places. While vacuuming, a lot of dirt and dust escape into the air. The HEPA filter that is installed in it captures these pollutants and makes your air breathable and germ-free. It won't allow them to escape back into the air. It is the best vacuum for thick carpet. It has a brush roll shut off and swivel steering feature as well that makes it quite easy to use!

Suppose that you are relaxing in your living room while lying on a plush carpet. Your kid beside you is eating snacks and your pet is roaming around in your whole house. You are just enjoying your Sunday relaxing. Then suddenly, your kid's snacks fall on your plush carpet. You try to collect his snacks with your hands and what you see is a scene beyond your imagination. A hand is full of pet hair!!! Your plush carpet is full of pet hair and you don't even know it. And just a moment ago, you were just lying on the disgusting and dirty plush carpet. Now you probably think that you clean your carpet every day with a carpet brush, then how come it's very dirty? Well, the answer is simple, pets shed every min, every sec and you can't always be cleaning their hair shed. It would be tiring. What you would need is a vacuum cleaner like Hoover Pet Max Upright Vacuum Cleaner that can clean up all your pet's mess up and give your carpet a long-lasting shiny look. This vacuum cleaner is an incredible cleaning friend for you. Let's dive into its features
Features:
Hoover Pet Max Upright Vacuum Cleaner is a multi-surface vacuum cleaner. Whether it's a carpeted floor, a bare floor, hardwood floor, or a laminate, this vacuum cleaner can provide an excellent cleaning performance on all of them. To reach out of range areas, this vacuum cleaner offers 12 ft. extended reach. All the dust, debris, and dander go into its bagless, transparent, dirt can that is of extra-large capacity I .e.2.5 liters. It is very easy to empty it. This vacuum cleaner even offers allergen block technology. It even offers shut off brush rolls. It is an awesome cleaning device for plush carpets and pet hair!

Buyer's Guide!
If you own a plush carpet then definitely, you would need to keep it clean. Well, it's another year guys so don't ever think of cleaning your soft carpets manually. Why put so much effort and time when science gives you vacuum cleaners! Using these vacuum cleaners will help you to save a lot of your time as well as effort. With just a flip of a switch, you can give your plush carpets a nice clean look. Well, I know there is a lot of variety available at the market and no doubt, an individual with little knowledge about vacuums is going to get confused. But what if you know? What if you know what features you should look for when you are out to buy a vacuum for plush carpet? Well, my team and I will help to increase your knowledge so that you end up getting a perfect vacuum for your plush carpet!
What Features To Look For?
It is certain that when you are out buying a vacuum cleaner for your soft carpet then obviously, no matter how many features are installed in the vacuum cleaner, you always look at its price first. Well, a lot of cheap and expensive vacuums for plush carpets are available at the market but the decision depends on your pocket! If a vacuum cleaner is being offered at an expensive price, then it's going to be loaded with features that will certainly come in handy. Well, I'm not encouraging you to buy an expensive vacuum. Many vacuums are cheap and offer many good features. Well, in the end, the decision is yours to make!
After deciding the price, look for the type of vacuum you would want. That is whether you want an upright vacuum, a robotic one, a canister vacuum, etc.
After choosing the type of vacuum, look for its weight. A lightweight vacuum would be easy to maneuver than a bulky one.
It's very important to consider the type of roller brush. If you plan on buying a vacuum for plush carpet then it would be the best option for you if the roller brush bristles are made up of soft nylon or a natural fiber material so that the soft fibers of your carpet don't get damaged. These roller brushes can also be used on hardwood floors as they won't scratch them and ruin their beauty. If the vacuum has roller brushes made up of hard material the carpet as well as your wood floor is a goner!
While looking out for a vacuum for plush carpet, make sure that its suction head has an adjustable air vent installed in it. These air vents adjust the flow of air and make it possible for you to easily move the vacuum across the carpet. If the air vents are not present then it's going to suck down hard on the plush carpet and you won't even be able to move the vacuum across the floor. Hence, for easy cleaning, air vents are a must!
Soft and high pile carpets store large amounts of dirt and dust in them. When you vacuum the carpet, these particulates will escape into the air. If an allergic person breathes such polluted air, then he or she will have difficulty in breathing. Therefore, look for a vacuum that has a HEPA filtration system. They filter the breathable air and capture those particles and prevent them from escaping.
Final Verdict:
While purchasing, just keep these above features in mind. With this knowledge, you definitely will be able to find a good vacuum for your carpet. Best of Luck!
Frequently Asked Questions (FAQ):
What is a good vacuum for plush carpets?
Sonic lean Soft Carpet Upright Vacuum is designed keeping in mind the types of surfaces it would be working on. With its big wheels, it makes the vacuum easier to move without getting stuck in the carpet's soft and fluffy threads. It also has a suction and pressure control system allowing you to use the vacuum on all floor types whether it's a marble floor or a carpeted surface this vacuum can help you clean all the debris with minimum effort required.
How do you vacuum a plush carpet?
Before cleaning any type of carpet make sure to remove larger things like toys or even large chunks of debris from the surface as it would affect the suction power of the vacuum making it harder for you to clean. Another thing that one should keep in mind should be that always clean the vacuum bag before running it on a carpet as the pressure and suction quality of the vacuum might be affected if its bag is clogged with debris. The height of the vacuum should be adjusted for ease of comfort in use. Always vacuum the carpet in a W shape sequence as it would cover a larger area in less time.
What is the best vacuum for carpet?
Shark Navigator upright vacuum is considered to be the best carpet cleaner as it is within an affordable price for the buyer with many years of life expectancy allowing you to clean debris, pet hair, or even food crumbs and other kinds of dirt and allergen from your carpet making it clean and environment friendly. With its high suction capacity and ability to collect pet hair it can clean carpets easily.
What is the best vacuum for long carpets?
One should look for a vacuum that has either extra-long wire cords that allow the user to move the vacuum around freely and comfortably while running it on a long carpet or look for a vacuum that is wireless and runs on a battery.
What vacuum has the strongest suction?
The suction capacity of a vacuum depends on the type of floor or surface it would be used on. Most shag carpet vacuums have a high suction capacity as they are denser in the material so they always need a vacuum that can suck all the dirt, hair, and allergen from the depths of the carpet making it clean and hygienic.
What vacuum do consumer reports recommend?
Many vacuums are recommended by consumers but the best of them have a long life expectancy and all floor features such vacuums are from manufacturers like Bissell, Dirt Devil, LG.
What is the lightest most powerful vacuum cleaner?
Shark Rocket Ultra-Light Corded Baseless vacuum weighs only about 8 pounds allowing you to lift it to clean the curtain or out of reach places with minimum effort ensuring maximum efficiency. You can work on carpets and floors alike with this vacuum and can easily access hard to reach places like corners of the wall, under the bed or tables or even sofas.
What is the best lightweight vacuum for carpets?
Shark Navigator Lift-Away Upright vacuum is considered to be the best vacuum for carpets as it has high suction capacity on top of that it weighs around only 12 pounds which is rather light for a vacuum that cleans carpets.