Running a hair salon will cause much mess in terms of leftover hair. This mess is not easy to clean and keeping a salon clean is very important to attract customers. For this purpose, you will need a standing vacuum cleaner, powerful enough to engulf the hair and debris from the floor when it is swept near it.
The market teems with many such products and the variety of products offers a variety of results, like some, can take in dry hair or some can wet or few can both, moreover some operate on batteries while others have cords, some have buttons on them while others have sensors. In such a scenario it is difficult to make a choice, here in this article you will be given information about the  Eye-Vac EVPRO Professional Touchless Stationary Vacuum.
Best Vacuum For Hair Salon
This cleaner will give you the ease of cleaning your salon.
Why This?
Because many features will leave you amazed and will work to their best potentials.  It is given with the sensors to detect the debris near or the movement of the broom in the surrounding, when it senses something like this it will automatically turn on and take in all the debris.
This standing vacuum is provided with a HEPA filtration system. This feature will make sure that the passing out air is clean and has no hair and smell in the air. You must not want the air of your salon to be congested with hair and dust after you have cleaned it with a vacuum.
This cleaner will make sure that your salon is cleaned of dust and hair. Moreover, its services and features will help you a lot.
The Capacity Of The Bin:
The capacity of the bin is dependent on the daily hair cutting that is performed, if you are having busy schedules then it can be full early while on the other hand in less-customer times, its bin will have the capacity for many days.
Loudness:
Well as long as the noise is concerned it gives off a typical vacuum cleaner sound not very much loud and annoying, but you cannot say it is a silent machine. Still, it will not produce much sound to disturb you and your customers.
Cat Litter?
In a salon, many different types of people get their way for services and they may have pets, and in this case, you might have to deal with the litter of pets, so this question is frequently asked that a standing cleaner can let in a litter of a cat or not? To your surprise the answer to this question for this machine is yes, it can take in the litter without any problem and make sure your floor is clean of anything of such material.
Activation:
This machine will not need you to switch it on every time it has sensors and infra-red radiation to have an idea of what is going on in surrounding and when it has to start its work.
Power:
This machine is a corded one and does not run on batteries, moreover, it is given with 6 ft. long wire to reach the socket.
Its powerful suction produces the power of 14000 watts to make sure that nothing is left behind after cleaning.
Wet Hair?
In a hair salon, work is done on wet hair so the matter of concern in case of a salon standing vacuums is that it can suck in damp or wet hair or not. So this machine provides you this ease; it can sop up the wet and moist hair. Do not worry about it.
Sand?
If you are living or running your salon near a beach then sand is a big problem to face. So this cleaner is a good choice if you are one of those who have their salon near a beach, this standing vacuum will make sure that your floor is not swarming with the sand and is clean.
Washable Filters:
Many cleaners have disposable filters that make annual expenses more and out of budget, however, our product is provided with filters that are easily removable and washable. This feature will save you a lot of money. Just take the filter out and wash them with water and soap then dry before putting them back into it.
Groomers And Vets?
This machine is not made only for human hair but is also efficient for the pet hair and other dirt material present in the house. This vacuum is a full package and can be used anywhere: salon, house, office, etc.  You just have to broom everything near it and it will draw the material in it, Walla! The floor is clean, neat, and tidy.
Well, working at a hair salon can be pretty tiring, especially if your job is to clean all the hair mess on the floor. Many customers come to get a haircut every day which means a lot of hair on the floor and a lot of mess! You can just always be carrying around a broom to clean all of it up! Right? You need to act smart and buy a gadget that does almost all your work for you! Well, what you need is a vacuum cleaner that can clean up all the hair on the floor whether it's human hair or pet hair. Well, in this case, the Bissell cleanview vacuum is an excellent option. It offers the best vacuum system for hair salons. This feisty gadget works like a charm!
Features:
Well, the most prominent feature is it being bagless. Well, it offers a transparent dirt can of 2.2liter capacity that can be easily emptied with just a click! The next important feature is its multi-cyclonic system. This aspect is quite valuable as it keeps the suction power consistent and won't let it go down. It even has many extra attachments provided along with it that make hair cleaning easy!

---
Well, think of a vacuum that offers such a tech that lifts the debris and sucks it. Imagine that the vacuum is bagless and all the dust and dander goes into the transparent dirt can that is attached to it. It even offers a filter that removes all the allergens from the air and makes you live a healthy life. Well, if you are a person that requires a vacuum to clean up the mess at a hair salon then you should buy Hoover WindTunnel Rewind Vacuum. This product is launched by the Hoover brand and is known as the best stationary vacuum for hair salons. Now let's see its features!
Features:
Well, the most important and eye-catching feature that this upright vacuum offers is wind tunnel technology. This technology can create suction power which in turn can lift off all the embedded and surface debris and dirt and ultimately suck them in to prevent any allergens to cause you any harm. It has a HEPA filter installed in it. It even offers an indicator that lets you know when you need to change your filter. It has a rewind feature for its 25ft power cord.

---
If you run a hair salon then surely you must be aware of how important it is not to maintain its cleanliness. If there is hair everywhere then obviously customers won't come to your salon and as a result, you would go bankrupt. It is truly a disaster! Well, if you desire to keep your salon clean 24/7 then what you must do is buy a shark navigator lift away professional vacuum cleaner. Well, this vacuum cleaner is developed by brilliant engineers of the shark brand. They have especially made this to deal with all the daily grime and dust along with hair! It is the best robot vacuum for a hair salon. It is offered by a popular and trustworthy brand and is designed with many top-notch features.
Features:
Well, this vacuum is pretty amazing as it allows the user to lift its pod with just a push of a button. You can easily reach many far off areas by carrying the pod and using a 5-foot hose. It even offers an anti-allergen seal with HEPA filters installed. It offers a brush roll on and off feature that allows you to effectively clean both bare and carpeted floors.

---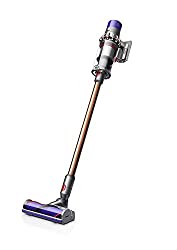 Imagine a vacuum that can reach almost everywhere. Whether it's to clean the cobwebs on the ceilings or it's to clean under the furniture. Think of a vacuum that is cord-free making it extremely easy for you to work with it. Well, Dyson is a brand that is known to many homeowners. This brand has launched many excellent and incredible vacuums and most of them are 2 in 1 vacuum, that is they can be used as an upright vacuum or a handheld vacuum. Depends on what is easy for you! Well,
Dyson Cyclone V10 is among many awesome vacuums
launched by this company, and as its many brothers, this is a 2 in 1 vacuum with a cordless feature. Many times you need to clean places that cannot be reached with the upright vacuum, for that Dyson has made it possible to transform the upright one into the handheld one to reach every possible nook and cranny!
Features:
Well, its most prominent aspect is its motorized head. This vacuum is powered by a battery and takes about 3.5 hrs. for charge up. When attached to other motorized attachments its battery level drops fast otherwise it has an average run time of about 60 min. it offers fade-free suction power.

---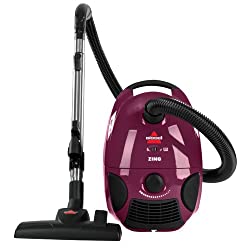 Let's put our imagination to work! Think of a vacuum that is so powerful that can stand tall even in the most horrible torture. Well, a
vacuum that offers suction power that is adjustable
and controllable. It offers many suction options and hence it depends on you with which suction power you want to work with. It is bagged but offers a large capacity and even has a long power cord that can be reminded with just pushing the button with your foot. No need to touch it with your finger. Well, Bissell Company brings you a Bissell zing canister vacuum cleaner. It is the best robot vacuum for a hair salon.
Features:
This vacuum cleaner is not only able to lift debris and dust but the troublesome and annoying hair as well. All types of hair whether it belongs to a human or a pet, this vacuum cleaner can get rid of all of them with its variable suction power. Bissell zing canister vacuum cleaner comes with a post and a pre-motor filter to provide great filtration. Its filters are washable and it has an automated cord retractable feature as well. It can be easily switched from cleaning carpeted floors to bare floors!

---
Cleaning up a hair salon is quite difficult as what you are dealing with is human hair. You try to suck them with a home vacuum. But you still find hair in the corners and dark lit areas of your salon. What are you going to do? Your home vacuum has lost its suction power because the hair has jammed it. Well, you can't just use a normal home vacuum cleaner to get rid of hair. There are special vacuums that are designed for only this purpose. They are equipped with features that enable you to suck up as much hair you want without getting clogged or lose suction power. Well, my friend's shark brand gives you a shark rotator powered lift away vacuum cleaner. This vacuum cleaner is ideal for both hair salons and homes as well.
Features:
This vacuum is very versatile and durable. It has a powered lift-away feature as well as a swivel dynamic steering aspect. It can reach far off areas and offers LED lights to make it easy to lift dust and dander from places that are not well lit. It has easily accessible fingertip control and an anti-allergen seal as well.

---
The majority of people think that handheld vacuums are quite a pain. They make you tired because of their bulky weight. Well, that is true if you end up buying a heavyweight handheld vacuum. They are pretty good as they can reach and clean areas that other types of vacuums are unable to clean. Black+ decker dustbuster handheld vacuum is the best vacuum cleaner for a hair salon. This vacuum cleaner although handheld offers features that make cleaning fun and pretty adventurous as its ability to clean every nook and crook!
Features:
Well, this vacuum is offered by the infamous Black+ decker brand and is considered best-selling in the market. It comes with a smart charge up technology that uses 50% less energy to charge the device. It has cyclonic features as well that prevents the filters from getting dirty and also keeps the suction power consistent as they get rid of all the particles that may clog and affect the suction power of the vacuum. It offers a dirt bowl and filters that can be washed and reused. It has a 360-degree rotating nozzle that is involved in many applications. It is truly worth buying!

---
Frequently Asked Questions (FAQ):
What's the best vacuum for human hair?
From the vacuums that have been mentioned above, Bissell's clean view is the best vacuum for cleaning human hair. This marvelous gadget of Bissell Company is packed with astonishing features that can easily counter human hair. It has several extra attachments to get rid of hair from areas that are difficult to reach and clean. It is bagless and has amazingly strong suction power. it won't get clogged or jammed by the hair. It has large dirt can as well that is made transparent so that you can see how much more dirt it can handle before you need to empty it. it is a perfect warrior for fighting with human hair
What vacuum does not get hair tangled?
Some vacuums come with features that won't allow hair to get tangled up. Bissell pet hair eraser is one of those vacuum cleaners. This vacuum comes with tangle-free brush rolls that won't allow any hair to jam their function as compared to many other ordinary vacuums that stop functioning as the hair gets tangled up and jam the brush rolls. Therefore, you have to cut the tangled hair with scissors to get it working. However, this is not the case with Bissell pet hair erasers. If you want to vacuum hair either human or pet hair then use this vacuum
What is the most powerful shop vacuum?
Well, Macmaster's professional beast is the most powerful shop vac. This is a 16 gallon beast with a 6.5 peak hp motor. It has tremendous suction power and has many aspects that make this product worth buying! It is the perfect partner to help you tackle all sorts of tough jobs!
Can you use a shop vac as a regular vacuum?
Well, shop vac offers a very strong suction power. You can use it as a regular vacuum to vacuum your home but very strong suction can damage a lot of your stuff. Therefore, if there are some troublesome stains that you need to clean then you can use this vacuum. Shop-vac is not just limited to home use only. They are constructed to deal with bigger messes of life. It can clean stuff that regular vacuums are unable to do so. It can suck in bigger chunks that make a regular vacuum clogged. You can use it to clean your home as well but it would be good if you make use of this awesome vacuum to deal with heavy-duty kinds of stuff
Is the shop vac a good brand?
Well, obviously yes! Shop vacs are worth buying. They are very versatile and are durable as well. They can not only deal with your home messes but can deal with other large scale messes that occur at workshops, offices, construction sites, etc. They are called dry and wet vacuums because they deal with large chunks of debris as well as liquid spills that are not possible with regular vacs. Keeping all these things in mind, they are a good brand. If you plan on buying a shop vac then look for Dewalt brand vacuums as they are very popular and are trustworthy!
How do I choose a shop vac?
Well, for choosing a shop vac there are many features that you should keep a look at. First is the capacity of the shop vacs. Well, it's a very important aspect that should not be missed. Many small, medium and large capacity shop vacs are available at the market. Medium capacity ones are ideal for both indoor and outdoor jobs. Next comes the suction power. Well, many brands only tell you about the horsepower of the product. It alone is not able to provide you with info about the suction power. Look for the air watts. The more air watts a vacuum has, the more strong and powerful its suction power is. The last comes to the tank. Well, many of you would be forced to decide between the stainless steel type and the plastic-type. Well, stainless steel types are the best because they are durable and can be your partner for a longer time interval!