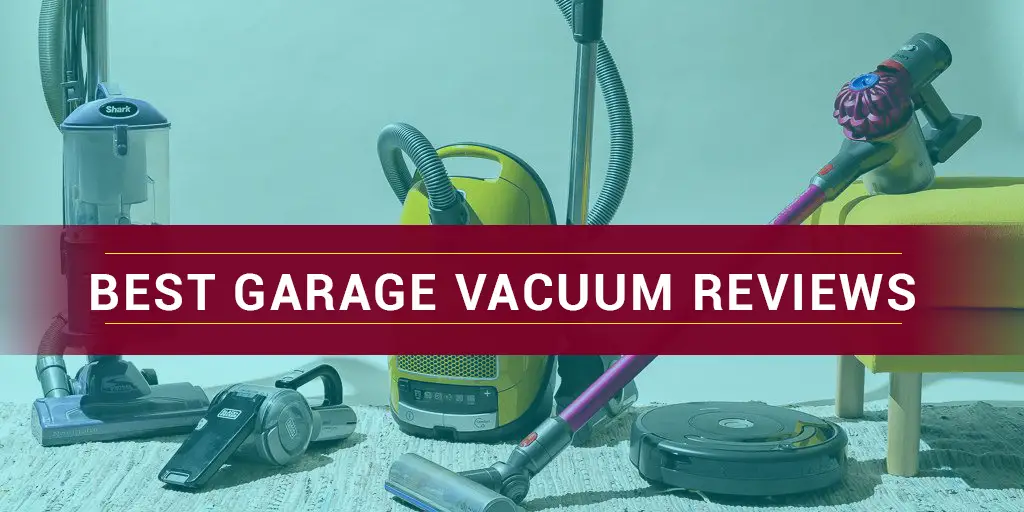 Looking for the best garage vacuum? You've come to the right place.
Before you dive deep into the reviews, take a quick look at all the top garage vacuums.
 Our Top Picks For You… 
In a hurry?
We recommend
BISSELL Garage Pro Wall-Mounted
Wet Dry Car Vacuum/Blower. A powerful, versatile, and reliable vacuum that comes in a reasonable price tag and easily tackles both wet and dry messes in the garage, car, workshop, etc. It's a blower and a vacuum and comes with 7 versatile attachments. In a nutshell, it's a solid option and you can
check this offer
on Amazon as well.
Vacuums cleaners for garage range from handheld battery-powered vacuums to large wet/dry vacuums that do not come at a cheaper price tag and require a large space to store.
Similarly, a garage vacuum can be used to clean cars, households, and other spots in your house.
Now, the real question is how to choose the best vacuum cleaner for the garage?
In this article, I have shortlisted the top 6 high-performing garage vacuums to help you make an informed decision.
That said, let's get started with the list.
Best Garage Vacuums
All the vacuums selected for this list are reviewed with pros, cons, and other options to make it easier for you to pick the one that suits your needs and budget.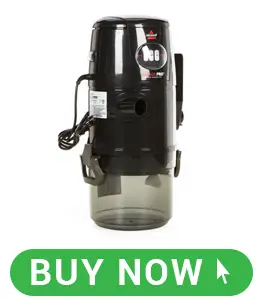 The very first vacuum cleaner on our list is BISSELL Garage Pro a multi-purpose vacuum cleaner that can be used for detailing a car to small crevices of a workbench. Plus, the wall mounting kit can save up some space if you live in a small apartment.
As it's a wet/dry vacuum, it comes with a tank having a capacity of four gallons and it can efficiently take care of liquid and solid messes.
The best part about this unit is the 32′ hose that makes it comfortable for you to clean a larger area including your garage or vehicle without having to remove the unit from the wall. Furthermore, the BISSELL Garage Pro creates average suction which is solid for small items, but it doesn't resist picking up big items like leaves, thanks to the 1.5″ mouth.
A downside of this machine is service; if you need it repaired, few locations will service it under the Bissell warranty. Similarly, the replacement of a filter can be frustrating as well if you are not familiar with the spring loading that pops it up for easy access.
A great feature of this vacuum though is the reverse airflow function that turns the vacuum into a blower. So you get to have a vacuum and a leaf blower in one unit while paying for one. Similarly, the reverse feature can be used to unclog the hose as well as push the leaves into the corner to be swept up.
Overall, the BISSELL Garage Pro is a premium vacuum cleaner that is not only efficient for the garage but for households. The larger hose makes the cleaning comfortable and the reverse airflow feature turns it into a blower making this vacuum a worthwhile investment of your money.
---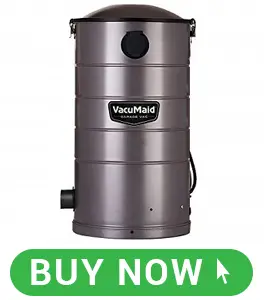 The second great garage vacuum on our list is VacuMaid, a powerful but lightweight vacuum that comes with an ultra-long 30-foot cord and a long vacuum hose enabling you to clean a larger chunk of space without having to move the vacuum around.
The VacuMaid comes with a HEPA style bag to ensure all types of allergens, germs, bacteria, and pollens are trapped inside to make the air clean to breathe, especially if you are an allergy sufferer. Emptying the bag is something not everyone likes to do but the accumulated dust has to be removed.
The VacuMaid is ideal for vacuuming pet hair either in the car or on your couch. The additional cost of the replacement bag can be a problem for some people, but you can reduce this by buying several at a time.
Moreover, the VacuMaid features a longer-lasting motor that gives you to longest operating life and a handsome amount of run time to clean workshop, garage, car, or other places in your home.
Overall, VacuMaid is a solid vacuum unit that you can buy for your money.
---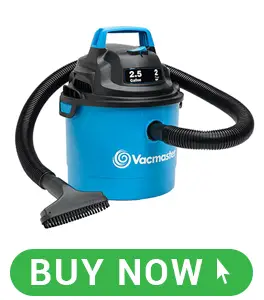 The Vacmaster is another great vacuum that comes with five-gallon capacity and offers max 5 Hp power. Being such a powerful vacuum means it would consume a lot of electricity, but it doesn't. While used on the peak capacity, the Vacmaster operates with less power but delivers great suction. Plus, it produces less noise compared to some rivals.
The best part of Vacmaster is that it easily detaches from the wall and can be carried around easily. The 21′ hose and 20′ cord both combined give you the comfort of cleaning a 40-feet large area without having to move the vacuum unit around. The best part is the onboard storage can carry all the accessories with the vacuum cleaner.
The Vacmaster is ideal for detailing your car sitting in the driveway, without having you to move back and forth for picking another cleaning related stuff.
Overall, the Vacmaster is a nice garage vacuum that offers outstanding power, consumes less electricity, and comes with a long cord and hose making the cleaning breeze for you.
---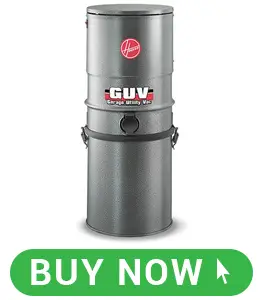 The next in the list is Hoover GUV ProGrade, a vacuum that brings a long-lasting filter that cleans itself. A little drawback is that the inlet screen can get clogged up sometimes.
The Hoover GUV ProGrade is the quietest vacuum for the garage but gives high pitched whining. The 30′ large flexible hose makes the cleaning comfortable and lets you clean pretty much everything in the area of 30 feet without having to dismount the vacuum from the wall.
The best part is it's the easiest to clean vacuum cleaner.
It comes with a range of attachments like dusting brush, upholstery nozzle, crevice tool, and extension wands. The floor nozzle grabs the sawdust or plaster dust efficiently. But don't expect too much for large items like broken floor pieces to be sucked up. Similarly, the unit struggles with leaves as well.
If the bin is full the suction might fall off. Other than that, the Hoover GUV ProGrade is a great vacuum to clean dust and debris from your garage and walkways.
---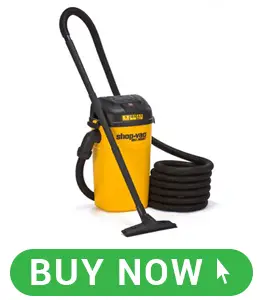 Don't get fooled by the name of this vacuum. This high capacity vacuum cleaner generates 4.5 HP to take care of all the dirty floor for you.
Shop-Vac does come on sale very often which can be the best way to save some bucks on this bad boy. Plus, the replacement filters are also affordable for you.
This wet/dry vacuum is designed to handle wet messes as well as dry ones. The suction power is not the greatest to be said, but it's enough to suck up pretty much everything that comes in its way from smallest to mid-largest particles.
But, the Shop-Vac might not do a good job of picking up spilled mini-cookies in the car or gravel. The maintenance of this vacuum is easy and it comes in an affordable price that makes it a worthy pick as a good garage vacuum.
---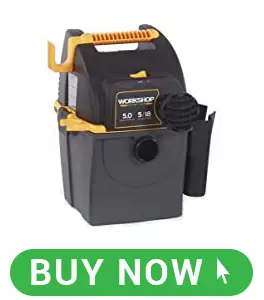 This particular vacuum cleaner offers superior cleaning for car detailing and brings a dusting brush to take care of AC vents, car consoles and dashboard making sure no streaks or scratches are left on these sensitive surfaces.
Similarly, the unit comes with a considerably large hose that helps you pick spilled goldfish crackers where most competitors fail. The flip side is the unusual size of less than 2″ diameter, which makes it incompatible with other brand's hose.
The 20′ cord and 21′ hose both combined give you a large surface area to cover. So, you can comfortably clean all nooks and crannies of your workshop or garage.
Overall, this vacuum cleaner is great and the easy to replace the filter with minimal mess is the best part.
---