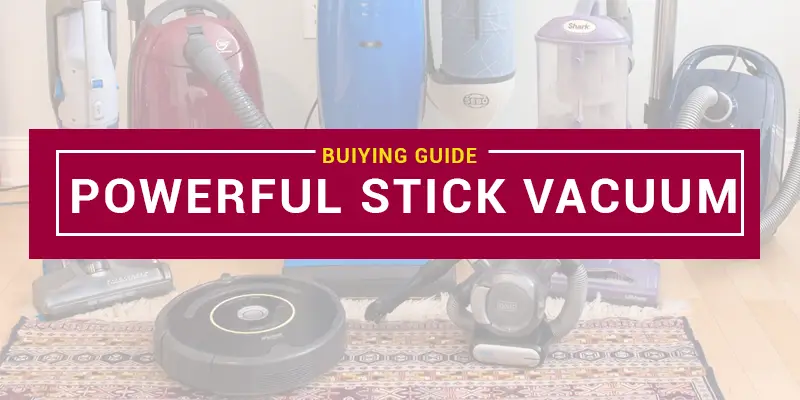 The beauty of actually going out to buy a vacuum nowadays is that thanks to the boom of consumer demand, there is always going to be some device designed keeping your exact needs in mind. The hassle with vacuum purchasing; however is that there are tons of alternatives and it can be difficult to zero in on that ideal model. Getting confused is quite possible as there are canister, handheld, upright, robot, and convertible and even stick vacuums available today that may put the user in a tricky spot.
If you need a more traditional vacuum but one that is super lightweight, then opting for a stick vacuum makes sense. Stick based vacuums come somewhere between a hand held and an upright vacuum cleaner and are even cooler as they contain the former's maneuverability and the cleaning strength of the latter. Most stick vacuum models usually run on batteries that means they offer the user a serious sense of mobility and freedom however they also tend to be much less powerful than their corded counterparts.
So, to make things easier for our readers, we have jotted down the pros and cons of 5 of the most powerful stick vacuums in our opinion so you can review them and make the best choice for yourself.
Most Powerful Stick Vacuum
First up we have the Dyson V8 Absolute which as a vacuum, may work on all ground types and has been designed for customers who are in need of an entirely cordless vacuuming experience but can still appreciate a good budget friendly deal.
The Dyson V8 comes with a built-in battery which is kind of cool as you won't have to go around purchasing batteries and can simply charge it whenever you please. According to Dyson, it'll provide as much as 40 minutes of run time when using the "Powerful" mode, but if you use its specialized motorized cleanser head, you will only get about 25 minutes out of it.
In terms of cleaning performance, the Dyson V8 has a very soft roller cleaning head to help users handle larger debris. If its allergens that bother you, the V8 comes with a HEPA filtration system as a way to help clean the air.

Next up we have a product from Phillips which is called the Speed pro Max and in terms of overall performance it excels in cleaning up pet fur and claims to get the job done in just 2 swift movements. It comes with a number of exciting features, ranging from LED lights which are placed on the front of the vacuum so you can see in dark corners and under sofas, to a digital LED display which alerts the user about the amount of battery power left.
In terms of its design, it is quite sleek and bright coloured device which claims to have a runtime of 60 minutes when the low power mode is on. The charging time is an extended 5 hours, but the consequences of this vacuum are well worth the wait.

Next up we have the Vax Blade 2 Max vacuum which is of course a cordless stick vacuum cleaner. This device is super lightweight and this allows it to be increasingly portable so that you can use it around the house and even up stairs with ease.
The Blade 2 Max is also comes with a cool host of accessories and attachments such as a skinny crevice tool, a detachable wand, a mini gentle brush head and of course 3 nozzle attachments. All of these can connect easily to the wand or the body of the Blade 2 Max, with a simple clicking on and off option which is actually super easy to use.
That's not all as the motorized vacuum head is designed to be simple and effective at what it does since it lacks the dual brushes and it might not be as fancy. However it has a vibrant LED headlight, which allows the user to see even the darkest of areas underneath sofas.

The Bosch Unlimited BCS122GB is next on our list to find the most powerful stick vacuum and in terms of the short time it takes to get the batteries fully charged, we are super impressed. It takes under an hour of charging for the device to be fully charged.
It's also quite versatile and can glides comfortably across more than one surface which can be a problem for many vacuums. The Bosch Unlimited BCS122GB in particular has had raving reviews for the prowess it has to tackle pet hair removal and the amazing power you get from the batteries.
It has a few flaws as there is a need to practice absolute caution when detaching the canister, due to it lacking a lock on the lid, however, this vacuum is extremely versatile as it cleans hardwood tiles, floors, carpets and rugs within seconds.

Last but definitely not least we have the Shark Duo Clean Powered Lift Away vacuum which has 2 main advantages that make it an excellent device to own. First, it's entirely a cordless device which means you can take it whenever you please and second amazing thing is that it actually unclips to offer you a hand held machine as well which becomes perfect for cleaning the car, stairs or even in pesky corners.
This device also comes with a handy LED indicator on the top of the device which actually tells the user when the battery needs to be charged again and it also actually alerts you how much is the current battery percentage. This is important since the user will always be one step ahead of the game and will never have to come to an empty battery.