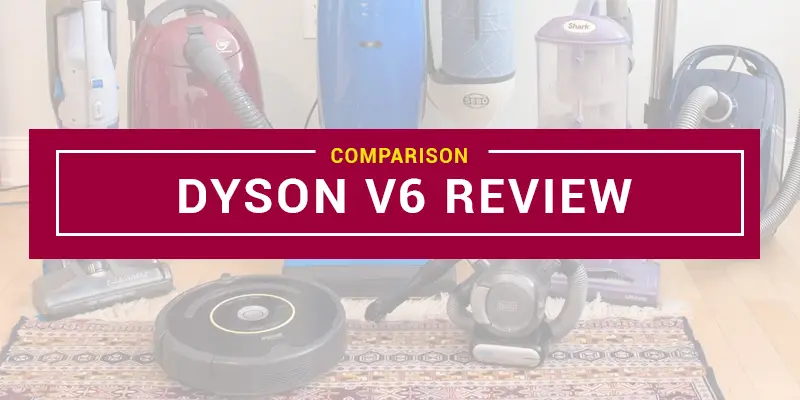 In the busy life of today, we all are engaged in some activities which do not let us take care of our house properly but industrialization has given us a solution, the cleaners. Still, we need some reviews of the products to be purchased so that the money is valued not wasted. And, here we are with Dyson's V6 vacuum cleaner, which will make cleaning fun and also will save time for you.
Dyson V6 Review
This cleaner is a cordless cleaner but still is as powerful as corded. Here we have a powerful motor with 15 cyclones and 110,000 rpm to produce a powerful suction of 100 air watts that will take in all types of debris irrespective of their size. Not only this, it is also given with a brush roller with fine, stiff nylon bristles to directly clean and polish the floor and deeply clean the carpet without letting even any hair on the mat, you will be astounded with the results.
This cordless vacuum cleaner can work for you for 20 mins after charging for three and a half hours. And you can clean with this cleaner your small house easily but for a big one we do not recommend it.
It works on charging so there will be no issues of limited area and the issues of cord tangling. It comes with wall docking ability, which means you can dock it on its wall holder while charging; easy to keep.
It has no traditional on and off button to avoid unnecessary running of the machine and electricity of the electricity. It is given with a highly sensitive gun like trigger for operation. As you press it starts working and when you will release it will stop working at once.
Then comes the number of its transformation, which is to be elaborated as turning a long wand floor cleaner to small, lightweight hand held cleaner. It only weighs 4.6 pounds and you can carry it easily with you for room to room or place to place. This transformation will allow you to clean a variety of things other than floor only, like curtains, ceiling, car, furniture etc. It is a versatile product made to work on all sorts of surfaces and things.
Its dust cap is of a good capacity allowing you to collect a large amount of dust in it (as compared to another cleaner of its type and for the working to 20 minutes it is huge). This dust cup is easy to empty, you just have to open the base of the product above the dust bin and let the debris flow in the bin. This will let you work effectively and efficiently,
The story does not end here one more thing which this vacuum clean offer is its long wand which is easy to install and remove, 1st thing, then at 2nd number comes its reclining ability which let you clean the floor under the furniture like sofas, tables and other articles of furniture.
Purchasing it will let you finish your work in no time and will save you much time which you can use in other useful activities like taking care of yourself, and reading books or other tasks of your daily life.
Its working is so great that you will love to work with it although this cleaner is a cordless cleaner but still it can be a completion to the corded cleaner in terms of working and efficiency because it sucks in whatever it finds on its way. This cleaner will not disappoint you and you should leave all the second thought and order this great machine for your house and ensure the neatness of your house.
Features:
Battery life of 20 mins, to make your work easy.
Cordless cleaner which avoids all the mess of wires.
Light weight, only 4.6 pounds.
Gun like trigger for operation to avoid wastage to electricity.
Wall docking while it is getting charged.
Duo technology; brush roller with fine nylon bristles and powerful suction.
Dust cup capacity is 0.9, and the cup is easy to empty.
Can be transformed to handheld cleaner.
Can clean ceilings, walls, furniture, curtains, stairs, etc. in addition to the floor.
Wand is made in a way to recline for under furniture cleaning.
Can clean soft as well as hard floor.
The wand is long enough to aid you in working.
Powerful motor spins at 110,000 rpm rate, to let you clean every inch of your house teamed either with micro debris or macro.
15 cyclones are produced.
Suction power is 100 air watts is produced.
Small LED light is present which flashed when it needs charging.

Pros

Easy keeping.
Modern design.
Light weight.
Easy to use.
More capacity of duct cup.
Efficient working.

Cons

Can-not clean very fine particles.
Less battery timing.
Not for big houses.
Verdict:
Long story short this is a very good product and, it is to be said that your small house will benefit from this cleaner, but you mansion or bungalow or five rooms' apartment will not be cleaned with this cleaner. So go for it because it is really a good thing but for small houses. It will be a great value for your money, so hurry up.