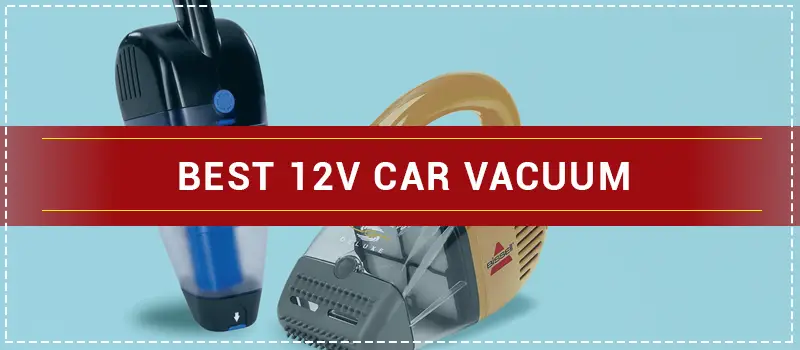 Actually, a dirty car is inevitable. You must have some extra-ordinary tool to clean it up even without wasting time.
We know a lot more options in the market to go with, that's why we've done the work for you….
Here are some top-rated vacuum cleaners for your vehicle!
If you're still confused then give a quick look to our best & top pick-up
Portable Car Vacuum Cleaner is our favorite model when it comes to power, ergonomic design, and effectiveness in picking up even the most compact dirt. During testing, the smart flat-bottom design allowed us to easily reach dirt in hard-to-reach spaces.
This article will lead you to take the right decision.  
Pros
Ultra-compact- Offers a long slit tool for tight areas, such as under and between car seats
Dual functionality
Triple action filtration
Cons
Not suitable for large debris
This vacuum cleaner shows dual functionality: it can be used as a regular manual vacuum or the handle can be removed for hard to get places.
Its combo crevice and soft brush- used for convenience.
The vacuum has cyclonic action- separates the dirt from the filter- maintaining maximum suction power, & hands-free cleaning of the filter Clear dust container lets you know when to empty your vacuum.
The vacuum carries Triple action efficient filtration which means you have no trouble vacuuming lighter debris, but it will resist with stubborn stains; but if you're going with a reasonable price- it will strike between price & quality.
Patented 'motor in filter' technology allows the handheld vacuum to work efficiently.
It's another amazing 12V adapter that fits into even the plug of a lighter, and a 16-foot cord allows you to reach all areas of your car.
Verdict 
Though, you're looking for a vacuum with powerful suction or under your budget then this one will be a good choice.
Pros
12V Automatic DC Plug
Long Power cord
Flexible design- increases the capability
Wet/dry collector
Built-in LED light
Cons
Little suction at all
It weighs 2.25 pounds
This Armor All 12V Wet/Dry Car Vacuum is specifically designed to clean the interior of your car- hard to get places
This vacuum is also capable of handling both dry and wet pickup efficiently.
The handheld vacuum comes with the key accessories needed for complete interior cleaning, including small places and a built-in detailing brush for flawless cleaning.
It also includes a removable and washable filter for effective collection and also for long-term use.
Company cigarette's adapter-pluggable version increases its capability to get the small areas.
To achieve a balance between the two main power supplies, some vacuums offer alternative power solutions, including dual functionality that uses a battery and wired options. But Armor all focus on its basic purpose, with 12-volt power cables designed to take advantage of a gadget's charging ports.
Verdict
The overall performance, weight, and quality of a car vacuum are really the most important aspects to consider when looking for a simple and effective suction solution.
This one is the right solution to your problem.
Pros
HEPA filter
Long power cord
Powerful suction
Cons
Requiring washing
Without wall socket Lower capacity
HEPA Filter – comes with two stainless steel filters that you can wash in your kitchen, helping save the environment by not wasting single-use filters.
Its versatile attachments like a carry bag make it able to clean during the day or night.
Its power cord is 16.4 feet long, making it easy to clean even the largest vehicles.
Main feature: LED Light – A great addition that allows you to vacuum at any time and also allows you to see in dark corners to remove all the dirt more easily.
Powerful Suction – a great product with great suction, which collects all the debris from everywhere & makes even the tiny places kindle.
The 12V cable is around 3.5m, making it long enough to reach most tiny areas of the car, and found that the provided brushes were particularly good at removing stubborn dirt before vacuuming.
Verdict
It is also a 'wet and dry' model, which means it can absorb some minor spills. In our test, we also found that any subsequent dust is captured sticks to the container.
Pros
Quick and easy to use
110W motor and 12V DC connection
Protective lid- beneficial tool
Effective cleaner- even cleans your ashtray!
Washable HEPA filter with cleaning brush
Cons
Suitable only for a cigarette lighter port
This fantastic vacuum includes three removable nozzles to help you get into the tight corners of your vehicle, as well as a compact flat-bottom design that makes it easier than ever to clean your seats, tiny spaces and floorboards.
The key to clean the car/gadget is to have the right tools at your disposal when you require them.
This Worx Automotive Portable Vacuum comes with extra-ordinary craftsmanship and with compact design enhances the suction power to give you the best cleaning for your money! So, no matter what your daily work  is and the mess that follows, we are there to help you with our amazing product.
Verdict
With incredibly three unique nozzle accessories, cracks, crevices, and floorboards are more than enough to increases its capacity to deal with difficult trashes.
By completing your requirements we are here with the best tool to give your car a cleaning; you won't even imagine!
Go for it
Last thoughts
The decision will depend on the configuration of your garage and the problems that you will normally be cleaning.
Thank you!