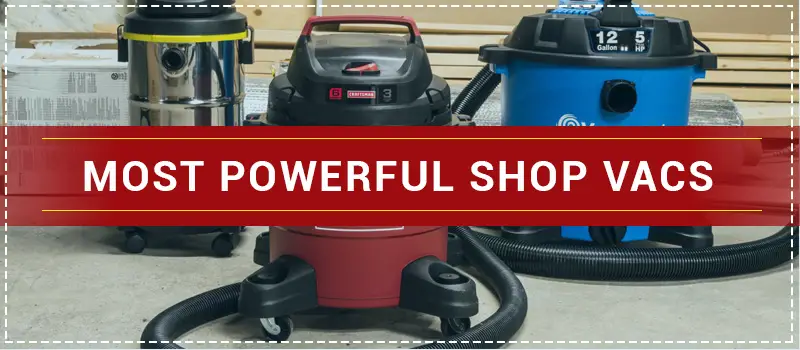 Searching for the Most Powerful Shop-Vac? You've come to the right place.
Let's get straight to the top picks selected after hours of research and testing
Our Recommended Picks For You…
In a hurry, consider this powerful shop vac…
In such an affordable price tag, the
Shop-Vac 18 gallon
6.5 Peak Hp Wet/Dry Vacuum gives you the ultimate power to clean workspaces like garages, shops, halls, and larger areas effortlessly. It comes with a powerful 6.5 HP motor, tool storage bag, top-notch filtration system, and a handful of accessories making it a versatile cleaner. This AMERICAN made cleaning equipment is the perfect option for you and it's available on a
huge discount
on Amazon.
Most powerful shop vac
| | | |
| --- | --- | --- |
| Most Powerful Shop Vac | Features | Price |
| Vacmaster Professional 5.5 | 5. 5 Peak HP Motor | Check Price |
| Shop-Vac 5989700 | Metal carriage handle | Check Price |
| RIDGID 50348 | Premium-Pro Locking Hose | Check Price |
| Craftsman Cmxevbe17595 | 6.5 Peak HP Motor | Check Price |
| WORKSHOP Wet/Dry Vacs | Dust collection bag | Check Price |
Top 5 Most Powerful Shop Vac in 2023
5 Gallon Polypropylene Tank
On-board hose, accessory, and power cord storage
5 Peak HP Motor
25 feet of cleaning reach
8 accessories
Converts to a blower
Versatile device
Cons
Up first on our detailed list, we have an industry favorite which is from the Vacmaster Professional Beast Series and is called the Vacmaster Professional 5.5 which is owing to its powerful HP motor that gives it all the torque it makes use of.
One of the most important features in a professional set up is that the vacuum should be able to take care of any wet or dry messes that could potentially come up and thanks to its dual performance ability; the Vacmaster Professional is more than capable of cleaning up all sorts of wet and dry messes.
Essentially it is a powerful and equally high-performance machine that has been engineered to tackle the hardest cleanup tasks whether this is at your workshop, factory floor or even at home. This makes it a truly versatile device that can take on just about anything. What's even better is that not only does it come with an onboard hose and a power cord but it also has inbuilt storage space for all the accessories that it offers which means that you will never lose the items but will also save up on a lot of space.
There is also a 5-gallon polypropylene tank thrown into the mix which ensures that you won't have to clean it out for a long time before it fills up. However it is the 5. 5 peak HP high-efficiency motor that is the star of the show as it is behind all the power. Another cool feature that this vac offers is that it converts into a blower as quickly as it sucks so you can blow leaves out your garden and clean out your garage all in one.
With both the 18-inch power cord and the 7-inch hose combined, this vacuum offers up about 25 feet worth of cleaning reach which allows you to reach farther without having to keep changing up the power outlets.
There is also an easier way to handle the controls thanks to the on and off button which is also sealed off to prevent any dust from getting in. The final cherry on top with this device is that it comes with 8 amazing accessories which will guarantee that you have all the tools necessary to get your job done and not have to purchase them extra. These include a foam wet filter, an extension and, a 7-foot long kink resistant premium hose, a crevice tool, a utility nozzle, a car nozzle, a fine dust cartridge filter and an air & noise diffuser.
---
Lots of accessories
Cordless and rechargeable
16-gallon stainless steel tank
Metal carriage handle
Large rear wheels
Tough and dependable
Cons
The Shop-Vac 5989700 is out next contender and it is a super tough and dependable device because its exterior is super strong and therefore will last you a long time. The metal is also resistant to corrosion and denting especially since it is a device which works around water.
The power of this machine comes from its 6.5 peak horsepower motor that ensures it has enough suction to deal with even the biggest of industrial messes whether wet or dry. This dual functionality makes it a formidable option especially for professionals.
The 16-gallon stainless steel tank is also a great addition since it takes a while for it to be drained out and the large rear wheels ensure that easy maneuverability occurs. The metal carriage handle also makes it easier to carry around.
The best part of this device has to be the fact that unlike many others, it offers users a wide array of amazing accessories and add on attachments which would otherwise be super expensive to purchase separately. This also means that users can be sure they have all the necessary equipment and tools to get several different kinds of tasks done. These accessories include several extension wands, a filter bag and an onboard tool storage, a 2.5-inch 8-foot hose, a crevice tool, an SVX2 motor, a cartridge filter, a 14-inch wet dry nozzle, and a foam sleeve.
---
14-gallon capacity
Premium-Pro Locking Hose
0 peak HP motor
Scroll Noise Reduction Technology
Qwik Lock Filter Fastening System
Stronger hose ribbing
Cons
The RIDGID 1400RV is up next on our list and this one features a 14-gallon modern quality wet and dry vacuum with a cart that contains a super tough body for all kinds of usage but more for expert, contractual worker and business use. The handle that this comes with and huge back wheels are what help the user cart it around and this is essentially what allows you to lug it around even the most hard to reach areas such as stairs, up curtains and even to corners.
The 6.0 HP engine conveys the suction power required to clean the work site in just one powerful go. This unit also comes with the storage space for all extra accessories that the vacuum comes with and is fitted with its own patented Scroll Noise Reduction Technology for a peaceful cleaning experience.
This vacuum cleaner includes an enormous handle for it to be carried along with an integrated cart handle which makes moving over uneven terrain, harder to reach areas and to aid the easy transportation from place to place easier and more accessible. There is also an 8-foot long RIDGID Premium-Pro Locking Hose which is patented as it won't pull free during use because of its super tight clasping lock. The rough hose ribbing is additionally 4 times as tough as a standard shop vacuum hose which means is that it won't allow for any clogging and won't even get kinks or knotted up.
As mentioned before, the Scroll Noise Reduction technology is as effective as it gives off an air of serenity by controlling the progression of air through the vacuum almost precisely. The Qwik Lock Filter Fastening System is another amazing addition as it essentially snaps on and off for simple filter changes. Apart from all these features, you will also be glad to know that the device comes to set up and does not require any tools to be functional.
---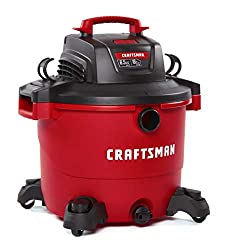 Pros
Dual Flex Hose
5 Peak HP Motor
Qwik Lock Filter Fastening System
Extra-Large Drain
Car Nozzle
Utility Nozzle
Wet Nozzle
Cons
The CRAFTSMAN 16 Gallon vacuum is up next on our list and it is a very versatile device as it comes with a dual performance which means it can tackle both Wet and Dry capabilities, which is partly due to its super impressive 6.5 HP engine which is powerful enough to effectively handle huge cleanup tasks no matter where you need it to work its magic; in the workshop, at a construction site or even at home.
This wet dry vacuum incorporates a car cleaning nozzle, a wet nozzle and of course a utility nozzle as well. Additionally included is a huge 2-1/2 in. width hose with its amazing Dual-Flex feature that opposes any kinks from forming and deters any potential clogging from occurring.  The cool onboard hose storage space is effective at making sure that the hose is always within arm's reach and is also well maintained so that it takes up the least possible amount of space.
The Qwik Lock Filter Fastening System is one of the most impressive features in this device as it takes into consideration speedy and simple wet dry vacuum changing of the filters. Furnished with an extra-large filter ensures that the tank removes fluids rapidly and without any problem. The blowing port is a useful feature that turns the vacuum from suction to blower within seconds and blows out high speed exhaust air out the same hose to blow away sawdust, leaves or debris of any kind.
---
Stainless Steel drum
Rough terrain cart
16-gallon drum capacity
Dual-Flex locking hose
Fine dust Qwik Lock filter,
Dust collection bag
Cons
Last but not the very least, we have the Workshop Wet/Dry Vacs which comes with a  Stainless Steel drum that makes it resistant to corrosion and water damage. There is also a rough terrain cart which means that no matter what your work area, this device can handle it. With 6.5 Peak HP and 16-gallon drum capacity, this vacuum is built to perform under the toughest of conditions.
It comes equipped with a utility nozzle, a car nozzle, a Dual-Flex locking hose, a fine dust Qwik Lock filter, 2 extension wands, a dust collection bag, a crevice tool, and of course an owner's manual.
The vacuum can handle wet cleanup so well thanks to its drainage port at the bottom of the as this is used to flush out any wet messes and if needed it transitions into a blower instantly for dual functionality.
---
Guide
When it comes to a professional setting such as a construction site or shop floor area, your normal home owned vacuum cleaners will just not cut it. This is partially because they just don't have the horsepower needed to such up some serious messes like sawdust, cement or even wet messes.
That's where the idea of a shop vacuum comes in as they are usually dual performance vacuum cleaners that can deal with both wet and dry conditions. This is why today's article is dedicated to going over our top 5 picks of the most powerful shop vacuums available right now.
A shop vacuum is a more powerful kind of vacuum used to tackle serious messes in construction and woodworking professions. These vacuum cleaners are set apart from their traditional counterparts due to the presence of a high powered motor and equally high-performance suction component which not only can suck up dust and debris but also tackles larger chunks of rubble from building sites and workshops.
So without further ado, let's get started on the search for the most powerful shop vac!
Of course, however, if you don't have the time at the moment to go over this extensive review and cannot go through each of our 5 picks, we recommend that you take a look at the Craftsman Cmxevbe17595 which is an excellent contender as it comes with a unique and patented Qwik Lock Filter Fastening System which ensures that whether you are dealing with wet or dry messes, nothing will blow out of the vacuum (in french, we have list of meilleur aspirateur). It also comes with 3 unique attachments that come with it thus ensuring you have all the tools necessary to take on any kind of a mess.
However, if you need more than that to be fully convinced, we recommend you keep reading to make the best decision depending on your own needs. Before you start reading, do take a look at our handy comparison chart along the way as this will inform you regarding the basic features of each product. You may want to read more about best robot vacuum for carpet that can help you full tasks.