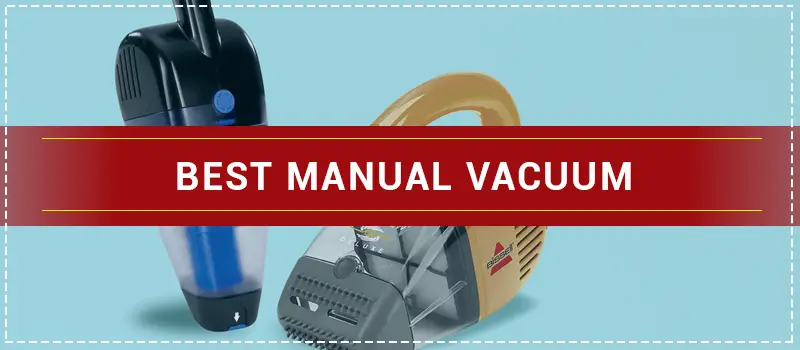 It's a matter of fact that everything gets muddy & greasy but it is important to keep your pool clean otherwise it'll change into disaster or diseases.
In that case vacuum cleaners are here for assistance- manual vacuums are under budget. So, take a quick review from below & pick the best one.
We've tested & compared the models & extract the best one for your benefit.
All the work is done just for your convenience:
The top-ranked vacuum for swimming pools:
Go for the one- meet your needs.
The top-pick on the list is POOL BLASTER Max. As a shop vacuum for the swimming pool, this vacuum is a strike between quality & price- a good option for residential pools.
Here is further discussion for you…
Best manual pool vacuum
 Let's take a look at all the best manual pool vacuums and see which one is ideal for you.
Pros
Cordless
Rechargeable batteries
Versatile cleaning
Quick & easy to use
Cons
Breakable
Telescopic hose is not included
Bit expensive
This vacuum comes with an easy-to-use on/off button and rechargeable lithium batteries, battery-powered that recharge in just four hours while providing forty-five minutes of operating time during use.
Ideal for cleaning spas and hot tubs, in-ground and above-ground pool steps clean dirt, sand, silt, and leaves from everywhere.
It includes 7.5 "Vacuum Head with Soft Bristle Brush, Wall Charger, (1) Multipurpose Filter Bag, (2) Disposable Microfilter Bags.
Put nylon stocking over the bag, which is helpful for tracking the dirt & makes suction a bit better.
You can use it by hand or connect it to any standard-size pole with this lightweight, easy-to-use, and highly affordable pool cleaner.
The feature makes it able to easily clean different types of pools and spas easily and efficiently.
Verdict
This vacuum captures a variety of debris; acorns, branches, leaves dirt and sand easily from your swimming pool.
The device will work efficiently with no hoses or cords. Just don't be in a hurry when using this product.
In general, it is a good option for small or medium pools. Just use it carefully for long-lasting availability.
Pros
Compact design
has an easy empty bag
Cordless
battery life is good
High flow pump
Quick and easy to use
Cons
A bit expensive.
The filter bag needs to be constantly emptied, even while cleaning.
The Water Tech Pool Blaster Max is equipped with a lithium-ion battery that gives you up to an hour of use per charge. And you'll be able to clean every corner of the pool without any resistance.
Powerful lithium batteries ensure great suction. However, there are no additional scrubbers, rollers, or brushes to help with stubborn dirt and algae.
Its angled head moves easily around the various pool and staircase designs for sparkling cleaning.
It also comes with an easy to use on / off switch.
Its multi-layer filter system is just another amazing feature, which means that the water in your pool is cleaned using multiple filters, leaving you with the cleanest and clearest water you can imagine ever.
Verdict
This incredibly good vacuum can be used in any pool or spa.
Be careful not to turn it off while sink; this can damage the battery compartment.
It is also good for both in-ground & above-ground pools.
Pros
High flow pump
Cordless
Easy operation
Cons
This vacuum's maintenance is a breeze with its easy empty bag that keeps your hands clean and also carries with a unique wall mount feature that increases the comfort with cleaning.
With crevice nozzles, it operates its work efficiently.
The X-Treme multi-layer reusable filter bag removes leaves, sand, and debris easily from the pool.
The Max can be attached to most standard pool poles for maximum approach, cleaning large areas with its removable 10.5 "inch vacuum head or spot cleaning when the vacuum head is untied.
It has an ideal quick release telescopic pole connector, which indicates the dirt & suck it for sparking cleaning.
Beneath the suction head is scrubbing brushes that are very fast at picking up debris from hard to get places.
It also includes: High flow vacuum motor, Built-in pendant, and storage notch, easy-grip handle for cleaning steps, stairs, and surfaces for better results.
Verdict
Pool Blaster Max is the perfect tool for residential pools, spas, and hot tubs.
It's impressive suction power to grab the dirt from any corner increases with the help of its convenient tools.
Pros
Two brush heads
Battery powered.
USB cable is available recharge
Inexpensive as compared to other products
Cons
It takes longer to clean with large debris
Small filter- it needs to be emptied constantly
This vacuum is designed for use in pools- 18 feet or less in diameter and is inexpensively appreciated by people.
It weighs 5.5 pounds. But, with that weight comes more power and a running time of sixty minutes.
Automatically shuts off when out of the pool, there is also a waterproof switch for safety.
This Intex handheld vacuum provides powerful suction for cleaning above ground & in-ground pools.
The pool vacuum comes with a built-in Ni-MH rechargeable battery, so you don't have to worry about cables- cordless.
It works best for those who only need to vacuum sand, pebbles, and other small debris as they found difficult with the large ones like even with the leaves.
Verdict
In our review, this product is listed as one of the best rechargeable with aluminum shaft we've tested. If you're under budget but still don't want to compromise on quality, it's a gadget for you.
In short; it is the perfect tool for you!
Thank you!