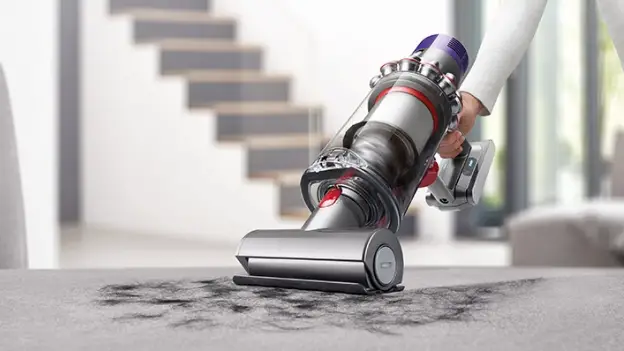 Dyson v10 is one of those vacuums on the market which may be a little more on the expensive side but renders just amazing and perfect type of cleaning.
So if you are interested in something that is classy and equally fun to operate, stick with us because this review is about to blow up your mind. We will tell you everything you need to or should know about the Dyson v10 before or after you purchase it.
Dyson Cyclone V10 Absolute Review
Now as we all know that the Dyson v10 is one of the best handheld vacuum cleaners on the market, what we might just want to know whether it actually can do the job it is supposed to be doing.
For that reason, this guide is brought to you by us.
Speaking from design to the portability to the power of cleaning, the Dyson has ruled the industry for years. They now decided to take things up another level with the Dyson v10. You will love how efficiently this vacuum does all of its jobs with the amazing ability to take it from any place you like to any place that you do not find right.
With this vacuum, you no longer have to go over floors again and again in order to clean them fully. The Dyson v10 has a suction power which will make you crazy. It literally cleans in seconds. It delivers the best performance and thus we think that Dyson v10 is one of the best vacuums produced by the industry itself.
After going forward with cordless vacuums like this one and recovering epic response, the company stopped making wired vacuums.
DesignPerformanceSpecifications
The overall design of the Dyson v10 is quiet, sleek and smooth while still being stylish. Dyson has incorporated a set of new features like the motor and the battery. The design literally meets every need of the user. We can not help but fall in love with every part of this vacuum.
Even though it may look like a normal vacuum, the design will tell you just how it is a lot more than it looks. The Dyson v10 has a shaft with orange hues all over it, it has a vacuum clear at one end and a battery maintainer and checker at the other end. Everything on the Dyson v10 is organized and well maintained.
 The Good 
The Dyson v10 has an amazing yet a beautiful and well-equipped design which is suitable for use in any space you like. Be it indoors, outdoors, homes or any other spaces.
The suction technology on the Dyson v10 is also great. We love efficiently and smoothly it sucks things up.
The battery power on this one is very improved as compared to the previous models we tested.
The attachments found on this vacuum are very fantastic
 The Bad 
You need to make sure you gather up and remove all the bigger dust or dirt items away from this vacuum else it will block the process of cleaning.
If you put this vacuum on its highest settings, you will be able to witness a drastic drop in the battery levels.
 Conclusion 
The Dyson v10 is one of those vacuums which make you want to fall in love with the process of cleaning all over. Though it is a bit high in the price, you have no idea of its numerous capabilities, which is why this vacuum will always be our favorite one when it comes to the handheld vacuums. The company has always been famous for their beautiful and light sized vacuums. Now they have stepped a little higher with the launch of Dyson v10. The company has also refined its ultimate suction technology to really put the vacuum in more control than the previous ones. In terms of suction power.
Well, we hope that you found our article on the Dyson v10 a one that is worth giving enough information to you. By now, you should know whether to purchase this one or not.

That's for Dyson Cyclon V10 Review. If you like this article please share it with your friends.