Disclaimer: There are affiliate links in this post. At no cost to you, I get commissions for purchases made through links in this post.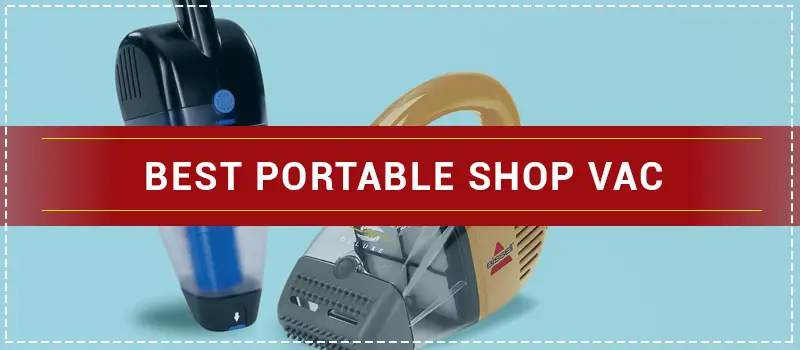 Looking for the Best Portable Shop Vacuum? This is the guide for you.
When most people think of shop vacuums, they think of big, heavy devices that take up space and make a lot of noise. However, recent advances in technology mean you can have great power in a small, quiet frame.
And here are the top-rated options for you:
Keep reading….
Best Portable Shop Vac
Let's discuss each best portable shop vac in greater detail and see which one is ideal for you.
DEWALT DCV581H Wet-Dry, portable Vacuum
Pros
Functional HEPA filter
Convenient
Uses a standard AC power to run
Cons
No charger included
The battery doesn't have the capacity for long-lasting
Surprisingly, it will trap the dust-up to 99.97% at 1 micron. Its compact design makes it lightweight, easy to move from one place to another place.
Features
Washable/reusable filter
Premium XR Lithium Ion pack provides up to 33 percent more capacity than standard 20V MAX battery packs
3-LED fuel gauge system allows immediate feedback on state of charge
No memory and virtually no self-discharge for maximum productivity and less downtime
It's a good course of action regarding small applications, because of its limited tank. The crush-resistant body makes the vacuum durable, flexible for all kinds of use.
Verdict
Comes with crevice and wide nozzle tools- perform certain tasks in a good way & its portability makes your life easier.
RIDGID Portable Wet Dry Vacuum
Pros
Best for tiny spaces
Certain nozzle
Well built- powerful
Cons
Loud
No- battery-powered
Features
There is a small crack in the bottom of the vacuum that allows you to sweep up dirt and debris without having to use the hose. This feature makes the Vac3000 (and any other portable store vacuum) much more efficient.
It has a three-gallon tank for ample storage space so you don't have to constantly empty the vacuum cleaner in the middle of cleaning.
It also comes with seven-foot collapsible hose, the large, comfortable carrying handle, which is incredible to have.
Verdict
It's perfect for cleaning wet and dry mess, and it comes with a pair of extension rods and a locking blower rod for heavy cleaning jobs.
This seems like another reliable & portable vacuum to pick up small or big particles & shorten the cleaning project as well.
ArmorAll AA255 –Portable Vacuum
Pros
Affordable & compact design
Auto shut off function
Can Switch between a shop vacuum & a blower
Reuseable cloth filter & foam sleeve
Cons
Small tank
Short hose
Its description may need a few words.
Features
Vacuum to blower conversion
Noise diffuser
2 horsepower motor
Flexible wheels
As this product is equipped with a small 2.5 gallon, this makes it very lightweight for easy portability. For more efficient work, this appliance is designed with an auto shut-off function, which is a sensor- detect the capacity of the tank, if it is full, then proceeds to prevent power wastage.
Other features include: a short 6-foot hose, 10-foot power cord, crevice tool, blower nozzle, 2-in-1 utility nozzle, respectively.
Verdict
The best function of this vacuum is its auto shut-off detects the fill limit and prevents overflow. However, if you are looking for an economical & portable vacuum cleaner, you will be very happy with this model.
Vacmaster Professional Wet/Dry & portable Vac
Pros
Long cord- 20ft
Can switch to a blower
Cons
Weak connection in the hose and wand
Least possibility attachment of the bag to the inlet hole
Features
On-board hose
Power cord storage
On/off switch
Kink Resistant EVA Hose
Utility Nozzle
Floor Nozzle
Crevice Tool
(2) Extension Wands,
High-Efficiency Dust Bag,
Noise Diffuser
We know that, you're already fed up by curse of the drywall dust, & with heavy volume so this invention is the right solution to your problem.
It is designed to tackle the toughest cleanup projects & make life easier. It eliminates unneeded hassle and minimizes total storage space.
Verdict
It's easy to operate portable & move to anywhere.
This vacuum can quickly control power with large dust-sealed on / off switch. Its large hose makes it flexible enough to reach hidden places or interior of the car.
DEWALT DC515B 18-Volt Portable Shop-Vac
Pros
Runs very quietly
Cons
No batteries included
Features
Dustbuster
Noise diffuser
Dual clean-up modes
On/off switch
Heavy-duty latch
The one big upside to this model is that it runs very quietly, which makes it good for use around the house.
Its durable 2.5-foot 1-1 / 4-inch diameter rubber hose provides flexibility in confined workspaces, and the 1/2 gallon tank with heavy-duty lock is easy to empty and clean. The Gore HEPA wet / dry filter traps 99.97 percent of dust at .3 microns, and the washable filter can be tapped or rinsed with water to clean it.
Verdict
You can use it as a portable device, that makes it extremely portable and arguably the most portable on our list. That's a quarter the size of the largest models on our list, dramatically reducing the amount of material you can remove at once.
Conclusion
As you can see, we offer you the best options on the market that are powerful, extremely durable and practical. Choose according to your needs.