Disclaimer: There are affiliate links in this post. At no cost to you, I get commissions for purchases made through links in this post.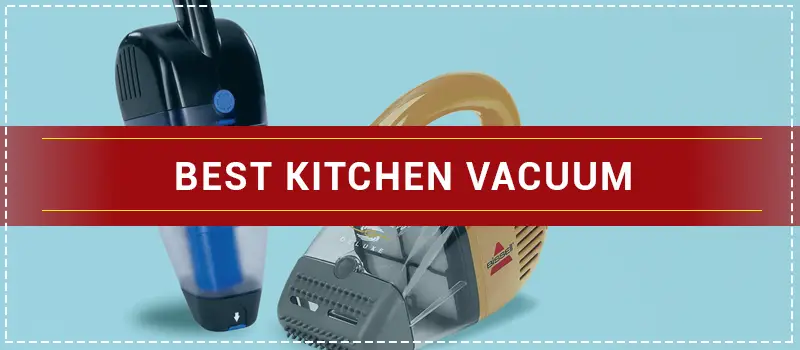 There are a variety of vacuum cleaners available today that are perfect for the kitchen – some are compact –requires small space to adjust, while others can deal with wet & dry debris all over the kitchen because cleaning is very necessary after making delicious foods & failure to do so can expose you and your family to germs that cause illness.
Here are top-rated vacuums for your convenience:
Best Kitchen Vacuum
Take a quick review for further details…
The Shark Wandvac weighs just a pound and comes with a convenient docking station that you can place under the sink or even on the counter.
It is designed as a stain cleaner, to treat small spills quickly and conveniently, or to clean smaller areas, such as the sofa or stairs.
The compact design, coupled with the fact that the entire vacuum is very light, gives you better access to some tight spots that would have been difficult to reach with conventional designs.
It's another amazing tool is a 2-in-1 combo tool with a crack tool and a dust brush. The vacuum cleaner does not come with a motorized brush tool, so you may have trouble cleaning pet hair if you have long-haired pets.

Pros
Excellent suction
only needs 2.5 hours to fully charge
one button dirt canister
weighs only one pound- lightweight, compact design & portable
Cons
It may be small
Noisy – it would be annoying
Expensive
Verdict:
It's portable, so you can easily clean hard-to-reach areas. And its incredible suction delivered by a high-speed brushless motor makes your cleaning easier than ever.
Modern models of robotic vacuums are incredibly efficient and much more affordable than they used to be.
It can run up to 100 minutes per charge and will keep your kitchen floor spotless without having to move a muscle. And save time and costs in one offer.
When the vacuum brushes begin to turn more slowly on high pile carpets, they activate the motor of the vacuum fan to enhance the suction power for better results.
For such a small and light vacuum, it's quite effective at shaking and cleaning the dog's shaggy rugs.
The self-cleaning home has been a dream ever since humans realized it might be possible, but this product works as your dream come true.

Pros
Affordable
Compact & slim design
Feasible for carpet and hardwoods
Can climb over most obstacles
fit under most furniture
Cons
Cleans on a random pattern
Can't clean corners- hard to reach places
Verdict:
In particular, people love inexpensive & effective gadgets for their home; in that case, it will be a good choice to make.
It'll never disturb your schedule, infect makes your life easier.
One of the first things you will notice is how the vacuum is super powerful. Therefore, Shark's leading nozzle technologies provide powerful multi-story cleaning and remove brush from your vacuum- makes your kitchen sparkling.
This vacuum also comes with Anti-Allergen Complete Seal Technology and a HEPA filter that traps 99.9% of allergens, making it an ideal choice if someone in your home has allergies & keeps your air clean & fresh.
Its, filters make a difference by helping to maintain quality air inside the home.
For uninterrupted electrolysis of our self-cleaning, its cleaning brush with the powerful performance of our original bristle brush- can clean deeply.
It is highly useful for deep mat and gentle bare floor cleaning.

Pros
Affordable
Versatile vacuum
Lightweight
Cons
Long and stiff hose
Doesn't perform well on high pile carpet
Verdict:
However, we vote in favor of a vacuum solution that can address a variety of floor surfaces. In regard to this, it is a better choice to go for.
All in all its certain tools are highly beneficial for your kitchen because it can reach the hard to reach places easily.
Would you like a vacuum with multiple suction settings?
The Electro + has 6 suction settings and is equipped with two heads to provide you with the right tool for the specific job, all you need to do is turn the dial to the proper setting and you're done.
The special design of the Electro Power Head achieves perfect cleaning even in the lowest power setting. With a swivel action neck, you can easily maneuver your 10.5-inch-wide brush roller onto the mat for a deep clean.
An on / off roller switch located on the handle makes it even more convenient to use.
The filter dust bag has a self-locking lid, making it easy to replace even allergy sufferers. By effortlessly getting up from the vacuum chamber, you leave your hands clean.
The HEPA filter captures the finest dust and allergens that can be in your home, making this vacuum a great choice for home allergy sufferers.

Pros
Compact body
HEPA filter
2- floor brush
Cons
Tools are stored exteriorly on the vacuum
Verdict:
It's mark as the best in versatility and performance.
A practical gadget if you are looking for perfectly flawless floors.
Last Lines:
Thus, regardless of your needs, one of the vacuums which are mentioned above, all of which get top marks from Amazon reviewers, is sure to be a welcome addition to your kitchen.
And this Quick Buying Guide also highlights the specific features and elements you should keep in mind when buying the right device for your home.
Thanks!
Shark is that trusted brand whose every product is looked with much curiosity and gain much appreciation from critics. This isn't something ordinary because the position of being best is just a wordy translation of struggle, hard work, and dedication of the manufacturer, and in this regard, the shark has been heavily rewarded as its hard work has paid it back more than its works as customer satisfaction and their sales. Shark is among the most widely sold out vacuum cleaners and a lot many products have been the bestsellers in their respective time of launch.
Shark F80 is no exception to its pioneering legacy and it has continued wooing the hearts of its customers since long with its much-needed traits and abilities which make it stand out of other products and make it the best small kitchen vacuum. It is that high performer that will impress its potential buyers from the very first glimpse of it. With its ergonomic design, it gives the appeal of a heavy-duty stick vacuum cleaner regarded as the best kitchen vacuum cleaner.
Features:
It is a dual surface cleaner that is best suited to carpet cleaning and is equally best in hard floor cleaning needs. This multi-surface cleaning is achieved by its duo clean brush rolls which feature innovative technology of capturing more dirt and debris from all types of surfaces including both soft and smooth surfaces like carpets and upholstery and hardwood flooring.
It offers its users a multi flex technology which bend the stick to reach underside if furniture and other difficult places. It has a long runtime of 80 minutes owned by double batteries which features twice the lithium ion power.

Pros
80 minutes' runtime.
Two rechargeable lithium-ion batteries.
Cons
Suction is not the best available in the market.
Black Decker is the pioneer brand in the vacuum industry being launched by Black and Decker from a small cleaning tool which has now the prestige of being the world leader in the vacuum cleaner and is widely cherished as the best vacuum manufacturer worldwide. It is a dual-mode vacuum which is the best vacuum sealer and with its versatile and powerful performance delivery, it has achieved a spot unparalleled in the market out there and holds the pristine position of the best kitchen hand vacuum.
It is ideal for both floor and above-floor cleaning that makes it unrivaled in the market as most of the vacuum excel in only floor or ceilings cleaning and user as to look for them in separate cleaners.  Black Decker has resolved their issue and presented them with this grab and go tool which has all the potential of being their dream product.
Features:
It has a large canister mounted on a stick vacuum that brings the benefits of a handheld and canister vacuum together in a stick vacuum and this feature alone is enough to count in its favor and make it best handheld kitchen vacuum but to enhance its abilities this vacuum comes up with a dust compactor which compresses the debris inside the canister and makes room for more debris to take inside.
Autosense technology is the best thing about this cleaner and it helps the wand to recognize the floor type and adjust the suction accordingly over a bare floor or a carpet.
For those technology geeks, this vacuum has added touch controls that allow them to control the operation of their dream tool with a highly sensitive touchpad.
It has several attachments coming with it that add an extra layer to its performance.

Pros
Floor and above-floor cleaning
Dust compactor canister
Dyson is the immensely popular brand known for its quality and well-built product that is available at a price only Dyson can offer. With the ever-increasing incentives and enhanced performance, Dyson is emerging as one of the leading vacuum brands and many of its products have marked their entrance among best vacuum cleaners and the prestigious crown of most powerful vacuum cleaner available in the market also rests on the head of Dyson. Dyson V series are all known Animal Cordless lineup of stick vacuum which is aimed at efficient deliverance within no time. This Dyson V10 a worthy member of this series and is a step up from V7 and is succeeded by V11. This vacuum has an enriched package of premium features that have secured the product the spot of being the best Cordless kitchen vacuum.
Features:
Dyson is the pioneer in cyclone suction technology and Dyson V10 has left everyone behind its strength with its powerful enough suction strength which besides being powerful is most advanced and features a 14 concentric cyclone system that works together to give a well-rehearsed shot which never misses its target. Dyson has launched another great innovative feature of all machine filtration systems which is an upgrade over a small spot filter and thus V10 is better adapted to perform extraordinarily.
It is a lightweight cordless vacuum which weighs light enough to let you work for extended hours without getting strain in arm. It has a fade free runtime of continuous 40 minutes at average suction mode and at max power the runtime is about 20minutes and the tool require three to four hours of recharging to the full.

Pros
14 concentric cyclones suction.
Whole machine filtration
Cons
Uneconomical
20 minutes' runtime.
Buyer's Guide!
What are the must-have features in a kitchen Vacuum?
Vacuum cleaners are the must-have commodity in every home and their regular upgrade to this all innovative technology has revolutionized the way we look at home cleaning. A lot many great vacuum cleaners are available in the market and each one is good some of these are all-purpose gadgets, some are pet-specific and many others are specific to the floor type and your cleaning needs. Among them are kitchen vacuums which are no less than being the best home vacuum cleaner. What makes them stand out are their unique features specific to the daily cleaning needs in your kitchen. As the market is exploded by many good enough kitchen vacuum cleaners, choosing the best one is strikingly difficult. For those who are overwhelmed by the possible choices available in the market, we have tried to make the decision easier by bringing you our cleverly crafted buying guide of best kitchen vacuum cleaners. Here you can have detailed information about the vacuum specific features that are must to consider before buying your ideal device.
Wet Or Dry Vacuum Cleaner:
While making your preferred choice your foremost consideration should be about the wet or dry debris cleaner. Kitchen is the place which is most likely has to disperse crumbs, splashed milk and water, and leftover meals and other stuff that contain both liquid and Dry wastes and this is the point where wet and dry vacuum cleaner marks their entrance. If you buy yourself a dry vacuum cleaner for your kitchen it would be a big misfit as it would allow you to pick up dirt and debris and other dry type wastes but when it comes to cleaning your splashed liquid, they vacuum will be of no use. Therefore, the buyer must ensure that their preferred selection of best kitchen vacuum goes to a wet and dry type vacuum cleaner.
Upright Or Handheld Vacuum:
A handheld vacuum is the small portable vacuum cleaners that are good for small cleaning projects which are difficult to clean otherwise and are equipped with small suction and motor power that is good enough for the small tasks for which are they are specifically built. But when it comes to daily large scale deep cleaning routines handheld cleaners are not a wise decision they may allow you to reach potentially difficult places as crevices but they would be ideal cleaners in your kitchen or home and this spot is conquered by upright vacuums. These are gigantic vacuum cleaners that are the best in the market in terms of their power and suction strength. So while deciding on your potential purchase look for an upright or stick vacuum. You can customize your choice as these types are available in corded or cordless design as well as wet or dry type cleaners. You can also sort from them pet-specific products.
Cleaning Mops:
A lot many good vacuum cleaners are available in the market that comes along with cleaning pads in addition to the brush rolls. These cleaning pads are used mops which will give your kitchen a top-notch clean environment.
HEPA Filtration System:
Another good thing about the vacuum could be its anti-allergen filters which will make your kitchen air free from dirt and pollens and make it very fresh and breathable. These are hospital graded filters which are a step up over paper filters and thus a vacuum will be more than good if it comes with HEPA filters.
Corded or Cordless:
Whether you like your vacuum to run directly on the power source of your home or you want it to be driven by some battery generated voltage it is totally up to you as you can choose a corded or cordless model of your ideal vacuum type. Both upright and handheld models are available in corded and cordless models and both have their pros and cons. If you decide to buy yourself a corded vacuum it will give you the prestige of working with it continually without worrying for its short run time and recurrent battery recharging but as a downside, you have to take care of wires coming with it and the cordless vacuum will cut short on wires but you have to keep in mind its short runtime and have to recharge it over and again to keep it using.
Frequently Asked Questions (FAQ):
What vacuum do Consumer Reports recommend?
An upright vacuum is generally the most recommended vacuum cleaners and there is a good reason for doing so. These are the most powerful Vacuum which has everything fell in the best category and the most noteworthy thing about them is overwhelming choices that are available to the users.
Which is the best vacuum cleaner to buy?
This question doesn't have a straightforward answer as the vacuum is only as good as the user is satisfied with its performance. To find the best vacuum cleaner the user must sort out his preferences and by doing so there are good enough chances that the user will get his hands on their ideal vacuum cleaner.
Which vacuum has the strongest suction?
Dyson V7 Animal cordless cleaner is considered as the most powerful vacuum with the strongest suction and has a radial cyclone suction technology that is better adapted at picking up debris.
What is the best 2019 vacuum cleaner?
Black Decker 20V Max is the best vacuum cleaner that has achieved this spot with an overwhelming response from customers and has come up with the users' expectations with all the premium features and well-versed performance.
Are expensive vacuums worth it?
There is a general notion that you get what you paid for and it is true to a certain extent as spending your hard-earned money will certainly get you something amazing in exchange but this is not always the case as the market is flooded with many good quality vacuum cleaners which have proved their excellence in the cleaning performance and in certain aspects they are wellhead of the costly cleaners which prove to be nothing better than the white elephant. For instance, you could have a Miele canister vacuum as a soft carpet specific vacuum which will cost you about 1000 USD, and to do the same task you can invest in a VacLife or VonHaus vacuum cleaner which will cost you about 30-50 USD. So the best thing is to be in your budget and have a feature-rich vacuum specific to your needs.
What is the best vacuum for 2020?
There are overwhelming choices for the best vacuum in the market and any good vacuum will do your cleaning quite effectively but when it comes to meeting international standards and giving you the best shot shark Navigator upright vacuum is considered as best.
What is a good inexpensive vacuum cleaner?
As the markets have progressed towards upgraded technology many more inexpensive products are coming each day which are nothing less than best such as Dyson V7 animal cordless cleaner which is the most powerful cleaner with the strongest suction and is available at a reasonable price tag.
How much should I spend on a vacuum?
The straightforward answer to this question lies in your budget. Decide on your budget and look for the best product available in your range as going for the expensive vacuum cleaner that may break your bank is never a worth choice particularly when an inexpensive tool will do the same task.