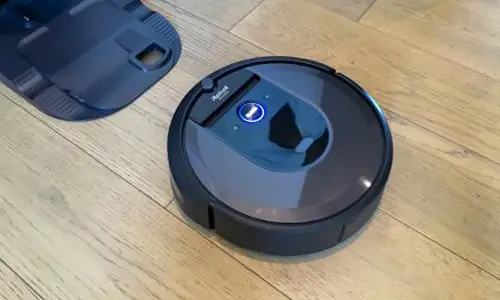 We all love clean floors, let's admit it, but not all of us want to spend our times cleaning them, or at least, cleaning them thoroughly. Everyone these days is so busy doing their own things that no one gets time for household chores at all, well, not most of us. Even vacuums take up effort which is why automatic vacuums are built. Automatic vacuums make life easy and promote a healthy and neat environment with their ingenious design and performance.
This is where the topic of today's article kicks in, it is the Roomba 690 Autonomous Vacuum which has won the hearts of many people with its intelligent programming and efficient performance.
If you are planning to buy this Robot Vacuum, Roomba 690 Autonomous vacuum, then this review will help you a lot in making the ultimate decision whether to buy it or not.
Let's get going to the article
Roomba 690 Review
Connect to this tough guy from anywhere and clean things with the Roomba 690 robot vacuum. It has a 3-stage cleaning system which is specially made to loosen, lift, and suck everything that may range from small particles to the large debris from carpets and hard floors. The Dirt detects sensors of this vacuum give it warning to clean more efficiently on the concentrated areas of dirt.  All you have to do is I press clean or schedule this intelligent robot vacuum, Roomba 690, with the iRobot home app on the go.
In The Box:
Inside the box of this intelligently programmed autonomous vacuum is
The ultimate genius and the efficient guy who is about to make the life of its user easy; of course, our autonomous vacuum.
A charger to charge the vacuum for its next mission
A safety and instructions manual
DesignPerformanceSpecifications
This vacuum is designed very intelligently and ingeniously with its beautifully rounded structure which makes sure it does not get stuck or stops in any corner, it will efficiently move and keep cleaning the dirt. The upper surface is glossy while the lower surface is made with high-grade plastic material to ensure it remains durable throughout each and every situation and clean with all it has got. The buttons on the surface area for operation but you can also operate it with voice commands using the Amazon Alexa App as well as the Google assistant.
This intelligent vacuum has a sleek and a premium design which complements your home decor.
It includes 1 dual-mode virtual wall barrier for additional control over the place where your robot cleans.
It has a 3-step system for cleaning and it also has dual Multi-Surface brushes to pick up everything ranging from small particles to the large debris like sugar, cereal or soil.
This vacuum has patented dirt detect sensors which alert this tough guy to work harder on concentrated areas of dirt which mostly are the most crowded zones of your house.
The fill suite of intelligent sensors effectively guides this robot vacuum under and around furniture to help t clean your floors thoroughly.
You can clean anything as well as schedule cleaning with the given app.
It runs up for a total of 90 minutes before it automatically docks and recharges.
It also has a Wi-Fi connectivity feature.
It has an efficient edge sweeping brush.
This genius vacuum features auto-adjust cleaning head which works on both carpets and hard floors
How To Take Care Of Your Roomba 690 Robot Vacuum?
In most simple words, the most efficient way to clean your Roomba 690 robot vacuum is to keep it away from harsh temperatures, should the temperature be too hot, the battery can be ruined.
Also keep it away from the reach of children as they can be very cranky.
Use the vacuum only when needed and turn it off as you use it.
Do not use it for longer intervals of time to prolong its life.
Also clean it once a week for efficient performance.
 The Good 
This vacuum is extremely great for the price. It is worth each and every penny and you will not be disappointed every time you use it.
It is easily controllable via the Amazon Alexa App as well as with google assistant so you do not have to keep pressing different buttons in order to make it work. Simply give it voice commands and get your thing done.
It has a very powerful suction technology.
 The Bad 
It goes out smoothly and efficiently, does not get stuck in anything but curtains can make it a bit hard.
There are navigation issues with dark floors.
 Conclusion 
This was all about our article on the Roomba 690 robotic vacuum. We hope that you found this article amazing, equally informative and it has helped you in making the ultimate decision to buy this vacuum or not. The market these days is full of numerous vacuums which makes the decision quite hard. Which is why we are here to help.
That's all for this Roomba 690 Robot Vacuum Review. If you like this aritcle please share it with your friends.