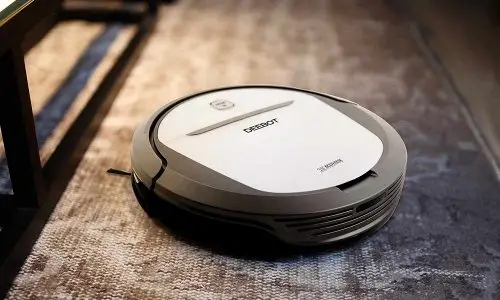 Many people swear by this vacuum like they would on any trusted vacuum in the market. Why should they not? This vacuum gained popularity in a very short time and is among the most reviewed vacuums on the market.
The ECOVACS Deebot N79s Vacuum which has got everything that it takes of a robotic vacuum to have, as the hype for these vacuums is increasing, more and more people are becoming inclined towards buying them, simply because they offer a lot a lot more than you actually spend on them.
ECOVACS Deebot N79s Review
Ever wanted your things to be done in a short span of time? Now you can, it is built with precision and speed in mind. It's the type of a vacuum that will do all your work in a very short time while still giving you the security that it will be intact just the way it was the very first time.
The way it smoothly glides from one surface to another surface is worth dying for. This vacuum is one hell of a vacuum which will blow your mind and enhance the entire cleaning system of your home.
Offering an unparalleled jaw-dropping performance we present you this guide to buying the ECOVACS Deebot Vacuum cleaner for your home, office or any other space that you like.
With the ECOVACS App, you can easily control things in the palm of your hand, just press whatever you like and whichever option you want with regards to cleaning and watch it get done without any hesitation.
It not only clean up things like the normal cleaning vacuum rather it saves up lots of your power as well and still manages to clean extremely well and preserves the battery life.
This vacuum offers really good work on many hardwoods and tiled floors, or on the lightly colored thin and low pile carpets. This vacuum also filters out any airborne parties present in your home so you can breathe in the freshest air possible. It also clears out any extra dirt in its place. The air filtration system of this amazing vacuum cleaner is worth praising. Clean and fresh air clears your mind and relaxes you.
Another thing we like about it, enough to put in our highlights was its noise level in the standard suction mode which happened to be about ~67 dbA and could reach to about ~70 dbA when in Maximum Mode. This audio level is quite low and you can also watch television or chat on the phone comfortably and still not be disturbed by it.
Design
Performance
Specifications
The design of this vacuum, just like other robotic vacuums in the market than clean with automaticity is the same. It is rounded in style with a sleek top and a heavy-duty bottom to carry out the tasks which are needed to be done by it. It smoothly glides into every journey it is embarked on.
In terms of performance, this amazing vacuum cleaner left us quite amazed. Though it produced a sound a bit more than the others in the market, it had a cleaning and a suction power which is worth mentioning. If you are thinking of getting this vacuum then cleaning is something you will surely love about it. It can smoothly swiftly and easily go from places to places cleaning surfaces in your home or office or any other space and give you the neatest floors possible.
This vacuum also has a fair battery life which is good enough for an hour of use until it goes back and recharges itself with the auto recharging system.
With the ECOVACS smart vacuum in your house, you can increase your cleaning power by 2 times whenever you need by using its app or the remote control itself.
Use anything you like with the smart voice controls of this vacuum. It can work with both Alexa or The Google Home voice commands in order to clean things directly. You can also make good use of this App to customize, schedule & monitor the cleaning sessions, the accessory statuses and receive different alerts for errors
This vacuum has auto clean 3 modes for efficient cleaning.
The first is the smart motion guided auto clean mode, and then is a single room and the spot mode for a much more targeted cleaning, then there is the edge mode for those hard-to-clean edges.
This vacuum also includes the basic features of ECOVACS. Their unique 3-stage cleaning system is something worth having, the anti-drop & anti-collision sensors will make sure your vacuum is always so safe and the 120-minute battery life with auto return charging is something you need to have if you are a busy individual.
This vacuum can be updated automatically with software updates.
It is not only durable but also very protective of bumpers.
It has an air filtration mode.
The overall design is anti-scratch.
There Is a large easy-to-empty dustbin to keep things clean.
The Box Includes:
1 remote control
1 main brush
2 side brushes
1 docking station
 The Good 
It is a good catch for the money
The overall design is very beautiful, sleek and stylish.
It has a great filtration system.
 The Bad 
It is a bit louder as compared to many others in the market as its competitors.
 Conclusion 
Some things are so amazing we cannot help but want to get them so badly. Right? This vacuum is one of them and by now, we're sure you know it too. This vacuum is one of those vacuums that come to our mind when we want to recommend an overall good and ideal automatic vacuum to our clients. It is great for people who go around working from places to places and do not have time to clean things up.
This was all about the ECOVACS Deebot 979 Vacuum. We hope that this guide and review was useful to you guys. Since we have tested it rigorously you can ask us questions we will be happy to answer. Let us know.

That's all for ECOVACS Deebot N79s Review. If you like this article please share it with your friends.