Disclaimer: There are affiliate links in this post. At no cost to you, I get commissions for purchases made through links in this post.
If you wish to keep your floors consistently clean and also want to schedule your vacuum for up to 7 times per week. Then this patented 3 Stage cleaning vacuum known as Roomba 805 is perfect for you.
It is specially made to loosen, lift, and suck up everything that may range from small particles to the large debris lying on the carpets as well as hard floors.
Its Dirt Detect sensors make sure that the Roomba robot vacuum is alerted enough to clean more thoroughly on the areas which are concentrated with dirt.
It is specially made to perform with elegance. It has a 3 Stage Cleaning System which uses dual multi-surface brushes. There too is an elegantly designed edge sweeping brush, as well as a vacuum suction which sucks up everything from small particles to large debris like sugar or cereal.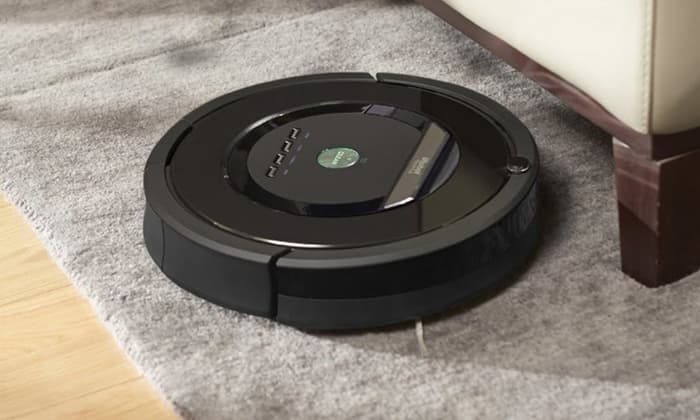 Roomba 805 Review
This vacuum has the greatest brushes which efficiently cleans things out.
Design:
The overall design of this robotic vacuum is just amazing. It is rounded in shape, with no corners which makes it easy to reach out every corner without getting stuck. The upper portion is glossy and has operational buttons on it. The rest of the material is made with high-grade plastic for added durability.
Performance:
Upon checking the performance of this vacuum, we could not help but be amazed. The suction power was just great. We loved how it went going from surfaces to surfaces cleaning things. Places with more dirt, it went over a few times until we saw no dirt on the surface. The battery life is also something major to talk about because it delivers a performance 3 times more efficient and it is worth discussing.  In terms of sound. It was quieter than expected, it made no extra noise except the amount that was needed which means it is great for people who want minimal spend with the highest performance.
Overall Specifications:
This vacuum has an adapt navigation which uses a full set of sensors in order to navigate and adapt to the changes in the home.
This robot vacuum has an AeroForce 3 Stage Cleaning System which provides up to 50% more cleaning. The AeroForce High-Efficiency Filter can capture up to 99 percent of pollens, allergens, and small particles up to 10 microns.
The tangle-free extractors of this vacuum help to prevent hair and debris clogging.
You can easily schedule the Roomba 805 for up to 7 times per week. You can also press the clean button on the robot.
This Robotic Vacuum automatically docks and recharges which is one of the best things we love about it.
It also makes sure it avoids stairs and other drop-offs.
The Roomba 805 automatically adjusts to all floor types be it carpets or tiles, be it hardwood or laminate any many others.
Its lithium battery is another thing to love about this vacuum and thus it delivers a never-ending performance for up to 3 times more than it is needed. We loved how smoothly it performed.
It can clean efficiently under your beds, sofas, and furniture.
This vacuum can do it all and still be super fine every-time you use it.
It is something magical that delivers a huge task in a short span of time.
As the hype for robotic vacuums increases, the Roomba 805 robotic vacuum is the ultimate vacuum that you need to have and is your one go solution to all the problems. Bid a farewell to all your problems with this quality vacuum. So many people swear by it and you will too. Trust us
The Good:
It is easy to use and extremely effective.
The battery life on the Roomba 805 is just great and it performs 3 times better than any competition.
The material is high quality built which means it is extra durable.
It produces a very minimum sound which is ideal for people who need a reasonably quiet vacuum.
The Bad:
This vacuum does not come with a specific pattern.
It is not good with dark floors.
How to Take Care of Your Vacuum:
Taking care of your vacuum is an amazing thing to do especially if you want to prolong its life. Cleaning your vacuum is one of the most important things to do. It can guarantee efficient performance for years and so on.
For best use make sure you always charge the battery fully and do not cause an interruption in the middle. This will promote a healthy battery.
Keep the Roomba 805 away from high temperatures as this can also cause battery life deterioration
Keep it away from children because we all know how cranky they are and they may harm themselves but also to the device.
Make sure you clean your Roomba 805 Robotic Vacuum. It will increase the life of this vacuum as well as its durability.
It is also the best thing to inspect your vacuum once every month and attach the parts with great care every-time this will prevent this vacuum from any future mishaps and also prolong its life thus giving you an overall good performance every time you use it.
Final Verdict Roomba 805 Vacuum:
This vacuum, Roomba 805 is one of the top quality and trusted vacuums of 2019. It is one of the most flexible and most liked vacuums in terms of performance and is thus appreciated by most of its users. With its curvy design and shockproof body, it has won the hearts of many people. What we love the most about this Vacuum is its ability to do extra work efficiently and the way it works hard on extra dirty surfaces which is great for a vacuum of this size.
We hope that you found this article informative and useful. Hopefully, by now, you can make a decision about the purchase.
Let us know if you have any questions regarding this vacuum. We would be happy to help.

That's all for Roomba 805 Review. If you like this article please share it with your friends.
Related Articles