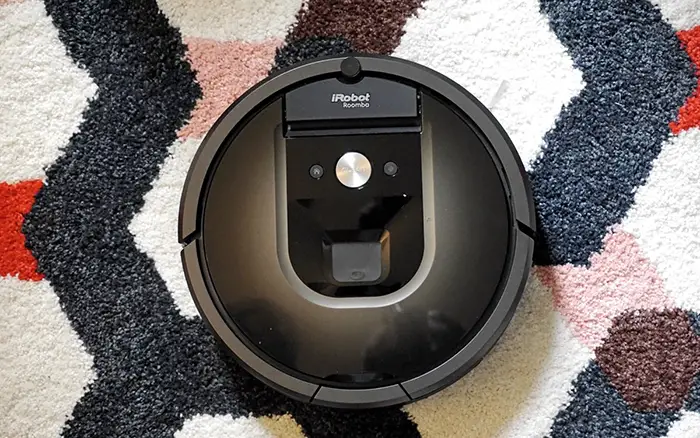 We all need a cleaning device which effectively removes all the dirt and dust particles from many surfaces and thus makes our lives easy. It, however, is really hard to get the device that we ideally have in our minds with the confusions and numerous products in the market. This is why we are here to give you reviews about the top-notch vacuums in the market, so you do not get confused and get close to the vacuum you need.
So, if you are someone who is looking forward to having a vacuum in their house which efficiently removes all the dust particles, gets things done in a short span of time and can be recharged quickly over and over again with no wires to get tangled, then Roomba 980 is the perfect vacuum for you. It is the ideal vacuum that is needed for people who are short of time and need to get a number of things done in less time.
Read our review till the end to know more about this highly rated vacuum which is loved by many of its users out there.
Roomba 980 Review
The Roomba 980 is an ultimate vacuum which has the power to help you with the process of vacuuming, with this vacuum in your life you can tackle the rest of what life throws on your way.
The Smart Navigation lets the Roomba 980 to clean the entire level of the house and it recharges as needed until all the work is finished.
You can also make use of the iRobot home app and easily clean and schedule at any time you like from anywhere you want.
This Vacuum has a powerful aero force cleaning system which can automatically provide up to 10 times the air power on carpets and rugs, where dirt and dust hide deep inside or hidden below the fibers.
This Roomba vacuum can work on all floor types and it is just 3.6 inches tall, it is also specifically designed to fit under beds, kickboards and furniture.
Design
Performance
Specifications
Round, simple, elegant and easy to use is how we define the design of this amazing vacuum. It goes from room to room cleaning up the surfaces and due to its rounded design, it never gets stuck in one place. It can be controlled via the app but some buttons are also located on its glossy surface.
In terms of performance, this vacuum surpassed our expectations. The way it went from room to room cleaning up and recharging on its own left us quite amazed. It was very tough on the carpets and managed to take up all the dirt due to its 3 times efficient performance. The overall battery life can be given 4 stars out of five due to its effectiveness.
The iRobot Home App allows you to conveniently clean, schedule, as well as customize your cleaning preferences from the screen of your smartphone.
It can efficiently clean the entire level of the house with the iAdapt 2.0 Navigation along with the Visual Localization feature.
It can easily run for up to 120 minutes after which it automatically recharges and then resumes the cleaning process to complete the entire job.
The AeroForce Cleaning System of this vacuum loosens, lifts and also sucks up the dirt with up to 10 times more air power.
This vacuum can automatically increase the cleaning performance on carpets with its Power Boost
technology.
The AeroForce filter is highly efficient and can capture about 99 perfects of the allergens, pollen, and particles which are small as 10 microns.
This efficient vacuum has tangle free and dual multi-surface brushes that can handle the pet hair with ease.
Give any command you want to the Google Assistant and Alexa whenever you like.
Full suite of the intelligent sensors incorporated in this vacuum guide it under and around the entire furniture.
How to Take Care of Your Roomba 980 Vacuum:
You can easily take care of this vacuum with simple steps if you follow them strictly. All you have to do is clean up your Roomba 980 vacuum every week so that it can perform in all possible situations. Also keep this vacuum away from harsh environments and especially an increased temperature causes extreme temperatures can literally havoc the entire system of your vacuum.
Another thing to keep in mind is to only use it when needed. Using the vacuum when not needed or leaving it turned on for times when it is not needed can seriously ruin the overall health of your vacuum.
 The Good 
It goes over from floors to floors to make things extra clean and give your home a look that it deserves it.
It also features an app which makes this vacuum something which is quite easy to use and thus gives you increased control over cleaning.
There is a quick charging time which lets this vacuum be ready for its next ride.
 The Bad 
This vacuum is quite expensive for the money. It could have been cheaper while still giving us all these features.
This vacuum may need extra care in terms of handling.
The battery life could be been much better.
 Conclusion 
Ask us for an ideal vacuum and we will give you the name of the Roomba 980 as one of the very amazing and high-quality vacuums in our list which never fails to impress us or its user. Many of its users even after years are very happy with the performance that this vacuum delivery. The Roomba 980 has a design which promotes efficient cleaning thus making it worth buying for.
This was all about our review guide on the Roomba 980 Vacuum. We hope that you found our article useful and informative. Hopefully, by now, you would know if it fits your requirements or not.

That's all for this Roomba 980 Automatic Vacuum Review. If you like this article please share it with your friends.