Disclaimer: There are affiliate links in this post. At no cost to you, I get commissions for purchases made through links in this post.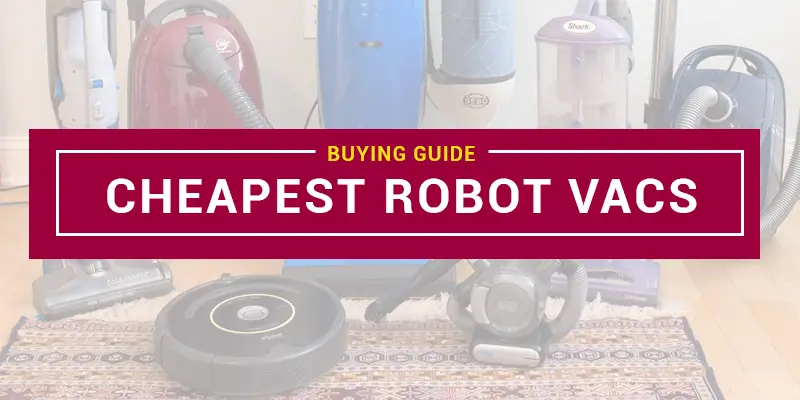 A Robot Vacuum Cleaner, often named as RoboVac is an autonomous robotic vacuum cleaner that is equipped with intelligent programming and a relatively limited vacuum floor cleaning system.
Robotic vacuums can be kept under beds or desks or in closets, whereas a regular vacuum cleaner requires a larger amount of space.
They are small and compact and work independently. These silent buddies work and get recharged on their own without any manual assistance and efficiently assist you in daily base effective cleaning on almost all types of surfaces including carpets and hard floors.
Cheapest Robot Vacuums
Robot vacuums offer restricted cleaning patterns because they are only for floor surfaces and not for floor-to-ceiling cleaning. Also, they have smart navigations or sometimes mapping which restricts them into a specific area customized by you.
A quality product is not always Expensive. Here is some RoboVac for you at a cheaper price but with fully-functional performance.
The top best cheap Robot Vacuum is Neato Botvac D3 which comes in beautiful D-shaped design rather than common round-shaped design so that it can reach in corners where a round-shaped RoboVac cannot. It efficiently cleans through laser-guided floor mapping of your home and features no-go lines. It is powerful and still is Stylish and possesses a unique design to provide you with high-end performance with great cleaning service on all type of surfaces including carpet, tile and hardwood floor.
Let's get started;
Neato Botvac D3 Connected Laser Guided Robot Vacuum
Neato robotics promises to provide you with control greater than ever. With Neato Robotics D3 Connected Laser Guided Vacuum they have provided their customers with fairly viable home cleaning system and help you saving a lot of time and energy to spend on other essentials of daily life.
Neato Robotics D3 Connected vacuum comes with many salient Features like:
Alexa assistance to handle everything just with your voice
D-design which also covers the corners of the home usually left un-touch
Laser-guided mapping technology with which it intelligently map your home for proper navigations
60 minutes of battery life which is great for medium sized homes
Integrated with Smart Devices like Alexa, Apple Watch, Amazon Echo and Google Home
light weight design weighs only 5 pounds
Neato Robotics D3 Vacuum cleaner is one simple yet best for hard floors kind of design and offers some of very lavishing features like No-Go lines feature. This seem like a clever driver who can go through many transitions very quickly. It has the lowest run time so it more often goes to charging dock and comes back to complete cleaning from where it left, but that does not matter much because D3 does all this on its own completely without assistance. So overall, it's worth spending on Neato Robotics D3 for a clever cleaning partner.
eufy BoostIQ RoboVac 11S Slim Robot Vacuum:
eufy BoostlQ RoboVac 11S Slim Vacuum by Anker is a budget-friendly robotic vacuum which manages to provide you solid cleaning with a low profile design so that it can clean below and around the furniture easily.
eufy BoostlQ RoboVac 11S Slim Vacuum offers many features like:
increased suction power at 1300PA for efficient cleaning leaving no residue
Super-slim design that can easily navigate beneath the furniture
noise-free comfortable and quiet cleaning patterns
It can effectively clean hard floors and medium-pile carpets
Suction power automatically increases 1.5X when heavy suction is needed
Vacuums for up to 100 minutes of constant and powerful suction
3-point cleaning system which efficiently loosen, extract and vacuum up the dust for effective cleaning
Use advance sensors to detect any dropping points like stairs and kitchen step
The eufy BoostlQ RoboVac 11S Slim Vacuum has increased suction power up to 1300PA which allows it to pull up more debris even from deep within carpet fibers, coupled with dustbin having wider wind tunnel for effective pick up of debris. Although it does not support App control but it surprisingly navigate around your home due to the support of smart sensors which make it a bump-free and anti-fall compact design best suited as your cleaning partner. It does not strain your bank account to provide you with high-performance cleaning capabilities.
iRobot Roomba 690 Robot Vacuum
The Roomba 690 by iRobot is a fully functional robot vacuum packed with everything that you need and will clean floors efficiently. This definitely is a good choice robot cleaner for busy individuals who don't have time to clean but cannot compromise on cleanliness.
iRobot Roomba 690 come with following  ravishing features:
Alexa and smart phone connectivity
3 Stage Cleaning System which involves agitation, brushing and suctions of the floors
One button start up, Just press CLEAN to get the work started
Capable of automatically returning to its docks while needed to be recharged
Automatically adjusts to any kind of floor types like carpet, tile, hardwood, laminate and others
seamlessly gets into hard-to-reach places like under the furniture
·         Cliff detecting technology, which prevents falling down the stairs or steps
·         easy transitions between different floor types
Roomba 690 is a smart robot vacuum having many quality features to provide you with smart cleaning of your home with being equally efficient for every floor type and every debris type. Features smart phone connectivity through iRobot Home App so you can ust press CLEAN or otherwise schedule from your phone to fully clean your home ensuring no debris is left. It surely is a Smart robot for those looking for automated help on cleaning their floors but aren't willing to spend extra money on luxurious features, this robot is a good alternative if you don't mind little limitations.
ECOVACS OZMO 601 Self-Charging Robot Mop & Vacuum
ECOVASC OZMO 601 is a helpful and self-sufficient robot vacuum which not only vacuums the floor but also Mop it for high-end cleaning results. Moreover it can be controlled via Smart Phone App and offers Auto-Clean Mode, 2 Specialized Cleaning Modes and Digital Mop for all kind of dirt and debris.
Major Features include:
anti-drop & anti-collision sensors for safe cleaning
120 minute of long battery life and automatic return to charging dock
large dustbin which is easy-to-empty and large wheels for easy steering on all floor types
Alexa & Google Home supported to control the robot from where ever you are.
easy customization, scheduling & tracking via ECOVASC App
Unlike others, it uses a systematic back-and-forth S-shape cleaning path
Mopping without any wastage of water perfect for stubborn stains like deep dirt and dried spills.
Along with all these amazing features, ECOVASC OZMO 601 comes with a 1 Year Warranty, and many accessories included in the package like charging station, a remote control, 4 side brushes, 2 reusable microfiber cleaning clothes for mopping, 2 air filters, 1 main brush and fantastic customer support. It offers efficient mopping along with almost perfect vacuuming without wasting the water. And the best thing is, all these superior features come at a no-superior price.