Disclaimer: There are affiliate links in this post. At no cost to you, I get commissions for purchases made through links in this post.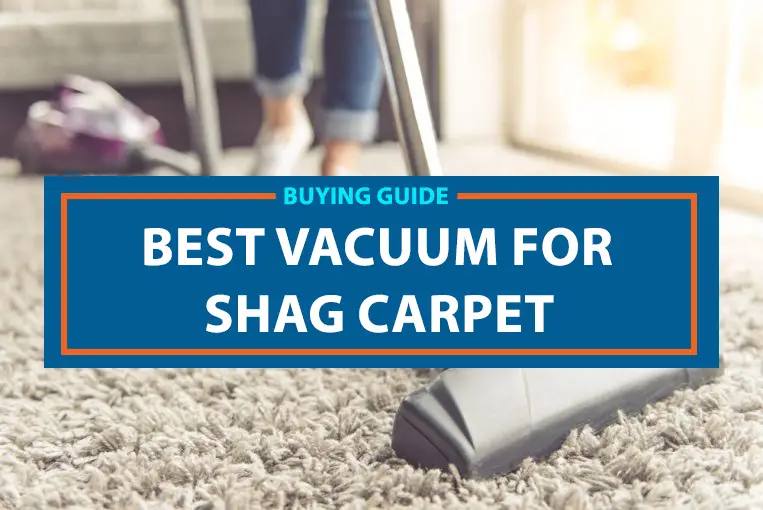 Cleaning a shag carpet with a standard vacuum is a hectic job for average homeowners. Agree?
Some common reasons are small wheels of the vacuum making maneuverability difficult, too much suction power of the vacuum which can bog down into the carpet and makes the carpet useless, and so on.
So you are going to need a vacuum with larger wheels that make navigation smooth over the shag carpet and should have adjustable suction power allowing you to not only clean shag carpet but multiple surfaces with its variable suction.
That said, I am here to help you choose the best vacuum for shag carpet because If you are buying one for the first time, you should be educated enough to make the right purchase and this article is going to help you with everything you need to know for making a great decision.
I have crafted this list of top 7 vacuums for shag carpet after extensive research that allows you to make an informed decision according to your needs and budget. Later in this article, you will find impressive facts to consider while choosing the best vacuum for shag carpet.
Without further ado, let's get started…
Best Vacuum For Shag Carpet 2020
Before diving deep into the reviews, have a look at the comparison table that gives you maximum information in a glance to make a better decision.
Let's see which vacuum is effective for your needs.
1. Soniclean Soft Carpet Combo Vacuum
The Soniclean soft as the name suggests is a vacuum cleaner that is unique in style and performance and capable to handle both soft and thick carpets.
The amount of suction Soniclean delivers is enough to pull out embedded dirt, crumbs, fleas, and ground in mud hiding deep into the roots of your thick shag carpet.
Let me tell your few other facts about this vacuum that makes it the best-rated vacuum for shag carpets on Amazon.
The reason I chose the vacuum as the top vacuum for shag carpet in my list is its the incredible performance, reasonable price tag, lightweight design and handful of positive customer reviews making it a worthwhile pick.
Majority of vacuums clean the top inch or two leaving the very bottom of the carpet untouched, whereas Soniclean sucks everything out deep down from the carpet.
But that's not all…
The soft nylon brush roll cleans the carpet gently without shredding the fibers. Where other vacuums end up pulling thick piles making the carpet a thin layer of nubs, the Soniclean takes care of the carpet that makes it a suitable pick for shag carpets. A supreme advantage of Soniclean is that you can turn on/off brush roll for carpets having really long piles to eliminate the chances of getting entangled.
Now, what's more, interesting is the large front wheel that makes the navigation smooth allowing you to maneuver the vacuum over the carpet effortlessly. On top of that, the ergonomic handle makes it easy to move from any angle you desire.
Furthermore, the Soniclean brings a handheld vacuum cleaner which can be used to clean stairs and upholstery. Plus, the handheld steamer can be used to sterilize areas where a pet had an accident on the carpet.
The Soniclean is not only a carpet limited vacuum, but you can also clean other surfaces as well without worrying about changing power outlet, thanks to the 35′ power cord that allows you to cover large sections of your home.
The soft front wheel and removable brush roll make it ideal for sensitive flooring of hardwood floors. So in the price of one vacuum you can perform cleaning for various surfaces that makes Soniclean a versatile vacuum cleaner.
Moving on, the fragrance dispensing system of Soniclean is something you might not see in any other vacuum cleaner.
Other accessories include upholstery tool, stretchy hose, crevice tool, and dusting tool. All of these accessories are contained in a tote bag which can be a hassle to carry around while cleaning.

Overall, the Soniclean is an excellent vacuum cleaner that deep cleans your shag carpet, moves gently and smoothly over the carpet, weighs only 10 pounds, and comes with a handful of accessories for cleaning stairs, under furniture, and difficult-to-reach places. With all these features and options, the Soniclean is an all-in-one vacuum that you should definitely buy.
Pros
Lightweight
Handful of accessories
Large front wheel
Cons
The slightly higher price tag
2. Miele Complete C3 Soft Carpet Vacuum
The Miele Complete C3 is another great vacuum that comes with five different head levels allowing you to clean various surfaces including carpets, hard floors, bare floors, and so on.
The motorized head allows C3 to suck embedded dirt from the roots of carpet without having to rely on extremely high suction that usually hurts delicate piles of the carpet.
The low-profile design of C3 makes it easy to carry around. Similarly, the long hoses and telescoping wand allows you to clean a handful of the surface without dragging or pushing the vacuum along.
Like other vacuum cleaners, the Miele C3 comes to bring a number of accessories including dusting brush, upholstery tool, crevice nozzle, and a basic toolset for the maintenance of the vacuum. The best part? You can keep everything with your vacuum, thanks to the onboard storage tool.
The reasonable price tag and affordable replacements bags make this vacuum a demanding unit for many homeowners.

Overall, the Miele C3 as mentioned earlier helps you clean several surfaces including soft shag rugs. Either you are planning to clean wood floors or carpets, the Miele C3 is the right fit and hundreds of positive customer reviews make this unit a trustworthy pick for your money.
Pros
Lightweight
Versatile
Brings several accessories
Durable
3. Oreck Magnesium Upright LW1500RS Vacuum Cleaner
If you running after the lightest vacuum that could minimize the cleaning chore, the Oreck Magnesium is an excellent option for you.
This vacuum not only has a lower weight but a lower price tag as well and in such an affordable price getting a vacuum this much power is the best bang for the buck.
The adjustable suction setting allows you to clean shag or a frieze carpet by running the vacuum on lower settings to get maximum results.
The vacuuming is not only limited to thick plush carpets or shag carpets, but the low profile design also makes it easy to clean low clearance areas like under the furniture or in the corners.
Regarding durability, the Oreck Magnesium features durable and strong magnesium frame that makes the vacuum strong enough compared with other types of steel.
Moving on, the Oreck Magnesium comes with a Quickswitch to control the suction power allowing you to clean different types of floors or surfaces.
The best part is that you can carry the vacuum along to clean stairs as it only weighs 7.7 pounds which you won't even feel while holding for a couple of minutes.
Another great aspect that makes Oreck Magnesium a suitable pick for shag carpets is the larger wheels making navigation smooth over the carpet. The larger wheels are helpful to maneuver the vacuum with little to no effort while pulling dirt, debris, and other germs from your carpet or floors.

Overall, the Oreck Magnesium is a considerable option for shag carpets as it's lightweight, easy to maneuver, and has an extremely low price tag that makes it a worthy investment of your money.
Pros
Lightest vacuum
Adjustable suction
4. Electrolux UltraFlex Canister Vacuum
The next great vacuum for shag carpets in our list is Electrolux UltraFlex Canister Vacuum. You must be aware of the fact that canister vacuums are usually more expensive but are loaded with a handful of features to deliver versatile performance for various surfaces and that's the same for Electrolux UltraFlex Canister Vacuum.
This great-looking canister vacuum is responsible for grabbing each and every dirt particle and hair strand from your floor and carpet without scattering a bit of dirt.
The adjustable height makes it a great fit for cleaning different surfaces. The brush roll can be turned on/off according to your needs and that's mostly helpful for cleaning carpets to prevent tangling issue or sometimes pet hairs. If hairs or piles got tangled in the brush, the only option left is using a scissor.
Furthermore, the Electrolux UltraFlex features large rear wheels making the turn radius relatively small that's not possible with many other vacuums.
The adjustable suction power allows the vacuum to achieve versatility. You can control the suction to clean curtains, wood floor, upholstery, and plush carpets. Similarly, the eight-foot long wand can be used to clean stairs, drapes or corners effortlessly.
The compact design makes storage easier, horizontal and vertical both options are suitable with the vacuum and there might be some space left in your closet for other things.
Once you are done with cleaning chore, you might not like to clean the bags filled with dirt and grime. Therefore, the Electrolux UltraFlex comes with washable filters instead of bags.

Overall, the Electrolux UltraFlex Canister Vacuum is a perfect fit for households having several surfaces to clean. Plus, you have the option to adjust height and suction to use the vacuum for different cleaning tasks.
Pros
Adjustable suction
Adjustable height
Lightweight
Cons
Use wands for cleaning wood floors, wheels can damage sensitive flooring
5. Kenmore Elite Canister Vacuum Cleaner
Kenmore Elite may not be the lightweight vacuum but being the heaviest vacuum doesn't mean it cannot serve you well for shag carpets. Before you jump on any conclusion let me tell you a little bit about this vacuum.
Kenmore Elite comes with a bi-directional hose that can be extended to up to seven feet. Similarly, the vacuum is not limited to be used only for cleaning shag carpets, you can use it to clean drapes and perform dusting as well.
What makes it a different vacuum the above review is that it's certified for asthma and allergy. SO if you are sensitive to allergies and germs, this vacuum can take care of all the pollens and allergens and keeps them trap while vacuuming.

Furthermore, the Kenmore Elite is a great option for thickest carpets and the detachable head allows you to clean bare floors as well. If you ignore tha heaviest side of the vacuum, it's an excellent machine to get.
Pros
Versastile vacuum
Easy to use
​6. Miele ​Dynamic U1 Twist Upright Vacuum Cleaner
Here we have Miele ​Dynamic U1, a great vacuum regarding maneuverability and performance. It's smooth enough that you can move it using your wrists. Plus, the SwivelNeck technology allows this vacuum to get under the difficult to clean furniture.
Moving on, the Miele Dynamic U1 offers versatile cleaning, thanks to a handful of onboard tools. The roller brush removes dirt, debris, and dust off shag carpets as well as frieze carpets. The adjustable suction allows you to control it according to your needs and according to the surface, you can choose the desired suction level.
To clean soft plush carpets, you can run the vac on the lower speed settings, and for SmartStand silk carpet, you can do the same. Unlike other cleaners, the Miele Dynamic U1 makes a smooth transition from one surface to another.
Similarly, the 12-foot hose is helpful for cleaning upholstery, drapes, and ceilings quickly and easily. This extraordinary length of hose and cord gives you a wide range of cleaning area without worrying about changing power outlets.
The Miele Dynamic U1 comes with an electrobrush for cleaning floor contours and adjusts the height according to the requirement. Plus, the AirClean Sealed System takes care of 99% pollens and allergens making the environment cleaning while vacuuming and prevent these germs and allergens re-entering back to your rooms.

Overall, the Miele Dynamic U1 is a heavier vacuum regarding weight, but heaviest regarding performance that makes it a worthwhile investment of your money.
Pros
Versatile
Bunch of cleaning tools
7. Panasonic Plush Pro Bagless Canister MC-CL945
The Panasonic Plush Pro is the last vacuum in our list that comes with a crevice tool and brush tool as well. The design of this vacuum prohibits it going under furniture, plus we have noticed some people complaining about the difficulty to store attachments.
What's more interesting is that it comes with a HEPA grade filter which is washable that save you some bucks for buying new filters or bags. The canister is easy to remove and clean which is a great perspective because that's something not easy with every vacuum cleaner.
How Panasonic generates powerful suction to take care of all the dirt, debris, and dust is the twelve amp motor that cleans carpets and also takes care of pet fur. The short turning radius makes it easy to turn the vacuum back and forth.
The vacuum comes with retractable cord and controls are located on the body of the vacuum making it easier for you to control everything.
The vacuum is not suitable for hard floors and it can be difficult to find authorized service for this vacuum cleaner after the warranty is over. The attachments are easy to use and to get the best performance out of this vacuum over plush carpet you can choose your desired suction power.

Although the vacuum has the lowest repair rate but it still can be hectic to find someone who can fix your problem with this vacuum. That said, it's a great machine that you should get for home cleaning.
Pros
Longer warranty
Top performance
I am sure you will be able to choose a best vacuum cleaner from this list.