Disclaimer: There are affiliate links in this post. At no cost to you, I get commissions for purchases made through links in this post.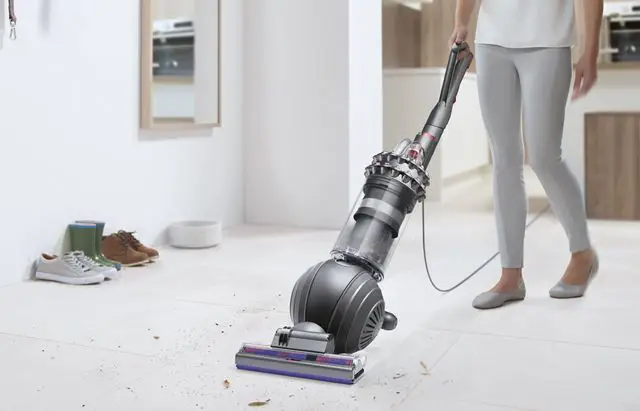 The stairs are the parts of the home that are widely used and people used to move up and down on the same spot. This action makes them very dirty and a busy housewife will get very tired of cleaning them. Even cleaning them, again and again, will never make sure they are clean for a long time.
And if these are carpeted then if can be the dirtiest carpet of your house, and vacuuming will not work out well. Keeping the staircase clean is an uphill task.
In this article, we are going to tell you some methods to clean your carpeted staircase other than vacuuming.  Moreover, there are other methods to clean your staircase carpet.
Best Carpet Cleaner And Tricks For Cleaning Stairs
Well starting from the best option you can choose for the staircase cleaning is vacuum cleaning, and what is the best cleaner for carpet? In the market there are thousands of cleaners present and choosing a deserving one is really a huge task. There are small, big, heavy, lightweight, corded and cordless vacuum cleaners. So what features should be given prime importance is really a matter of concern.
In my opinion, you should choose one that is not very heavy because they are very difficult to carry and then working with them on the staircase is not easy, and if you are really in need of one then I would recommend you to rent it out from some hardware shop.
So guys the solution to your problem is here Bissell SpotClean Professional Portable Carpet Cleaner. This carpet cleaner is the best you can have for carpeted stairs.
Vacuum like this one are small and you can carry and use them whenever there is a dire need of them for trivial matters, you will really want to avoid the dragging and plugging the traditional heavy vacuums for little spills and cleaning of the staircase, don't you?
And the feature of spot-clean is there in Bissell to use not only on the stairs but also on the upholstered furniture and the floor when your pet has created some mess around. It is very easy to use it all over the house.
But here is a little deficiency in it and that is of rotating brushes if these brushes were present then this machine would be the best ever vacuum for every cleaning. But still, this is not a huge matter if there is the right carpet and the right types of chemicals for cleaning are used on it. This is stated only to give you the awareness of the features.
Iron Method
This a trick that can be used on the carpets having specific spots, like there is some gum that has a stick to it and other sticky substance that has dried on the carpet. This trick is quite helpful to clean the carpet
The following are the steps to execute this method.
First, you have to mix some vinegar and some dawn detergent in the warm water.
In the next step, you have to soak a piece of cloth in this solution. Then wring it out in a good manner to remove all the extra solution out of the cloth.
Now you have to place this moist cloth on the stain present on the carpet.
After placing a warm cloth iron over it, do not place it in the same place for long but instead, move it forward and backward in a smooth way.
You will see the lifting up of the spot onto the cloth. Now you have to be careful because the cloth is warm too now.
All the mechanism of this trick is that vinegar is an acid and breakdown the stain components into its components while the Dawn detergent is a degreaser that reacts with grease to break it and start to clean the dirt. When they both mix with water it turns out to be an excellent cleaner. While the heat of the iron helps in lifting the stain up.
This is the function that is used in dry cleaning or steam cleaning, you can also use the spray function of your cloth iron -if it has any- to spray on the spot, but avoid too much spraying because it will make the carpet wet and after it, you can place the iron on the spot.
Good Ole Scrubber
If you have stairs in your house then you must have known how bad and noisy it sounds when people used to run up and down on them, and if you have carpeted them to reduce this sound then you will never want to remove them because of dirt and getting stained.
Well, when you cannot remove them then you must want to clean them, but cleaning with what? Obviously you will be needing some perfect tools for them. Here I am sharing some of my own experiences with you. In my case, I have bought a cleaner having a simple green color which can make a Carpet Cleaner Concentrate that you can get here ­, using a concentrate will avoid your carpet to have a weird green color and it is better than the vinegar that people are so obsessed about on the internet- but as it can be used on all surfaces this will not work on everywhere, however, this cleaner can be used how and where is given Here.
I took more water and less of this simple green cleaner in my spray bottles. Then I used this solution on the carpeted staircase not making it wet just dumping them. Then I took my long handle scrubber to scrub the area as neat as I can. And after it, with a rag dipped in vinegar and water mixture, to rub away all the green color. Now the staircase was wet, so I used my shop vacuum to suck up all the excess water so it can get dry easily. After it, the staircase carpet was just as a new one.
Use the green cleaner on the hidden part of the carpet first to avoid any inconvenience afterward.