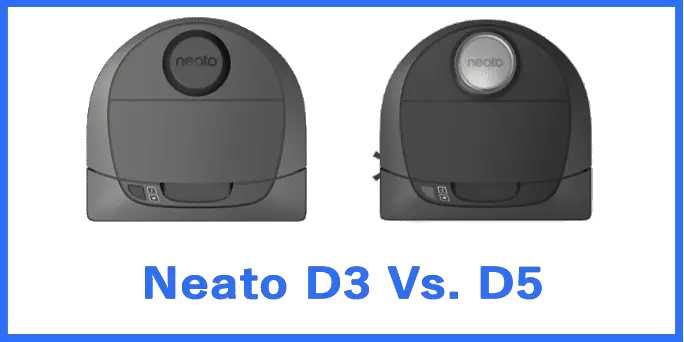 Vacuuming has been revolutionized from clucky, outdated machines to modern intelligent machines.
Today, we will be discussing the difference between Neato D3 and D5.
The Botvac D3 is the old model, and the D5 is between D3 and D7.
Neato D3 Vs D5
Let's take a look at the strengths and weaknesses of both vacuums.
Neato Robot Vacuums: D-Series
Neato is another popular robot manufacturing company and they have been developing these autonomous machines since 2010 and are based in NewYork, California.
The first robot vacuum this company produced was XV-series that gradually became the Neato Botvac which was the official statement in 2014. Since then eight models in this series have been produced and are listed below.
Neato Botvac 70e
Neato Botvac 75
Neato Botvac 80
Neato Botvac 85
Neato Botvac D75
Neato Botvac D80
Neato Botvac D85
Now the Botvac connected series consists of upgraded units having advanced features like wifi connectivity and a few others that we will talk about later in this article. Below are the Neato Botvac Connected models.
Neato Botvac D3 Connected
Neato Botvac D5 Connected
Neato Botvac D7 Connected
Let's compare the features and capabilities of these models to see which one is suitable for your needs. Note, this article talks about only D3 and D5.
Neato D3 vs. D5 vs. D7 Comparison Chart
The comparison chart below shows features of the three distinct models of the D-series Connected line.
Model

D3

D5

D7

Wi-Fi

Yes

Yes

Yes

Scheduling

Yes

Yes

Yes

Auto-charge & Resume

Yes

Yes

Yes

Voice Control

Yes

Yes

Yes

Cleaning Summary

Yes

Yes

Yes

Coverage Maps

Yes

Yes

Yes

Remote Control

No

Yes

Yes

Boundary
Markers
Not Included; Optional
Markers Included
Digital 'No-Go' Lines
Brushroll
Combo
Combo
Spiral Combo
Filter
Standard
Ultra-Performance
Ultra-Performance
Run Time
~60 minute
~90 minute
~120 minute
Width
12.7″
12.7″
12.7″
Depth
13.2″
13.2″
13.2″
Height
3.9″
3.9″
3.9″
Weight
8 lbs.
8 lbs.
8 lbs.
Dust Bin Capacity
Unknown
Unknown
Unknown
Maintenance Costs
$138 / year
$174 / year
$174 / year
Buy
Buy It Now
Buy It Now
Buy It Now
Design
Both the D3 and D5 are identical in shapes, even features are almost identical in both.
Botvacs feature a central Neato "Botvision" camera that makes the navigation of the unit smooth. Both the D3 and D5 navigate in straighter, more methodical patterns instead of a random, zig-zag pattern of competitive models.
The lower left side contains three function buttons:
Starting/pausing a cleaning
Checking battery life
Spot-cleaning
Furthermore, both models have a rubberized bumper on the sides to protect the furniture from getting damaged from bumps.
How they clean
Both of these models are similar in cleaning as well. They are equipped with edge-to-edge combination brush roll to eliminate dirt, debris, by combining soft bristles with rubberized blades without causing tangles.
Furthermore, they are equipped with two large wheels to transition easily from various floor types and over cords, etc.
Well, a difference in both is that the D5 comes with a side spinning brush below the unit and D3 doesn't.
A snag with these models is they do not have a full dust bin indicator. It is not a that big feature but it is quite helpful to know when the bin is about to full.
Size & Dimensions
In terms of size and Dimensions, both vacuums are also the same. They are both:
Length – 12.7″
Width – 13.2″ (at the widest point in the back)
Height – 3.9″
Weight – 8 lbs.
Accessories & Parts
This is the most interesting part of both vacuums. Both units are equipped with a range of accessories that help them clean various surfaces and so on.
Combo Brushroll: Helps to agitate, and grabs all kinds of dust and dirt from the floor while operating.
Standard Filter: The basic filter that comes with the unit, the replacement cost is separate.
Ultra Performance Filter: This is only available in D5 and it gives better results than a standard filter.
Lithium-Ion Battery: Both are equipped with the same batteries but the D3 gives 60 minutes run-time and the D5 gives 90-minutes run time.
Side Brush: The D5 features the side spinning brush to take care of edges and tight corners, while the D3 doesn't feature this.
Cleaning Tool: Both units are equipped with a cleaning tool that is used for the maintenance of the vacuum.
Now the common differences are in front of you which will be beneficial to make the decision.
Is Botvacs easy to use?
Yes, both units are extremely user-friendly when it comes to operation.
Both are almost identical except a few features and accessories. Both have the power button located on the same side which is the most left side, the button is pretty large in size which you can easily figure out. The "info" LED light and "battery" LED light is located at the right side of the power button and gives you additional details about the vacuum status.
Here's how to control the D3 Connected:
Here's how to control the D5 connected:
Physical buttons on the vacuum
Physical remote control
Using a smartphone or tablet
Through voice commands using Amazon Alexa or Google Assistant
The D3 struggles with wifi connectivity that we found out in a few complaints by customers.
Maneuverability
Regarding the Maneuverability, the D3 and D5 both moves on the same moving pattern and have the same D-style body, weight, and height. Both are almost 3.9″ in height that makes it easier for both to sneak under the bed or furniture to get the job of cleaning done there as well.
You must be thinking this as the thin vacuum height, but there is another more thinnest which is Pure Clean robot at 2.9″.
The biggest snag is the maintenance of these units and that is in the form additional coast. Let's take a look at the maintenance schedule to see the price differences annually.
| Replacement Part | Replacement Frequency | Neato D3 | Neato D5 | Neato D7 |
| --- | --- | --- | --- | --- |
| Filter | 1-2 months | Check Price | Check Price | Check Price |
| Combo Brushroll | 6-8 months | Check Price | Check Price | NA |
| Battery | 1-2 Years | Check Price | Check Price | Check Price |
| Spinning Side Brush | 6-12 months | NA | Check Price | Check Price |
| Boundary Marker | Optional | Check Price | Check Price | Check Price |
Depending on the usage of both units, this frequency can vary, but according to an estimate the D3 will cost you $138/year and D5 will cost you $174/year with their maintenance only.
Conservative Replacements
If you are too much concerned about the additional cost of maintenance then don't get worried you can adjust the schedule according to your need like you can replace the filter every 3-6 months, brush roll every 2-3 years, battery every 2 years and the difference will be in front of you.
Battery
Both units are equipped with lithium-ion batteries. The D3 gives the run-time of 60 minutes and the D5 lasts for around 90 minutes.
The automatic recharge system allows the unit to move back to the charging dock to automatically recharge itself. Once fully charged, the robot starts from the same exact point where it left off. The Botvacs can recharge twice, for up to three full run time cycles.
The average lifespan of the battery is projected from 1-3 years. But, that highly depends on the usage. The more aggressive usage will cause the battery to lose its life sooner.
| Battery | D3 Connected | D5 Connected | D7 Connected |
| --- | --- | --- | --- |
| Size | 2,100 mAh | 4,200 mAh | 4,200 mAh |
| Charging Time | 5-6 hours | 2-3 hours | 2-3 hours |
| Run Time | ~60 minutes | ~90 minutes | ~120 minutes |
| Replacement Cost | Check Price | Check Price | Check Price |
Is Neato Botvacs A Good Value?
Now, the real questions are which unit provides better value?
Although both vacuums are similar in navigation, software, design, and other features.
These are the differences between them:
Overall run time
Filters
Boundary Marker
Battery
Price
According to the importance, the value can vary.
Let's take a look at each vacuum cleaner in detail.
Neato Botvac D3 Robot Vacuum
Dimensions: 12.7″ x 13.2″ x3.9″
Run Time: ~60 minutes
Maintenance: ~$138 / year
Weight: 8 pounds
The D3 comes with an affordable price tag, has the D-style design, simple user interface, and offers wifi-connectivity.
Pros
Affordable
60-minute runtime
Voice control capability
Cons
Doesn't brings a boundary marker for customized cleaning
Lacks remote control
Only standard filter
Neato Botvac D5 Robot vacuum
Dimensions: 12.7″ x 13.2″ x 3.9″
Run time: ~90 minutes
Maintenance: ~$171 / year
Weight: 8 pounds
A model that is slightly expensive than D3 but the higher price tag is justified by its premium features like side spinning brushes, high-performance filter, and boundary markers.
Although the side spinning brush can sometimes scatter the dirt particles but eventually sucks everything up.
Pros
90-minutes runtime
Remote control
Ultra-performance filter
Wifi connectivity
Cons
Expensive
Maintenance costs are high
So…Which is Better? Neato Botvac D3 vs. D5
Before reaching a conclusion it's better to compare each feature one by one to have a batter understanding of which vacuum can get the job done for you.
Run Time
Both vacuums have the same batteries but both have different run times. The D3 lasts for around 60 minutes and the D5 for around 90 minutes.
Battery
The D3 features a standard Lithium-ion battery, and the D5 comes with the high-capacity lithium-ion battery that's why both have different runtimes.
Filters
The D3 comes with the standard cleaning filter, the D5 comes with ultra-fast performance filters that captures micro dirt particles resulting in more efficient cleaning.
Boundary Markers
The D3 doesn't come with any boundary marker, the D5 does come with one. The boundary markers are helpful to restrict the robot to enter in specific areas. These barriers are ideal when you have pet food around or baby crib.
Should You Buy the Neato Botvac D3 Connected?
The Neato D3 is recommended for those:
Want a lower price
60-minutes run time is enough
Live in a small apartment or home where 1800 sf. is enough to clean
Are interested in upgrading certain parts over time
If you want the Botvac D3 for yourself, check what the real buyers are saying.
Should You Buy the Neato Botvac D5 Connected?
The Neato D5 is recommended for those:
Have deep pockets and don't hesitate to spend on premium features
Want a longer run time
Want to clean larger spaces
Want advanced filtration for allergy sufferers.
If you also want to get the D5, check what real D5 buyers are saying.