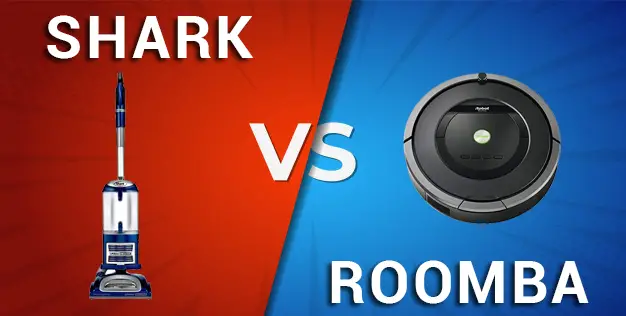 Most robot vacuum cleaners have powerful batteries thanks to the quantity of energy required to sustain suction over an extended period and this is a feature available in both of the vacuum brands we are going to discuss today. As a sort of comparison, however, Roombas typically endure 90 minutes on one charge, while Shark Ion robot vacuums will function for much less. If the place in which you reside is a very small space that will be cleaned in an hour, this doesn't make a large difference, however, if in case you live in a larger home, a robot vacuum with better power efficiency may well be the most effective choice.
Shark Vs Roomba
This is because a robot vacuum will map your home and navigate around corners with far greater ease as opposed to a more bulky product. However, it may be tough to prevent it from going somewhere you don't want it to go because Roombas will go into even the bathroom if there is not something stopping them. When it comes to preventing this happening to Roomba, there is a lot of ease as the accompanying app mostly allows you to create a personalized virtual map and directs the device accordingly. Shark based vacuums, however, require a physical sensor strip to be placed that may turn the machine removed from places that are off-limits.

Roomba E5
Talking about the Roomba E5, you'll notice that on top of the vacuum is home to a silver Clean button which is right in the middle between a Home button to the left and a Spot Clean button which makes this device so easy to sue for any individual. When the vacuum is on, you will see light powered indicators for battery life, troubleshooting, and Wi-F. A built-in handle blends in nicely and allows users to maneuver the device around and move the e5 manually when needed.
The battery level indicator is an important feature as this allows the user to know when the device needs a charge. After you stop cleaning, a pop-up appears and asks whether you would like to resume vacuuming or send the e5 back to the charging dock, now this feature is super cool because it limits the amount of manual care needed to work this device.
That is not all because the e5 also is equipped with the strongest suction power. It automatically enables its Dirt Detect feature when there's any patch with more dirt than usual and cleans until it detects minimal particles which means that your house will be spick and span. The auto-adjusting cleaning head also switches its height depending on the terrain it is cleaning. The e5 had no trouble sucking up any kind of wrapper, dirt, crumbs, hair or even food items from both hardwood flooring and carpet.
Roomba 980
Talking about the Roomba 980 from iRobot, it has substituted the conventional nickel metal hydride battery in favor of a brand new lithium ion battery, designed to last longer during cleaning sessions and longer overall with a very long run time. The brand has also added new sensors and a very cool camera which is not that high in resolution but it definitely lets the 980 be monitored easily.
With these new mapping features and a longer-lasting lithium ion battery, the Roomba 980 is now speculated to clean continuously for as long as 2 hours and even manage multiple rooms during a single cycle. This is cool because that isn't common but that being said, it is important to remember that features like the Carpet Boost option that make the motor work harder will seriously impact battery life.
In terms of the outlook, the 980 is actually quite similar to its Roomba predecessors. The device is the iconic round shape with two main rotating brushes and one spinning side brush, a really large and easily accessible clean button and a removable dust bin. The Home button returns the Roomba to its docking station and therefore the Spot Mode button vacuums within a designated and mapped space for those times after you want to focus on a very dirty area rather than the complete floor.
Shark Ion
Next, we are moving onto the Shark Ion Robot series which offers some tough competition to the Roomba as it is 12.6-inches in diameter and only a couple of inches tall which makes the Ion Robot smaller than the Roomba. This essentially means it's easier for the device to do is magic under large furniture.
The problem is not that this vacuum is incapable of cleaning as per customer reviews, the Ion Robot has the capability to suck up over 90 percent of debris on wood and vinyl flooring but it might not be the best at it. The dustbin that this device is fitted with empties out just like its market competitors' and has a button to slip the bin out when needed.  On the flip side, this dustbin is tiny compared to those of other robot vacuums
On average, this Ion Robot has the juice to clean for a full hour before it needs to be charged again. If its 2,600-mAh battery is running out of power when it is vacuuming around your house, its smart sensors activate and it docks itself and even resumes its job once it is properly charged.
Shark True Pet Mini
The Shark True Pet Mini vacuum is chock full of cool features including swivel steering for simple maneuvering, LED lights on the wand for illuminating dirt and mud and even an anti-allergen technology combined with a HEPA filter for trapping contaminants so that your family is safe and sound.
The 15.6-pound vacuum encompasses a 30-foot cord which allows for a 12-inch cleaning width. It also comes with a TruePet Mini Motorized Brush attachment for pet hair pickup, a canister caddy, a tough Floor Genie attachment with one microfiber pad for bare floor cleaning, dusting genie, dusting brush, pet upholstery tool and of course a bag to store all these accessories and attachments in.
The vacuum is excellent for homes that have a dog, cat or maybe multiple pets with lots of fur.
With its strong performance and multipurpose design, this device is best in our opinion for users who are trying to find one vacuum which can suck up dirt from each nook and cranny in their home.